St. Barnabas Catholic Church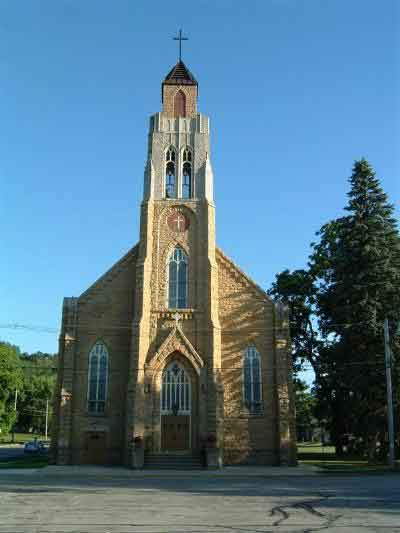 (www.RemnantNewspaper.com) On July 3, 2008, an obscure radical group calling itself "Women's Ordination Conference" (WOC) released a press release blasting the courageous decision of Rev. John Del Priore of St. Barnabas Parish in Mazomanie, Wisconsin to terminate the altar girl program as part of a larger measure to encourage vocations to the priesthood. Having been installed as pastor only one month before, Father Del Priore obviously wasn't wasting any time righting the ship.
The relevant portions of WOC's rather whining release were as follows:
Women's Ordination Conference Decries Ban on Altar Girls in Wisconsin Diocese
WASHINGTON, DC – July 3, 2008 – On Tuesday, June 24, Rev. John Del Priore of St. Barnabas Parish in Mazomanie, Wisc. declared that he will no longer allow girls to serve at liturgy. Rev. Del Priore was assigned to the parish on June 1, 2008. In response, Women's Ordination Conference has requested that Bishop Robert C. Morlino, of the Madison diocese, overturn Rev. Del Priore's decision and reinstate female altar servers in that parish. Women's Ordination Conference members have made dozens of calls to the church, asking to speak to Rev. John and expressing their serious concerns about this decision.
"With this policy, Rev. John brings the Madison diocese into the infamously sexist ranks of only one other diocese in the country that bans young women and girls from faithfully serving their church in this capacity," said Aisha Taylor, executive director of the Women's Ordination Conference. "Around the country, young women have been lawfully serving at the altar for well over a decade."
WOC called for immediate action in protesting the Catholic priest's decision.
The Remnant asks its readers and website visitors to please send their support to Father Del Priore, not only for this but also for his recent decision to support Pope Benedict's motu proprio Summorum Pontificum by making the Traditional Mass available every Saturday at 8:30 at St. Barnabas. Please encourage Father del Priore to continue his brave defense of orthodoxy and tradition. Readers in Wisconsin should also send letters to Father Del Priore, thanking him for the Traditional Mass on Saturday but also requesting it on Sundays, as well.
Father's contact information is as follows:
Rev. John Del Priore
St. Barnabas Catholic Church
410 Cramer St
Mazomanie, WI 53560
Tele: (608) 795-4321