Back in Print!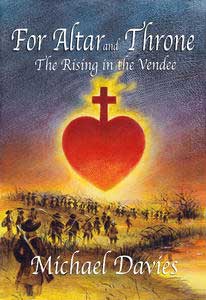 For Altar and Throne
The Rising in the Vendee

By
Michael Davies

This is the inspiring story of the people of the Vendee who remained faithful to the Vicar of Christ and attached to their parishes and their priests, in spite of the cruelty of persecution to which they were subjected during the French Revolution. There is no more noble or inspiring story in the entire history of the Church than that of the heroic struggle of the people of the Vendee to defend their altars and their King.
Click here to order your copy today, or send a check or money order to:

The Remnant Bookstore PO Box 11 / Osceola, WI 54020

Or order on-line at:
800-839-4139