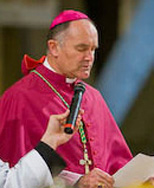 Remnant Editor's Note: While in the process of posting Christopher Ferrara's article on the lifting of the excommunications of the SSPX bishops and the subsequent fallout from a Swedish television interview of Bishop Williamson regarding the Holocaust, we received the following communiqué issued today by the Superior General of the Society of St. Pius X. We applaud Bishop Fellay for his leadership and integrity at this perilous moment, and pledge our support to the Society of St. Pius X as they forge ahead in defense of Catholic Tradition in union with the Holy Father. We entreat our readers to pray unceasingly for the Holy Father and for His Excellency Bishop Bernard Fellay. MJM
We attained knowledge of an interview that Bishop Richard Williamson, a member of our society, gave to Swedish television. In this interview, he expresses himself on questions of history, especially to the genocide of the Jews by the Nazis. It is obvious that a bishop can speak only on questions of Faith and Morals with religious authority. Our society claims no authority at all over historic or other secular questions.
The mission of the priestly society is the distribution and restoration of authentic Catholic teaching and how it is laid down in dogmas. For that we are well known worldwide, accepted and appreciated.
It's with great sadness that we recognize the extent to which the violation of this mandate has done damage to our mission. The affirmations of Bishop Williamson do not reflect in any sense the position of our Fraternity. For this reason I have prohibited him, pending any new orders, from taking any public positions on political or historical questions.
We ask the forgiveness of the Supreme Pontiff, and of all people of good will, for the dramatic consequences of this act. Because we recognize how ill-advised these declarations were, we can only look with sadness at the way in which they have directly struck our Fraternity, discrediting its mission.
At the same time we must be clear that these remarks in no manner represent the views of our fraternity. Therefore I prohibit Bishop Williamson until further notice from speaking in public on political or historic questions.
This is something we cannot accept, and we declare that we will continue to preach Catholic doctrine and to administer the sacraments of grace of Our Lord Jesus Christ.
Menzingen, the 27th of January 2009
+Bishop Bernard Fellay
General Superior