The heart of the Pilgrimage: thousands of 'jeanettes' from
Riaumont, little pilgrim ambassadors to the world.
(Posted 08/07/09 www.RemnantNewspaper.com) For the past eighteen years The Remnant has organized the U.S. Chapter on the 3-day, 70-mile Pentecost Pilgrimage of Notre-Dame de Chrétienté from Paris to Chartres, France.
There are, in fact, two branches of the Chartres Pilgrimage walking at the exact same time each Pentecost weekend—the Pilgrimage of Tradition from Chartres to Paris, which is under the auspices of the Society of St. Pius X, and the Pilgrimage of Tradition from Paris to Chartres under the auspices of Notre-Dame de Chrétienté.
Far from being in any sense hostile, the spirit between these two branches of the Pilgrimage is marked by charity and goodwill on both sides, always with the hope and prayer that one day soon the grand "Chartres Pilgrimage" will again become one, even as it was nearly thirty years ago when this first leg of the medieval Pilgrimage of Santiago de Compostela was first revived by a handful of French traditional Catholics. Stay tuned.
This means, therefore, that there are in fact nearly 20,000 Catholics walking the ancient route between Paris and Chartres over the three days of France's national holiday weekend.
In secularist Europe this is a grand spectacle indeed, especially since hundreds of priests (and even a handful of bishops!) in mud-spattered cassocks, white surplices and purple stoles walk along with their respective chapters throughout the three days of difficult walking. (In another indication of the thoroughly Catholic character of the event all those hundreds of priests are, after the final benediction in the camps each night, accommodated in their own separate campground or, in some cases, hotels. No expense is spared in making certain that the Catholic spirit of proper respect and propriety is faithfully maintained when it comes to Christ's holy priesthood.)
The priest camp bustles
in the early morning light
We have published many articles and commentaries in The Remnant on the Pilgrimage and this year we've decided to publish a few reactions sent in by young American Catholics who walked for the first time with The Remnant chapter—Our Lady of Guadalupe, Empress of the Americas.
The testimonials of young pilgrims say a great deal about the importance of this event, where young hearts and minds are turned back to God, His Mother and His Church each and every year, and where wholesome Catholic fun, the Traditional Latin Mass, and plenty of adult supervision make the Chartres Pilgrimage a shining example of what World Youth Day could be and hopefully will become. (Click here to see some young American pilgrims in action along the road to Chartres.)
By the way, several of the young ladies whose letters appear below are also featured briefly in the PBS documentary on Chartres which was filmed this year. Miss Katie Butler from Maple Hill, Kansas, for example, is pictured briefly at the beginning of the film inside Notre Dame Cathedral. (She and fellow American pilgrim, Veronica Short, are seen praying their rosaries and wearing mantillas with the rest of the American Chapter.) Miss Alyssa Eubanks of Yucca Valley, California, is interviewed briefly near the conclusion of the documentary, as her friend helps her with blister repair. (They are seen resting along the Road to Chartres and offering a few comments about their experiences.)
That PBS television documentary, by the way, contributed a great deal to The Remnant's annual efforts to introduce more Americans to what is widely considered the leading indicator of Catholic revival throughout the world—with thousands of pilgrims walking across France, sleeping on the ground (with plenty of chaperones and security, as well as strictly enforced separate accommodations according to gender), hearing the Traditional Latin Mass in the woods—trying to regain something of what's been lost since the close of Vatican II when, as Pope Paul VI himself admitted, the Catholic Church began her tragic process of "auto-demolition".
In late winter I was contacted by Phil O'Connor in Washington, D.C., producer of PBS's nationally televised weekly program Religion and Ethics Newsweekly. Mr. O'Connor wanted permission to film a documentary on the Remnant chapter in order to introduce his audience to the phenomenon of Catholic Tradition rising both here in the States as well as in Europe. The documentary aired in 270 cities on PBS television and was so successful and elicited such a favorable viewer response that it has now been posted (and will be permanently archived) on PBS.org at the following address: http://www.pbs.org/wnet/religionandethics/episodes/june-19-2009/pilgrimage-to-chartres/3283/

The 2009 U.S. Chapter of Our Lady of Guadalupe,
Empress of the Americas
Not all of the pilgrims seen in this video are traditional Catholics. Many are brought to the Chartres Pilgrimage by Traditionalist scouting groups and organizations from all across Europe in an effort to expose as many young people as possible to the Traditional Mass and way of life. Many are very new to Tradition.
Each year then, there are countless opportunities for traditional Catholics to witness to the traditional Faith and lead by example when it comes to Catholic devotion, liturgy, dress, and comportment. To that end, priests and seminarians deliver countless meditations on spirituality, moral theology, counter-culturalism, and the process of turning away from the world and its allurements in order to give our lives to the pursuit of holiness.
Over the past nearly thirty years, therefore, the number of converts and reverts resulting from this Pilgrimage is indeed impressive, as is the number of vocations to the priesthood and religious life heard along the Road to Chartres. From The Remnant Chapter alone 14 young men have become priests and 8 Catholic couples have met on this Pilgrimage and are now married and raising traditional Catholic families of their own.
So if the Chartres Pilgrimage is to be judged by its fruits I would say no single event happening anywhere else in the world today could possibly compare to it in terms of its merits and incredible success rate where young souls are concerned.
The Remnant will be returning to Chartres again next year, God willing. The dates of the Pilgrimage are May 19 thru May 31. See details in a forthcoming issue of The Remnant and here on our site. MJM
Pilgrim Witnesses
Dear Readers of The Remnant:
I was blessed to travel with Remnant Tours to the 2009 Pentecost Pilgrimage in Chartres, France. I'd like to thank my sponsors and all those who made this trip possible for me. It was such a pleasure to walk in your name and for your intentions. I'd also like to thank the administrator, Mr. Michael Matt, for making these amazing tours possible to young adults, Jamie Bogle and Dr. John Rao for their enlightening lectures, Fr. McDonald for daily Mass and confessions and Joanie Mahar, our beloved dorm mother, for always being there when we needed her.
Traditional Catholics come
from all over Europe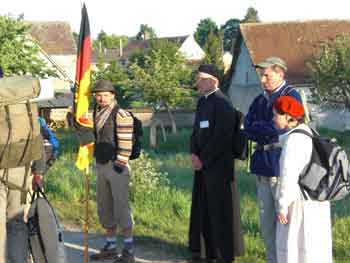 I can't even begin to adequately express all the feelings that are in my heart, mind and soul now, after the completion of the inspiring and uplifting Chartres Pilgrimage. The emotions that follow the hardships of the walk are so complex, so deep and so beautiful it's difficult to properly illustrate them. While I had been told of the hardships of walking 72 miles and living outdoors for three days, I had not been expecting the overwhelming joy and peace that accompanies these difficulties. During the three days of the walk I felt a great spiritual and mental change taking place inside. I imagined the pilgrims as they marched along these paths hundreds of years ago for the same purpose as we ourselves were now marching—the restoration and continuation of our holy faith. As I was walking in the steps of kings, queens and saints, I felt transported back to a greater time when the values of society were of a higher caliber, the morals of the people were strong and their faith was steadfast and undiluted.
We were totally isolated from the culture of the outside world during the walk—there was no internet, no television and no worldly distractions of any kind. Yet, I never before felt so alive, so full of abandonment to God's will, so complete as I did those three days. I didn't know it was humanly possible to be so happy, short of heaven. Yes, there were points when the thought of going on was discouraging and the pain in my feet was excruciating but I knew Mary would never allow me to quit. Each blister was a medal of honor and I, as a proud bearer of many such medals, welcomed each and every one with enthusiasm.
The days passed all too quickly for me and I was almost sad to see the spires of the cathedral growing taller on the horizon as we marched to Chartres. As the bells tolled to welcome 20,000 pilgrims into the city, I felt what the saints must surely have felt when they were rewarded with this small glimpse of heaven. I would gladly walk the pilgrimage again every day of my life if it would mean feeling as close to heaven as I felt those three days. I had the honor to carry our chapter's flag into the cathedral square and I carried it in the name of Mary and in the names all the sponsors and people back home who were with us in spirit.
Young traditionalist priests
are everywhere!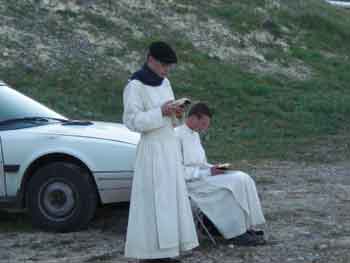 Now, as I head off to college I look forward to using the courage and the deeper devotion to Mary this pilgrimage has given me. I ask her to keep my morals pure and untarnished in the coming years as I fight all the snares and fallacies of college life. I realize now that our faith is far from dead and after walking three days with thousands of like-minded Catholics, I am alive with the knowledge that I am not alone in this fight. Every day is a pilgrimage and with the mark of Chartres stamped permanently on my heart, I will have the courage to make this battle a joyful and fruitful one. Again, to all my sponsors, thank you and God bless. Hope to see you on the road to Chartres!
Fondly,
Virginia Patterson (19)
Taft, TN
Dear Remnant Readers,
Thanks to all my sponsors, particularly those of The Remnant, I was blessed with being able to make the pilgrimage to Chartres this Spring! I wish to thank all my sponsors for allowing this to happen and also to let them know that I prayed for them and their intentions very much and continue to do so.
On account of being part of the Remnant Tours, not only was I able to go on the pilgrimage but I was also able to spend an exciting week and a half touring Paris and the Vendee region of France. Since I have returned home, many people have asked me the same question, "What was your favorite part?". Thinking back on the whole experience and remembering Paris, the country, the food, the people, the shops, the sites, and then thinking about the Pilgrimage itself with the blisters, and the sore knees, and the long walk, and the cold camp, I came to the conclusion that the Pilgrimage was my absolute favorite part and nothing could ever compare with those amazing three days!
Salve Regina,
Notre Dame de Chartres is in sight!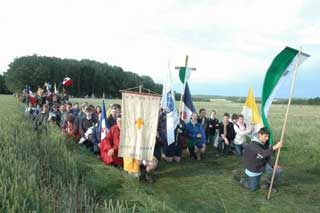 The days of the pilgrimage were absolutely unforgettable! The pilgrimage was harder than I thought it would be; in fact it was physically the hardest thing that I have ever done in my life, but I have never enjoyed anything more! The walk was agonizing in parts. In all, I got 14 blisters, my feet were terribly swollen, and both my knees ended up having to be wrapped by the end of the walk.
A friend that I met on the pilgrimage, who has become one of my best friends during and since then, fell back from our chapter on the first two days due to stopping more than once for medic help. We were so exhausted and emotional that we cried several times on the journey, particularly when we made it into camp each night and especially when we finally made it to Chartres. However, the EXPERIENCE of the pilgrimage was so incredible that the pain and suffering was well worth it and actually made the walk better!
To see how strong Catholicism is, to struggle with over 10,000 fellow Catholics for God, to do something so hard for something that I love so much (the Catholic Faith)—has touched me and affected me in a way that is indescribable!
Every time I felt like giving up or that I could not do it, a French priest would come along and say "Courage", or a French chapter would come up singing the "Ave Maria" and I could join in because of Latin being the universal language of the Church, and suddenly I would be refocused on what it was we were doing—we were walking for God! The graces of pilgrimage, as well as adrenaline, that you would get along the way were amazing, to the point that, when we arrived in Chartres, we went from barely being capable of dragging our feet to jumping up and down and singing with all our might!
The pilgrimage certainly has strengthened me in a way that no other experience ever could. Standing in front of Chartres Cathedral and seeing the Mass and the thousands of pilgrims who were there because of the same Catholic faith, enlivened this feeling in my soul that no words could ever begin to describe! I was truly part of an army for Christ, rallied and taking on the foes of our Religion! "Vivre Christ Roi" was the battle cry that I heard in my soul sounding all around me!
Even now, when every day there is the opportunity for me to live my faith and stand up for Catholicism, it is not just me; when I sing "Chartres sonne" or the "Ave Maria" or "Chez nous", it is not just me, it is an army thousands strong, all fighting for God and His victory! No, Chartres is not the end of the journey; it is a chapter in the walk towards God. It is a part of the struggle towards the final end, Heaven and Christ the King!
The Pilgrimage to Chartres was the experience of a lifetime for me and one that will never be forgotten! It impacted me in a way that changed my life and I have made so many great friends and met so many amazing people that everything about the trip has become an irreplaceable part of my life and my heart! I thank God everyday for the experience and I pray for and look forward to the day when I might once again be on the road to Chartres! I am stronger in my faith because I have seen, heard and felt how strong the Catholic Faith really is!
Thank You and God Bless,
Katie Butler
Maple Hill, KS
Old-world charm is not hard to find
Dear Remnant Readers,
I was very fortunate to have attended the Chartres Pilgrimage this year. It would never have been possible without the help and generosity of my sponsors. Because of them I was able to experience the event of a lifetime and walk the footsteps of saints along with 10,000 other Traditional Catholics. The moral and at times physical support from other pilgrims helped me to keep going the 72 miles. When I finally reached the Chartres Cathedral all the aches and pains which had accumulated over the three days vanished and the feeling that over came me was one which words could never describe.
The post-pilgrimage tour was just as incredible. We were privileged to tour many different paths which the Vendee martyrs walked and visit many of their tombs. Each day was filled with visiting centuries' old churches and museums dedicated to the Vendee martyrs. In the Vendee the courage and hope of these martyrs will never be forgotten. There are still people trying to spread to others the truth of why and how the Vendee martyrs died.
I would like to thank Mr. Matt, Dr. Rao, Fr. McDonald, Mr. Bogle, our French guides and all the others who helped to make this trip possible. It was such an inspirational and unforgettable journey. May God bless you.
To Jesus through Mary,
Stephanie Riello
"The Little One"
Maple Hill, KS
Dear Mr. Matt:
My daughters and I had a wonderful experience walking to Chartres with the Remnant group. I still can't get over the number of pilgrims (all those strong and cheerful French scouts!) wanting to do something difficult for their Faith; the very silent and reverent Masses out in the fields with everyone kneeling for Communion; the many young and fervent traditional priests. I have been telling our friends that they should go next year. It is impossible to understand how something so demanding can be so rewarding. We are all better Catholics for having been able to take part. Thank you for organizing the American chapter and for letting us join you. God bless you and your family. Please thank your wife and children for the Sacred Heart badges. We will treasure them as souvenirs.
Carol Pelster
Veneta, OR
The Soul of the Pilgrimage--
Catholic scouts by the thousand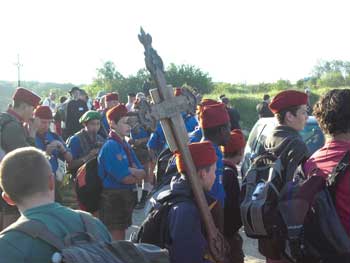 Dear Mr. Matt:
Thank you for the most amazing trip I have ever been on! France was everything I thought it would and so much more. The Pilgrimage was without a doubt the best part of it. Thank you for your inspiring pep talks about what it means to be a strong Catholic. They were awesome.
Wow! The trip was a just one long string of Catholic experiences, good fun and great memories. Thank you so much!
Alyssa Eubanks
Yucca Valley, CA
Dear Mr. Matt:
This is just a quick thank you for all your time and effort in putting together the trip to Paris/Lisieux/Vendee. The trip was absolutely amazing and will be something we'll never forget. You were an amazing chaperone / tour guide and you made the trip lots of fun for all of us.
Of course the Pilgrimage itself was wonderful beyond words. It was so cool to see so many Catholics united and together for the same reason—to fight for our Faith. I must admit that while standing in the Notre Dame Cathedral and hearing all those people from everywhere across the world singing the same Catholic hymns of old, I had chills running up and down my spine.
Mass in the Woods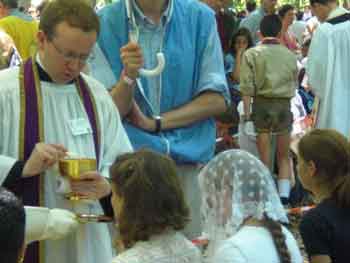 And the Mass in the woods was amazing. Here are all these people and although we can't understand each other, we can all understand the Mass because it is being offered in the language of the Church. It was one of the most beautiful things I have ever experienced! So, again, thank you for everything. I really enjoyed it. It was both physically and spiritually uplifting. Hopefully, I'll be able to make the Pilgrimage again someday, if not this next year perhaps the following.
In Christ,
Maggie Twaddle
Yucca Valley, CA

Dear Remnant Readers:
We have arrived home now from the Chartres Pilgrimage. It was absolutely one of the most amazing things we have ever experienced. Words can't describe how we felt as we entered Chartres after a long three days of walking.
Of particular interest besides the walk itself was our time spent in the Vendee. Never did we realize that there still existed a region that has so thoroughly retained its Catholic identity.
It was a great trip with a good group of Catholics. It opened our eyes (and our hearts) in a good way that could have never happened without traveling to Europe and seeing firsthand our Church's historic past.
We are grateful to you for contributing and thus allowing this to happen to us. We were faithful to our prayers and you were remembered throughout.
We have sent a little souvenir to you as a small token of our gratitude. May God bless you for your kindness and may He answer your petitions (which we carried with us on the Pilgrimage) in a special way through our walk and the Holy Masses we are having said for all our sponsors.
Many thanks again!
Students of Our Lady of the Desert School
Yucca Valley, CA
And from the 2008 Pilgrimage…
Editor, The Remnant: In the year 1565 the Turks laid siege to Malta. A pitifully outnumbered handful of Catholic knights were the tiny island's only defense. The hand of God could be seen behind those brave men who voluntarily went to their death rather than allow Islam to reign unchecked. They understood that if Malta was overcome, it was possible the entire Western world would have been forced to become Muslim. The Turks were defeated within the year, and the Catholic Faith was preserved not only in Malta, but throughout all of Europe. Now over 400 years later, Malta remains one of the last countries to stand unabashedly Catholic.
As camp is broken,
priests pray their morning Office
Catholics throughout history have always had to struggle to preserve the Faith. The Siege of Malta joins in our memory with the Battle of Lepanto, the Rising in the Vendee, and the Battle of Vienna, as one of the most glorious victories for Christ. Today we do not use swords and cannon, but we are engaged in war nonetheless. Each year, for about 15,000 pilgrims, the road from Paris to Chartres is its own kind of battlefield, lined for miles with weary soldiers voluntarily offering their sufferings for the restoration of Tradition. For three days we fight our own interior battles, as we learn to joyfully endure pain, exhaustion, and hunger, like true Catholics.
These hard-earned merits and inspirations of the pilgrimage should not be confined to the road between Paris and Chartres; we must bring them back home with us. For us, that is the most important battlefield. How can this pilgrimage affect Catholic restoration if we leave it on the threshold of Chartres Cathedral and go our own way as before? Since we have been blessed with this experience, we have a responsibility to act on what we have learned, and uphold the principles of the pilgrimage in our daily lives. This pilgrimage is not a Disneyland vacation, nor simply a great adventure of fun and camaraderie – it is working toward a larger and much more glorious goal – nothing less than the defense of the Church, and the salvation of souls.
I am very grateful for the opportunity to participate in the 2008 Pentecost Pilgrimage to Chartres. I would like to thank the Remnant Tours and sponsors for making all of this possible for myself and many others. God bless you!
Tess Mullins (17)
Phoenix, AZ
"Fine French cuisine" for American pilgrims!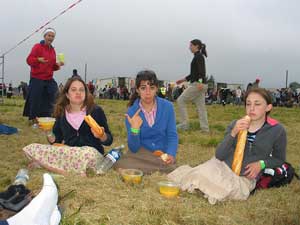 Editor, The Remnant: The Chartres Pilgrimage was the greatest thing I've ever done in my whole life. Now, I look at the world differently. There are so many traditional Catholics in the world, even though they don't all speak the same language. They are all united with one goal. I'll write a short story of my unforgettable experience on the Chartres Pilgrimage.
We started at the Cathedral of Norte Dame de Paris early Saturday morning. We lined up at the Cathedral square with thousands of other pilgrims, waiting our turn to enter the Cathedral. The Cathedral was breathtaking, every part was uniquely carved. When we got into the Cathedral, we heard a sermon in French and a pilgrim's blessing. Then everyone started filing out for the 72-mile walk. The French Choir was singing the most beautiful, spirit lifting song I have ever heard. That day we walked out of Paris singing hymns to Our Lady, if not all the time with our voice at least in out hearts constantly. The weather was fantastic, like our Lord was letting us know that He was pleased with what we where doing. When we reached the lunch spot, we had Mass. Almost everything was in Latin, so we could understand what was going on. After walking so long, receiving our Divine Lord was just what we needed to give us strength.
As I walked along the path, I kept thinking about all the Saints and Kings who had walked on the same path, how they had pleased our Lord and kept the faith alive in many hearts and in the Church. When we reached the camp that night, I started to appreciate all the little things in life. A place to sleep, soup out of cardboard boxes, and friends to help me out. Trust me, nothing was more comfortable that night than my nice, warm sleeping bag on a floorless tent.
The next morning, I thought that I could never get up, but the weather helped me out. Hot cocoa was the best I ever tasted. That day, we walked through forests while hundreds of birds sang their encouraging hymns. When I volunteered to carry the banner, the only thing that was on my mind was Saint Joan of Arc and how she led her army carrying the banner of our Lord. For the rest of the morning, I thought about all the Saints and how they set great examples for us by doing penance all the time. This pilgrimage, (wow!), what a way to imitate them. We had Mass in the middle of the forest. When we arrived there, I thought I was going to die, but after receiving our Divine Lord I was ready to go on again. Birds sang out the loudest I have ever heard that day, right after Mass, as if they too knew what was going on in my heart.

Examples of Christian charity abound.
We sang many hymns that day, which not only lifted our spirits but put all our thoughts on our Lord and the Blessed Virgin rather than on our feet. Near the end of the day there was a great hill. Everyone was out of breath to sing. I started to think about why I came on this pilgrimage, who would do such a crazy thing as to walk 72 miles when you could just drive it in a couple of hours. The buses started sounding very tempting, but I could not take one, because someone was urging me to the top of the hill, so I kept on going.
When our chapter reached the top, we were all on our knees, singing the Salve Regina, and far in the distance you could see the steeples of the Notre-Dame de Chartres Cathedral. All of a sudden, everything came back to me—why I was walking this Pilgrimage. A long time ago, some people walked this path for the Church, for God's will, for the salvation of souls, reparation of sins, and for penance. Most of those people are now Saints in Heaven, and I want to be just like them.
At camp that night, the bed was comfortable yes, but our Lord in the Blessed Sacrament was the best spot for me. They had adoration all night, it was the perfect time to tell the Lord our petitions for the walk and for those of our sponsors. It was still Pentecost Sunday and the Holy Spirit's presence was everywhere. When we woke the next morning, I started thinking of how fast the time had gone, we had already walked sixty miles and had only 12 left. I told myself that I would walk one mile for every star around our Lady's head.
We had two sisters from the Slaves of the Immaculate Heart join our Chapter for those last miles. In talking to them, I was very impressed with their order. Consecrating their whole lives to Jesus through Mary, that's exactly what I'm going to do for the rest of my life. Love Jesus, through his Glorious Mother.
At that moment, Our Lord's love filled my heart to overflowing when I stood before the Notre-Dame de Chartres Cathedral. It was a moment and an experience I'll never forget. Walking 72 miles through fields and forests, to finally be able to touch the ancient Cathedral that holds the Blessed Virgin's Veil and Our Lord in the Blessed Sacrament, whom I couldn't wait to receive at the most breathtaking Mass of the ages.
The Catholic Triumph of Pilgrimage!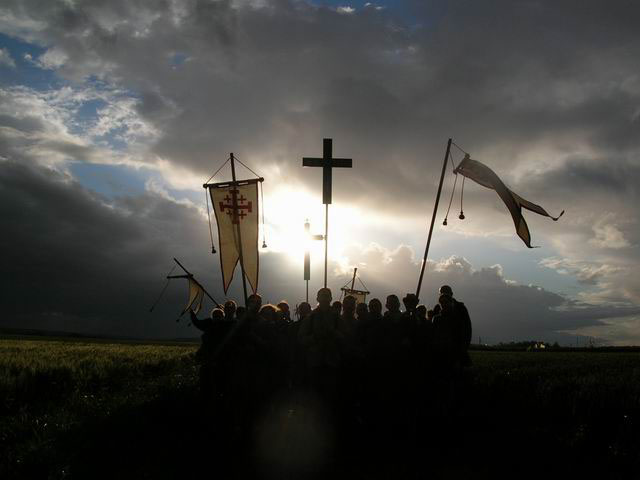 Inside the Cathedral, I was at the very front, holding the banner of Our Lady of Guadalupe; no one spoke English where I was, and they where all from different countries, but I was in Our Lord's House, at a Traditional Mass. I was Home! This pilgrimage was something I will never forget, it was so much fun, yes, but spiritually so very helpful to me. I learned many things on this pilgrimage; I've grown a stronger love for the Holy Sacrifice of the Mass and for my neighbors and my family, but most of all I received a better understanding of how short this life is and how great the next will be.
So we better strive as hard as we can now for all that is good, no matter what anyone thinks of us, because before we know it, our time will come, and it will be too late and too late then to start preparing. Most of all, I would like to thank all my sponsors for helping me to be able to make this pilgrimage. God sent you as a blessing to my sister and me. Because of you, we are stronger in faith and in our love for our Lord and his Blessed Mother. May God Bless you always and shower many Graces upon you. As for my Sister and I, you will forever be in our prayers.
In Christo Rege,
Ashley B. Clark, 15
Virginia