Consecration of Christ the King Church
(First diocesan church in Florida to
exclusively offer the Tridentine Mass)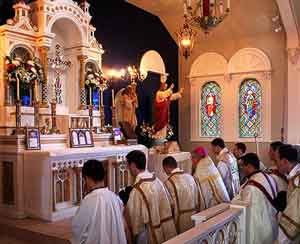 (Posted 2/16/10 www.RemnantNewspaper.com) On the Feast of the Epiphany, 1996, my wife and I were married at the Church of St. William in Naples, Florida. The late, great Father H. Marchosky offered our Traditional Latin Nuptial Mass for the first time in Naples since Vatican II. In those days it was no simple matter to obtain the needed permissions to have the "outlawed" old Mass. In fact, after we'd just barely secured ours (thanks largely to the efforts of my wife's family—faithful Catholics and residents of Naples for decades), it was rumored that our Nuptial Mass would be the first and last Traditional Mass allowed in Naples.
Thankfully, that's not quite how things have played out. In January of 2010 my wife and I loaded up our six children and drove non-stop the nearly 1,800 miles back to Naples to visit family. What a difference 14 years and the pontificate of Pope Benedict XVI make! Not only has the Traditional Mass been restored to Naples but it's actually spreading throughout southwest Florida.
Does this mean the crisis in the Church is somehow over? No, the human element of the Church has been losing its war against Modernism for over a century, and the restoration is quite obviously not going to happen overnight. Nevertheless, progress should be duly noted where progress is occurring. There was standing room only inside St. Agnes chapel in Naples when we heard the Traditional Mass there a couple of Sundays ago. Large families with small children were on hand, as was a young newly-formed schola; beautiful statues and traditional accoutrements have been brought in, welcome indeed since the chapel is obviously the work of a modern architect.
As I listened to Father Brian Austin, FSSP, use a portion of his sermon to patiently instruct his flock (many of whom are brand new to Tradition) on how to follow the old rubrics, when to stand, when to kneel (no dialogue Mass, please), I was filled with a sense of hope for the future. The enthusiastic and prayerful young priest, the many children, the manifestations of devotion, the careful attention to "doing it right"--made it impossible to be anything less than hopeful. And this is just one of the Latin Mass locations in southwest Florida.
Fr. Austin (ordained only a year or so ago) is the assistant to Fr. James Fryar, FSSP, another impressive young priest who is currently pastor of Christ the King Catholic Church in nearby Sarasota, Florida—the first diocesan church in Florida to exclusively offer the Tridentine Mass. (The Fraternity of St. Peter's Christ the King Church was dedicated April 19, 2009, with a solemn High Mass and a traditional consecration conducted by Bishop Frank J. Dewane of the Diocese of Venice.) Christ the King offers the Traditional Mass exclusively—twice on Sundays and Holy Days and on every weekday, along with the Sacraments, daily confessions, rosary, devotions, etc. From all appearances, this fully functioning traditional Mass center is thriving as are its satellite apostolates in Naples (St. Agnes), Fort Myers (Resurrection of Our Lord) and Ocala (Our Lady Queen of Peace).
It wasn't always so. I remember the lean years when traditional Catholics in southwest Florida had only one option if they wished to hear the old Mass. A small chapel in Fort Myers that was (and still is) serviced by the Society of St. Pius X. I often made the trip up to Fr. Carl Pulvermacher's (RIP) Mass at Our Lady Queen of Angels Chapel—a traditionalist refuge established by, among others, my own father-in-law, Ronald Bruns (RIP), and his brother David Bruns before they deeded it over to the SSPX in 1993. In those years, the Society of St. Pius X held the Catholic ground in southwest Florida virtually on its own, and simple justice demands that no one should soon forget the many sacrifices of the priests and laity who kept Tradition alive in the Sunshine State long before it was in any sense popular to do so.
These days Tradition is on the move in a growing number of churches and chapels in Florida (both SSPX and FSSP) and even to some extent in the newly-established "college town" in Collier County (just east of Naples) known as Ave Maria. Established in 2005 by Roman Catholic philanthropist, Tom Monaghan, founder of Domino's Pizza, Ave Maria is still the talk of Naples.
The proverb has it that fools rush in where angels fear to tread. I thus refrain from rushing to foolish judgments where Ave Maria is concerned. Like any ambitious project of this sort, Ave Maria has not been without controversy and plenty of critics. It's hailed by its myriad fans as enthusiastically as it is bashed by voices angry at Ave Maria for a whole host of reasons ranging from its founder's desire to ban pornography, contraceptives and abortion inside the town limits (the ACLU is still hopping mad over that one!), to environmentalist whackos worried that Ave Maria might scare off a Florida panther or two, to something called AveWatch.com which seems hell bent on proving the whole world would be better off if Tom Monaghan would just choke on a slice of pizza, to fans of Ave Maria's former provost, Fr. Joseph Fessio, SJ, for…well for reasons outsiders such as this writer can only guess at.
I visited Ave Maria last month and found the place intriguing, to say the least. The town sits on a 5000-acre tract of land not far removed from the swamps and mangroves of the Everglades. At first blush, the place seems almost like a sprawling Hollywood set with its six neighborhoods (thus far), a water park, fitness center, golf course, ball fields, a Publix grocery store, a university, a grade school, a Italian-style piazza complete with shops, restaurants and cafes, and a massive Catholic church—the Ave Maria Oratory, boasting a seating capacity of 1,100—in the very center of town. Whatever its growing pains, the place is bustling with life as many families now call Ave Maria home, a handful of businesses seem to be thriving, homeschoolers are plentiful, as are students of the Catholic K-12 school on campus. And as far as the eye can see there is room for vast expansion.
I don't pretend to have the inside scoop on Ave Maria. Like most outside observers, I have no idea if the massive venture will ultimately fail or succeed. It is true that Mr. Monaghan is partnered with Barron Collier Companies—businessmen who surely know their stuff. The project has also been supported by men of considerable influence and, it must be said, some controversy, including Jack Donahue, Michael Novak, Buffalo Sabres owner Tom Golisano (who despite a recent controversy involving his position on the life issues, has released an uncompromisingly pro-life statement to the media), and Fr. Joseph Fessio, to name a few. In addition, some faculty members at Ave Maria University are without doubt world renowned scholars. Still, whether Ave Maria—the University, the Law School, the grammar and prep school, the town itself—will survive and at what level, is anyone's guess. It's obviously still very much a work in progress, and there are lots and lots of opinions on how the work should be done.
There's even ongoing criticism of the Oratory—the very heart of Ave Maria and the town's most prominent structure, conceptualized by Monaghan himself. It's been described as a "modern-styled building with some traditional and Frank Lloyd Wright influences." Though it has an unmistakably monastic feel to it, the Oratory isn't everyone's cup of tea. But then again, it too remains unfinished. As one student at the University told me "the only thing about the Oratory that's complete is the tabernacle. Everything else is under construction." Seems rather premature, then, to render final judgment on this or just about any other aspect of Ave Maria.
What is certain is this: A town dedicated solely to the Mother of God has been established on the outskirts of one of the wealthiest cities in America—something not likely to garner Mr. Monaghan many popularity points with the politically correct elites either in politics or academia. The main street running through La Piazza is called Annunciation Circle. Children play in parks and walkways dedicated to saints, as wholesome-looking university students walk to and from Mass and classes.
Ave Maria's campus has single-sex dorms only, and every residence hall will have a chapel. Images and statues of Our Lady and the Angles are plentiful. There's a large home-school store (By Way of the Family) located just across the street from the 104-foot-tall Oratory. Visitors are apt to see (as we did) nuns in traditional habits ushering little flocks of students about town. The master plan for Ave Maria calls for the construction of a 55-foot crucifix, the largest in North America. And Ave Maria University president Nicholas Healy raised not a few eyebrows when he told the press: "We make no apologies for seeking to uphold Catholic moral teachings, particularly when it comes to relations between men and women. We would not approve of or facilitate something that is very common, I'm told, on college campuses today, hooking up and sleeping around, and … binge drinking." Seems pretty sound to me!
What also sets Ave Maria apart is its liturgical life. Every Sunday, Tuesday and Thursday the high altar at Ave Maria is used for the celebration of the Traditional Latin Mass (something that should cause the good folks at my alma mater, Christendom College, to rethink their own rather restrictive liturgical schedule). The new Masses offered at Ave Maria (which is designated a "quasi-parish") are reportedly reverent and without liturgical shenanigans. There is no Communion in the hand, for example, and no altar girls, which is why Ave Maria already enjoys widespread acclaim for a serious commitment to implementing Pope Benedict's liturgical reforms.
Is Ave Maria still something of a mixed bag? I suspect it is. Rumor has it, for example, that a charismatic clique of students on campus would like nothing better than to turn Ave Maria into yet another Steubenville (God help us!). On the other hand, there's obviously a significant contingent of traditionalists on campus. Who will carry the day? We'll see.
For the time being, let's take solace in the fact that the Oratory was packed out with worshippers (mostly students) at the Tridentine Mass we attended on a Sunday morning last month. Hundreds of young people were on hand, modestly dressed and many wearing chapel veils. At the altar a priest offered the Traditional Mass to perfection—no dialogue Mass, the Gospel and Epistle were read first in Latin at the altar and then in English from the pulpit, and the sermon was Catholic straight through. It was encouraging to see so many young Catholics being exposed to the Traditional liturgical life of the Church in this way. No matter what happens in the future, this routine exposure to Tradition can never be undone, and there's no telling how many souls will benefit from it or how many graces will be showered on Ave Maria because of it.
I went to Ave Maria not expecting to be favorably impressed. As it turned out, I was pleasantly surprised. As "Catholic" institutions of higher learning continue their freefall into the depths of secularism, it was fun to see one, whatever its shortcomings, swimming rather manfully against the rising tide. It's also rather gratifying to know that at Ave Maria, Florida, at the very least someone is trying to pick up the Catholic baton long since discarded in the ditches of lost-cause wastelands such as South Bend, Indiana.
Let's hope and pray for the best! Ave Maria!