—EXCLUSIVE INTERVIEW—

Bishop Bernard Fellay on the
Rosary Crusade and Doctrinal Talks
Nearly 20,000,000 Rosaries offered to Holy Father
from Traditional Catholics Worldwide!
By Brian Mershon
REMNANT COLUMNIST, South Carolina
(Posted 05/11/10 www.RemnantNewspaper.com)
Bishop Bernard Fellay, SSPX, greets the Holy Father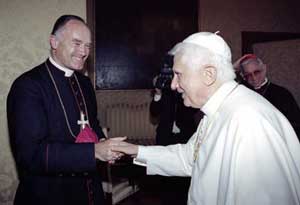 Houston, Texas—Superior General Bishop Bernard Fellay of the Society of St. Pius X recently spoke to The Remnant in an exclusive interview following the completion of their third Rosary crusade for the Holy Father on March 25, 2010. Despite Cardinal Kasper's most recent obvious attempt to "poison the well" and upend the ongoing discussions with the Society's theologians and representatives of the Holy See (talks in which, it should be noted, he has no role whatsoever), the Holy Father will visit Fatima this week and deliver an intense message.
Our Blessed Mother cannot be circumvented when it comes to answering prayers as she so wills as the mediatrix of all graces. Let us pray, then, that the Holy Father's message at Fatima this week will be an answer to the most recent rosary crusade for the intention of the consecration of Russia to the Immaculate Hear of Mary and for the Triumph of her Immaculate Heart. Five and half million rosaries from the U.S. and a total of 19,142,065 rosaries by Traditionalist Catholics worldwide have been offered for this intention. We thank His Excellency most sincerely for taking time away from his busy schedule to answer a few questions.
Brian Mershon: Your Excellency, what is your reaction to the Society's request for 12 million rosaries with a result of more than 19 million actually being offered?
Bishop Fellay: First of all, I am very, very happy to see such enthusiasm and such an answer to our call. I'm certain that this number isn't only from the Society's faithful; I'm sure that many many others have joined for whom we don't have the total figures. That's the first thing.
Secondly, I'm pleased with the enthusiasm for understanding the importance of this matter. This subject matter is very, very important.
Brian Mershon: The two other rosary crusades resulted in rather quick and historic responses—the freeing of the Traditional Latin Mass to all priests everywhere in the world, and the dissolving of the excommunications of the Society bishops, which in turn led to the commencement of doctrinal talks with the Holy See. Do you anticipate a similarly dramatic response to this third rosary crusade?
Bishop Fellay: I leave it to be totally in the hands of God and the Blessed Virgin Mary. But, probably not. One never knows, but I would be very surprised if the Pope consecrated Russia. It would be a great, great surprise. But, on the other hand, we have already been surprised before, so I would not be amazed if it were to happen so quickly. This time what we're asking for is so important and so big and it is so directly involved in all the events of the history of our times.
Brian Mershon: Ever since Pope Benedict was elected and the new Russian Orthodox Patriarch was chosen, there has been an obvious thaw in relations, and for the better, I believe. The Russian Orthodox Patriarch even published a book of the Pope's writings to be disseminated to his lay faithful! How do you read this? Is this related to the Third Secret of Fatima as well?

Bishop Fellay: I personally believe there is something on the move in Russia. There definitely does seem to be something moving in Russia. There is something in the air. How far and how deep? I do not know. But, there are many things that show there is a revival of religion in Russia.
Brian Mershon: Has the Society already sent the bouquet of rosaries?
Bishop Fellay: It is going to happen [soon].
Brian Mershon: What is the Society's attitude on the worldwide media attacks on the Holy Father and the Church?
Bishop Fellay: I think we have there a good demonstration that the Church really does still have enemies. And these enemies have real names. You can see that through this ongoing campaign. It is very revealing. On the one hand, we have the old-guard U.S. enemies and, on the other hand, we have the leftists from Europe both working together.
Brian Mershon: Do you think these attacks are related to the chastisements foretold by Sister Lucia in the Third Secret?
Bishop Fellay: It's too difficult to say. But if there is one quote from Fatima that I would quote that applies—it is this: "The Pope will suffer a lot. The Pope will suffer a lot." And you have it there.
Brian Mershon: The ongoing doctrinal talks with the Holy See are occurring outside the media spotlight for obvious reasons. What do you expect to happen as a result of these? What has to happen in the doctrinal talks for the Society to agree to a canonical structure? Are the talks even related to a possible canonical solution?
Bishop Fellay: It's impossible to say. Absolutely impossible. It depends upon too many factors right now. I don't have the answer.
Brian Mershon: Some critics say that the Society's rejection of a canonical or practical solution is a sign of obstinacy or ill will. How do you answer that?
Bishop Fellay: It is very simple. The Holy See has agreed that the doctrinal talks should happen, so that should answer the questions without putting the burden on me. Besides that, it is very clear that whatever practical solution that would happen without a sound doctrinal foundation would lead directly to disaster. We don't want that. We want and need the security of a sound solution on the level of doctrine to go ahead. So to pretend there is something definitive prior to engaging in the doctrinal talks…
We have all these previous examples in front of us—the Fraternity of St. Peter, the Institute of Christ the King and all of the others are totally blocked on the level of doctrine because they first accepted the practical agreement.
Brian Mershon: Do you believe the Pope personally sincerely desires a canonical solution with the Society of St. Pius X?
Bishop Fellay: Yes, I think so. Yes, I do. I think the Pope desires this. He wants the Church to be better and he wants to complete the quest of the consecration of bishops with the Society.
Brian Mershon: You have mentioned in previous interviews that the Society has positive acquaintances or even friends as bishops, cardinals—and even in the Roman curia. What advice do they give you as these doctrinal talks are ongoing?
Bishop Fellay: Nothing at all. They are very discreet right now. I think the discussions we're having are very good and are happening at a very discreet level. The next talks are taking place in May.
Brian Mershon: Are you aware of any group of priests, lay faithful or dioceses in the recent history of the Church who have offered such large bouquets of rosaries to the Holy Father as the Society has now done thrice?
Bishop Fellay: Not to my knowledge. It might have happened, but I don't have any reference. But it is obvious that such a crusade is something unique. I believe that Fr. Gruner is now going to do the same thing.
Brian Mershon: What is your advice to Catholics who desire to open a chapel in their area? Is the Society putting on the breaks where expanding chapel locations is concerned, due to the doctrinal talks?
Bishop Fellay: First, the lay faithful should contact us and then we try to do something for them. Right now, we have so many requests that we can hardly fulfill them. This year, we have a good year for ordinations, but even so we are too short of priests [to fulfill all the requests]. We can hardly answer all the requests. But we continue our normal life as before. It would be totally counterproductive to think we would have to stop any increase in our life because of talks with Rome. It should be quite the contrary.
Brian Mershon: Your Excellency, Do you have any final thoughts?
Bishop Fellay: Prayers to the Blessed Virgin Mary have to continue. Some might think that since we achieved our rosary crusade, now everything is fine. No. No. No. It is now very clear that we are engaged in a battle with the real enemies of the Church. So Catholics, be ready! Gain the victory with the rosary!
Comments:
Praise God, and let's all pray even more rosaries that something really dramatic does happen in Portugal this week. J. Grant, Denver
Great interview! Such a positive happening. I only wish His Excellency would explain what he means by the Fraternity of St. Peter and the Institute of Christ the King being blocked when it comes to doctrine. Down here in the Bible belt the Fraternity is setting up oases of doctrinal and liturgical sanity that are Catholic lifelines for us. Perhaps Mr. Mershon could ask about this in a future interview. God bless all the true priests and God bless Bishop Fellay. Mark Schmidt, Atlanta
The Holy Father is offering a Mass in Lisbon at this very moment that is so beautiful I can't help but feel this Rosary Crusade is already moving his heart. Theresa Morris, St. Paul
Dear Editor: The interview you have published is a wonderful encouragement for long-suffering Traditional Catholics scattered throughout the World. The SSPX has done a Mighty Job to galvanise the Remnant of the Church into a United action which will surely bring positive results. By any measure 19.1 million Rosaries is an Extraordinary result. The Blessed Virgin Mary should be extremely pleased with the efforts of the SSPX and their Traditional Catholic supporters.
Let us pray even more fervently that the Pope will respond to the Grace that we expect he will soon receive and thereby have the Courage to accomplish the Consecration of Russia to the Immaculate Heart of Mary in Union with the Catholic Bishops of the World. Thank you Editor for publishing this very welcome interview.
Laurie Myers, Sydney, Australia
I pray every day Rosaries and other prayers that Pope Benedict and all the bishops of the world will FINALLY do the right thing and consecrate Russia to the Immaculate Heart of Mary, Our Mother and Queen. I don't understand how man can disobey Almighty God's request (command) for so long. I urge all Catholics and Christians to pray the Rosary always for this intention and for the Vatican to finally reveal the entire and true third secret of Fatima. The Triumph of Mary's Immaculate Heart will come but let us continue to fight against the enemies of the church so that Almighty God will answer our prayers and bring this triumph about sooner. I pray it will be done when His Holiness Pope Benedict visits Fatima on May 13. Can you just imagine the glory this magnificent act of obedience to Almighty God would bring. Let us never cease praying and offering our Rosaries for this intention. Joe R, Toronto, ON
Dear Editor, While not affiliated with the SSPX, I chose to join their Rosary crusade, but have no idea how to pass on to them my tally.
I am also ignorant on how to count the Rosaries. I believe the tally is counting 5-decade rosaries, such that a full 15 decades would amount to 3 Rosaries.
I have offered 2,190 5-decade Rosaries to this most important of all causes from May 1, 2009 to today May 13 2010. They were probably not terribly effective given my terribly sinful nature but I certainly hope that Our Lady counts them for something. I would appreciate if you could pass my tally to the SSPX or Fr Gruner, the latter having been a true inspiration in cultivating my devotion to Our Lady of Fatima over the past decade. I just don't know how to get this number into their tally and if they will be presenting a bouquet to Pope Benedict XVI I would very much like for this to be included in that bouquet for the Holy Father.
I cannot fathom anything more important for the Pope, the Church, the World and individual families and souls than this Consecration. May God be pleased to move the Holy Father to command nothing short of the collegial consecration of Russia to Our Lady's Immaculate Heart in 2010! Joseph DB, Toronto, Canada

Editor, I was converted from a feminist lifestyle and saved from hell by Our Lady of the Rosary of Fatima beginning in Sept. '95. Step by step, Our Lady has shown me about the true faith and all is the old ways, the traditional church. I have been praying for the proper consecration for years now. In 2005 I grew weary, just worn-out, of praying for the Pope and Bishops and one night I said what's the use, etc. (as well as a few other unprintable things). But She very sweetly & patiently showed me I must keep praying the Rosary for the Fatima Intentions & never never compromise with the devil and his people & HOW SHE HAS BEEN ABANDONED BY SO MANY CATHOLICS & RELIGIOUS AND WE ALL MUST PRAY VERY MUCH FOR THE HOLY FATHER. HE NEEDS OUR HELP. Since I learned about SSPX, I'm uniting my Rosaries with yours. I love beautiful Mary, our Mother so much; She is the true liberator of women. God bless you all. Libby