(www.RemnantNewspaper.com) The term "Catch-22" came into common parlance by way of Joseph Heller's 1961 novel by the same name, which is a satirical study of bureaucratic "reasoning". One vignette, for example, portrays fighter pilots attempting to get out of bombing duty. Military law allows insane men to be excused honorably, Heller points out, but if the pilot takes advantage of this insanity plea, he inadvertently demonstrates a perfectly rational understanding of self preservation and is thus deemed entirely too sane to be excused from duty. Thus the Catch-22.
Something similar has been going on around here with respect to The Remnant's online presence. I've gone kicking and screaming into cyberspace for a number of reasons, not the least of which is a firm conviction that the free press will one way or another be decapitated by the guillotine of the "free" Internet.
Nevertheless, here I am about to announce with great fanfare —drum roll, please—that every issue of The Remnant is now available in its entirety on the Internet.
Go figure. I suppose we all have something of a love/hate relationship with the Internet. Google, for example, like email and Wikipedia, is a handy time saver, to be sure. But other aspects of the Internet provide plenty of cause for concern, not just for kids but for all of us. For example, its capacity to foster rampant addiction is problematic, as are its penchant for porn and multitudinous inducements to waste vast amounts of time clicking an infinite array of links to nowhere.
We blog, we tweet, we twitter, but not unlike the folks scaling that biblical tower, we all seem to be babbling at once with nobody listening. Our world's become like a great big conference room where every chair (including the toilets!) is wired with a microphone. Even the voice of God Himself can't penetrate the din.
Still, the all-knowing and all-seeing Internet has yet to be defined as intrinsically evil, and, until it is, I suppose one needn't apologize for admitting that whatever its faults, the Internet can also be useful. Some even argue that without the Internet and its uncanny ability to dig up facts and keep otherwise isolated people in touch with one another, a great many positive developments for the Catholic cause might never have materialized.
Hard to argue with that! What's good for the goose (the online pornography industry) is evidently good for the gander (the traditional Catholic movement). Again, go figure!
At any rate, after weighing all the pros and cons we've decided to make an E-edition of The Remnant available. The subscription cost is the same for either the E-edition or the physical edition, and current subscribers who wish to add an E-subscription to their existing account can do so for just $15. E-subscribers will also have access to a complete archive (starting from June of 2010) of back issues of The Remnant, which they can search by topic and author, print/email articles and that sort of thing.
All the pricing options can be reviewed here, and, just to prove I'm not a complete luddite, I would say that an E-edition may well be worth considering, especially for frequent visitors to this website (who have no access to the vast majority of articles printed in The Remnant every two weeks) and to our European and Australian subscribers (and even our Canadian friends) who must wait an interminably long time for The Remnant to make its way through the mail every two weeks.
I would ask visitors to this site to please spread the word that The Remnant is now available online for the same low price and on the very same day it comes off the press. The cost of mailing The Remnant is exorbitant. So, the new E-subscriptions will certainly benefit The Remnant financially, although our commitment to providing Remnant subscribers with newsprint will remain a top priority.
I have no intention of surrendering newsprint to the dictates of a frenetic Internet that, quite frankly, seems to be an effective vehicle for putting great writers out of work and good newspapers out of business. It's a hungry beast that allows little time for nuance and even less for contemplation. Self-editing writers rush truncated copy to frantic webmasters (ever terrified of the momentary lull in new content) who rush to post that which you and I rush to read (well, at least the first and last paragraphs) before rushing on to the next thing. That, along with an endless series of hyperlinks to keep us rocketing through cyberspace all day long, is the new face of journalism on the Internet.
No wonder we're all going mad. And no wonder some poor slobs still prefer newsprint! Take the present writer, for example. I happen to like the smell of ink. I enjoy the feel of real paper between my fingers. It's rather nice to set a physical newspaper off to the side of one's toast and coffee at the breakfast table. It's worry free. No keyboard for wayward crumbs to sabotage; no motherboard to short out when the two-year-old decides to share her juice with everyone at the table simultaneously.
Without humming or buzzing at anyone, and without so much as a mention of those gorgeous Russian women waiting patiently in their cardboard boxes to be shipped directly to you if you click HERE, newsprint is under our control, relaxing and gentle on the nerves. One can even communicate with one's wife without fear of frightening her with that zombie-like cyber-face she's come to loathe so well.
Sanity and good sense should have us all clamoring for more time offline. After all, the effects of too much time online are beginning to manifest themselves in all sorts of eerie ways that, if this were TV, would long since have cued Rod Sterling to make his entrance.
Obviously, the Internet is still no man's land. We have no idea what psychological damage may result from its prolonged use. Cyber addiction is very real, and few can honestly claim to be immune. And yet publications that have no Internet presence and no E-edition are making themselves unmarketable to a rapidly growing segment within the ever dwindling demographic that still reads anything at all. Making The Remnant marketable to them is a fairly simple way to broaden the defense of the Cause while bringing much-needed revenue to a Remnant urgently seeking new ways of keeping itself afloat when many small market newspapers have already sunk beneath the waves.
The Remnant is digging in, fighting back, and reaching out in defense of all things truly Catholic. Please give us a hand by spreading the word that we're now online.
The Pilgrimage to Chartres, France
The U.S. Chapter of Our Lady of Guadalupe, 2009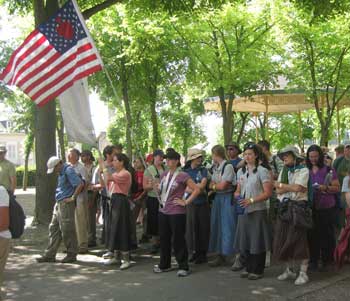 The 2011 Pilgrimage to Chartres, France will mark the 20th Anniversary of the U.S. Chapter of Our Lady of Guadalupe. The dates of Notre-Dame de Chrétienté Pentecost Pilgrimage to Chartres are June 11, 12 and 13, and The Remnant Tours will again be organizing the U. S. Chapter.
The dates for the entire Remnant pilgrimage are June 8 thru June 19, 2011. To celebrate our 20th Anniversary, we will return to the holy places we first visited twenty years ago. These will include Chartres, of course, Nevers (the body of St. Bernadette), Lyon, Ars (the church and home of the Cure of Ars), Paray-le-Monial (Heart of St. Marguerite-Marie Alacoque, Sacred Heart devotion), La Salette (Marian apparition site at the "top of the world" in the French Alps) and Notre-Dame du Laus (in the most beautiful Valley of the Flowers in the Alps where Our Lady also appeared, and where we hope to conduct next year's European Remnant Forum).
John Rao, Christopher Ferrara, James Bogle will again be among the guides and historians who will help lead this pilgrimage. Please look for our upcoming ads for more details. The cost of the entire tour/pilgrimage (including airfare) will not exceed $3000. For more information please click here. Registration is on a first come/first serve basis. To reserve your seat, please send a nonrefundable down payment of $400 to The Remnant Tours, PO Box 1117, Forest Lake, MN 55025, email us at [email protected], or telephone us at: 651-204-0145.
The Summer Symposium on Lake Garda now Available on CD and MP3 CD
The Roman Forum's Summer Symposium in Gardone Riviera, Italy this past July was a monumental success. (See report and video log.) Each lecture is now available for $7 on a standard CD and the entire Symposium is available on two MP3 CDs for just $30. (An MP3 CD is a compact disc that contains digital audio in the MP3 file format. Recordings can be played on any DVD player, your computer and MP3 players in more recent home and auto CD exchangers.) Please click here for pricing, ordering and availability.