A Major Summer Publishing Event
From The Remnant Press
The Church
and the Libertarian
A Defense of Catholic Teaching
on Man, Economy and State
In the spirit of The Great Façade
A new book by
Christopher A. Ferrara
(FOREWORD BY JOHN C. MÉDAILLE)
Worried about the state of American politics and the still-tottering economy? In his new book The Church and the Libertarian, Catholic pro-life attorney, popular Remnant columnist, and widely published author Christopher A. Ferrara provides a Catholic answer to the crisis.
Ferrara explores the question: Can one be a faithful Catholic and a "laissez-faire" libertarian? He warns against Catholic acceptance of yet another version of "More Better Liberalism," when it is Liberalism, both political and economic, that has destroyed Christian civilization and brought the entire Western world to the brink of total ruin.
Far more than a tale of woe, however, this book presents a stunning positive case for Catholic Social Teaching as the one way back to civilizational sanity. The Church and the Libertarian presents practical ways of restoring true liberty in present circumstances, including a Catholic vision of "microeconomic life" in a world veering madly toward both political and economic collectivism, the latter imposed by so-called "free" market entrepreneurs as much as it is by government.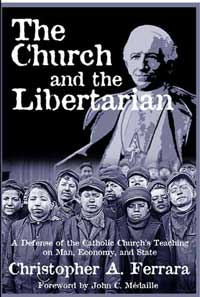 "Ferrara brilliantly explains the application of Catholic social teaching to economics and the State like no one before."
—JOHN F. SALZA, J.D.
Catholic apologist, author; host of
EWTN's "Catholic Q & A" radio program
·

Has the

"free" market ever actually been free?

· Is even Capitalism spinning out of control?

· Is economic liberalism in direct opposition to binding Catholic doctrine on man, economy and state?

· Can a misguided defense of private property actually help destroy private property?

·

Do

some radical libertarians actually undermine true liberty?

·

"Audit the Fed," "abolish the Fed," "return to the gold standard," "nullification" -- real solutions or just more domestic jingoism?

· What about Ron Paul? Tom Woods? The Libertarian revolution?

· How the Supreme Court—right now—could overthrow the tyranny of liberalism and change the course of world history with a few paragraphs in a single opinion.

· Distributism: A serious alternative, or just a lot of cow milking and garden planting?

·