What Really Happened to
Father Laurent Demets?
(www.RemnantNewspaper.com) In a closely connected network of traditional Catholics spread over an area of several hundred square miles of rural Arkansas and Missouri, rumors can travel at the speed of light. So it was that on November 7th 2011, someone figured out that something was about to happen and the rumors began to fly. Suddenly Bishop Taylor, the Bishop of Little Rock, had "defriended" them on Facebook. It appeared that he had gone through his entire list of Facebook friends, picked out all the Catholics who attend the Latin Mass, and defriended them all in a single morning. Why? Rumors flew, the Internet was abuzz for a day or two, and then a nervousness settled over the entire region.
You're probably wondering why traditional Catholics are wasting their time on Facebook to begin with. Don't they have anything better to do? Why would Bishop Taylor have a Facebook account? Why would traditional Catholics "befriend" Bishop Taylor? Why would Bishop Taylor subsequently "defriend" the traditional Catholics on his friend list? (Mark Zuckerberg must just laugh himself to sleep at night!)
The answer to the first question would probably be that their French FSSP priest, Father Laurent Demets, had encouraged them to get Facebook accounts so that members of the geographically diverse apostolates of Mountain Home and Cherokee Village could use it to keep abreast of apostolate news. The answer to the second question is probably that Bishop Taylor wants to use Facebook for the purpose of "evangelizing"—you know, making his homilies public and networking with Catholics in his spacious dioceses. To answer the third question, and I'm just guessing here as it really doesn't apply to me, but if your bishop has a Facebook account and you're a Catholic in his diocese, wouldn't you consider it rude not to "befriend" or "become a friend" or whatever they call it?
But the last question is a hard one. Why would the bishop then "unfriend" or "defriend" any particular group of Catholics?
A few days later we found out what was up when the Diocese of Little Rock made this announcement:
On Monday, Nov. 7 a credible allegation of suspected child abuse – slapping a child – was lodged against Rev. Laurent Demets, a member of the Priestly Fraternity of St. Peter, presently serving as the chaplain of the St. Pio de Pietrelcina Latin Mass Community in Cherokee Village regarding an incident alleged to have occurred at St. Michael Church in Cherokee Village. The allegation does not involve sexual misconduct. The procedures of the Diocese of Little Rock for handling such allegations were followed. The preliminary investigation confirmed by Father Demets' own admission the credibility of the allegation and the matter was reported to the State of Arkansas Hotline for Crimes against Children as mandated by state law. Bishop Anthony B. Taylor has suspended Father Demets' faculties to function as a priest effective Nov. 9, 2011, and has removed him from the Latin Mass Community in Cherokee Village pending completion of the investigation.
In the meantime, the Latin Mass Community will celebrate Mass in English with the parish community of St. Michael until such time as the Rev. Eric Flood, district superior for the Priestly Fraternity of St. Peter, is able to provide a new chaplain for the community. Please keep everyone in your prayers.
With regards to that last paragraph, about attending the "Mass in English," I'm not so sure. Since Father Demets was removed last month, we've seen some of the Mountain Home and Cherokee Village people up in Springfield Missouri, and some of them have been driving down to Little Rock to attend Mass at the remaining FSSP apostolate in Arkansas. Either way it's a drive of at least three hours for them. I don't know how many have actually been "celebrating Mass in English" at St. Michael's, which is undoubtedly the ugliest church building in that poor state. But that's just my opinion. The facts are much more disturbing than my opinion.
Three months after the actual incident, without the consent or permission of the parents, and based on some anonymous eavesdropper's false report, the non-problematic disciplining of an emotional child was turned into a major incident. Then, without any formal investigation it was broadcast throughout the world in a manner that makes the whole thing appear like carefully crafted character assassination.
There is no case against Father Demets. The Department of Human Services investigated it, found that he had done nothing illegal, and quickly dropped it like a hot potato. Father Demets is well respected in Arkansas. He broke no laws. The family had no problem with the disciplinary action he took, but they were in fact very hurt and upset by the way the Diocese of Little Rock chose to handle it. The child has been more traumatized by the media storm, the investigation, and the loss of the Latin Mass community than the slapping. And it was, in fact, the Diocese of Little Rock, not the Department of Human Services, that chose to release the information to the news media. Bishop Taylor never met with Father Demets to discuss the removal of his faculties or to explain the diocesan policy that had been violated.
Saint Pio de Pietrelcina Latin Mass Community, RIP
Three apostolates of the FSSP existed in Arkansas at the beginning of November 2011: North Little Rock, Cherokee Village, and Mountain Home. Father Demets had responsibility for both Cherokee Village and Mountain Home, as well as a school in Batesville. In one blundering, foolish act of ecclesiastical malpractice, Bishop Taylor and his henchmen dismantled the Saint Pio de Pietrolcina Latin Mass Community that Father Demets had founded.
As a result of this outburst of accusations from the Diocese of Little Rock, the only traditional Masses for several hundred miles in the vast region triangulated by Memphis, Little Rock, and Springfield Missouri were terminated, an exemplary priest was removed, and the three rural southern towns in which he'd offered weekly Masses have become spiritual wastelands void of any Catholic tradition.
Father John Berg, Superior General of the FSSP, announced shortly thereafter that he would not be replacing Father Demets. He's not putting another one of his priests under Bishop Taylor, and he's reportedly considering closing the remaining apostolate before something dreadful happens to the one remaining priest at the FSSP Apostolate in North Little Rock. Can you blame him?
Meanwhile, Bishop Taylor, who attempted to defriend all of his "Facebook friends" who are traditional Catholics, seems not to have understood that he retained a number of "friends" who are sympathetic to the teachings of the Catholic Church, and who consequently find his actions very disturbing.
No Surprise
This recent move by the Bishop of Little Rock surprised no one. It is just the latest in a long series of aggressive maneuvers by Bishop Taylor against members of his flock who simply want to live their lives in accordance with some of the older traditions of the Church. He doesn't understand. He can't understand. It seems that he never will.
Certainly Father Demets' zeal for the salvation of souls must have infuriated Bishop Taylor. In the short time Father Demets has been assigned to Arkansas he has run multiple Ignatian Retreats for adults, organized a Girls' Sodality, the Knights of the Altar, founded a K-12 school, helped his choir record a CD, grown a sizeable building fund, gained the admiration and respect of hundreds if not thousands of our Protestant brethren, and the list goes on. Bishop Taylor, on the other hand, speaks Spanish.
Some Background
For many years following the publication of "Ecclesia Dei," (1988) under which the Traditional Latin Mass was to be made available, Catholics residing in Fayetteville and the surrounding area had no access to it without driving for several hours. Catholics in Northwest Arkansas petitioned Bishop Sartain for many years, with no success. The only Latin Mass locations within the state were the FSSP apostolates in North Little Rock, Mountain Home, and Cherokee Village, and a SSPX apostolate in Bryant.
The initial response to Summorum Pontificum was as favorable as could be expected. Bishop Sartain was gone, and Bishop Taylor was not a bishop yet. At the invitation of the Diocesan Administrator, Msgr. Gaston Hebert, the two FSSP priests assigned to the diocese conducted a seminar at the quarterly priests meeting at the Saint John Center in Little Rock. This was during the Fall of 2007. Father Demets gave a presentation, and Father Terence Gordon, FSSP celebrated Mass at the chapel of the Saint John Center. The deeply conservative southern Catholics in Arkansas have never been willing to depart from their Faith, and they seemed to have had little problem accepting the idea of restoring the Latin Mass according to Pope Benedict's instructions. On Oct. 25, 2007, the Arkansas Catholic had an online poll in which the question was asked: "In Arkansas Catholic this week, we read about priests attending a Tridentine Rite (Latin) Mass during their recent meeting. If a Latin Mass was offered in your area, would you attend regularly?" More than half (53 percent) said yes, and only 27 percent said no.
Early in 2008, based on Summorum Pontificum, a Latin Mass Community was established in Berryville, a small town not far from Fayetteville in Northwest Arkansas. Within weeks Father Thomas Arackal, pastor of St. Anne Church in Berryville, began offering Mass every Sunday. About the same time, Father Edward Yew of Collinsville, Oklahoma offered a special Traditional Latin Mass at St. Josephs in Fayetteville. These were the first Tridentine Masses in northwest Arkansas in over 40 years, after 18 years of petitioning. Several hundred people were in attendance.
Father Laurent Demets and a group of altar boys and choir members traveled to St. Josephs in Fayetteville for yet a second Mass in the large church a few months later. It appeared that there were hundreds of people in the area who were interested in the old rite. The two priests who were supporting and encouraging those faithful who were working to establish the Extraordinary Form of the Mass in the northwest part of Arkansas were Father Bradley Barber, the pastor of St. Josephs in Fayetteville, and Father Thomas Arackal in Berryville who continued to offer the Mass every Sunday in Berryville.
Bishop Anthony Taylor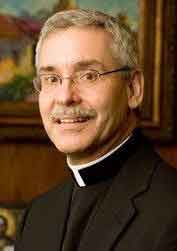 Bishop Anthony Taylor was appointed in the Spring of 2008, after having made a name for himself in Oklahoma City as a champion of illegal immigrants. He credits Martin Luther King, Jr. for having inspired his vocation, he's proud (to the point of being annoying) about his ability to speak Spanish, and he's been known to attempt to convince people that he's not ideological. Within a few weeks of his arrival, the community in Berryville was discontinued and Father Thomas Arackal was reassigned with no provision for the Mass to continue. Shortly thereafter he was sent back to his native country. A few months later, Father Bradley Barber was accused of some wrongdoing, and with no preliminary investigation he was removed from his position as pastor of St. Josephs in Fayetteville while some very disturbing accusations against him were broadcast to the entire world by the Diocese of Little Rock. The accusations were so unrealistic that they do not deserve to be repeated, unlike the ridiculous and greatly exaggerated accusation against Father Demets at the beginning of this article. Father Barber was quickly cleared, but to this date his faculties have not been restored.
For a period of time, again, in Fayetteville and for several hours drive in any direction Catholics had no access to Mass in the Extraordinary Form, just as they did not prior to Summorum Pontificum. They petitioned Bishop Taylor relentlessly. In February 2009 he posted his answer on Facebook:
This is my response to a private query I received recently by an individual requesting Mass in Latin in NW Arkansas. The letter was very respectful and I responded to him directly. After responding, it occurred to me that others might be interested in my response to this request—the main points of which are as follows:
I do not in any way oppose celebrating Mass in Latin—indeed, we do have Mass celebrated in Latin here in Little Rock and at Cherokee Village by priests of the Priestly Fraternity of St. Peter. Moreover, I served the Latin Mass as an altar boy years ago, prior to the liturgical changes following Vatican II. There are 3 reasons that we are not presently able to offer Mass in NW Arkansas at this time:
1) Trination: Priests are only allowed to "trinate"—celebrate a maximum 3 Masses on a single day—and with the shortage of clergy, most of our priests are already "trinating" every weekend. Technically speaking, when Sunday Mass is celebrated on Saturday evening, it counts toward those 3 Masses, but for reasons of pastoral necessity (due to the shortage of clergy) Arkansas priests have permission to celebrate Mass on Saturday in addition to 3 further Masses on Sunday, but not more without my explicit permission—and I generally do not give that permission except in emergency situations, say if a priest wakes up sick on Sunday morning and other priests have to scramble to cover his Masses. Note also that priests often have weddings and funerals on Saturday too. We wouldn't be able to offer Mass in Latin in Little Rock or in Cherokee Village except for the generous service of the priests of the Priestly Fraternity of St. Peter.
2) Pastoral Need: Our most pressing pastoral need in NW Arkansas is Mass in Spanish. This is a far more pressing pastoral need than the desire of some to have Mass in Latin. Those who choose a Latin Mass do not do so because they cannot understand English (or Spanish) but rather because they find it more edifying—indeed, even in the Latin Mass the homily is usually in English! By contrast, those who attend Mass in Spanish do so mainly because they do not understand English, or at least not very well. So they have a pastoral need, whereas those who want a Latin Mass only have a preference. Hence, any additional Masses need to be in Spanish until that need is met—only after that can we consider what additional opportunities people might like.
3) Facilities: The third reason is less a problem than the other two, but it does need to be taken into account…namely, the availability of facilities. Most of our NW Arkansas Churches have a pretty full weekend schedule already—and this becomes an even greater scheduling problem on major feasts like Christmas and Easter. Moreover, the Extraordinary Form of the Mass often requires the celebrant to rearrange things in the sanctuary.
Absurd, and way too long! What a waste of time to read such nonsense. He would have been better off just keeping it brief and being honest about his rebellion against the Pope with something like this:
This is my response. Despite what the Pope just said in Summorum Pontificum, you people don't need no Latin Mass. Not until we meet my secret quota of Spanish Masses, anyway.
I guess he thought that if he used some technical terms like "trinate," and appealed to the "shortage of clergy," and just rambled on long enough we, the idiotic, would accept it. Let's start with his secret quota. A list of the Masses in Spanish and Latin from this same period shows 37 locations in the state with Spanish Masses (many of them having multiple Sunday Masses in Spanish) and only three with Latin Masses. Do you think it would ever occur to these modernist bishops that they shouldn't divide the faithful along linguistic lines like this? What if the Mass were in Latin, as mandated by Vatican II, in at least one location in each deanery so that people could attend with their Roman Missal and pray together in the language of the Holy Church regardless of their native tongue? What's so hard about that?
What would have been wrong with taking a scheduled Mass that's in either Spanish or English and making it a "Latin Mass?" What about this "shortage of clergy?" Where were Fathers Arackal and Barber at the time? Bishop Taylor had already disposed of the two priests who were ready and willing to offer the Latin Mass! And Father Barber was still waiting nearby for his faculties to be restored, just as he's still doing to this very day!
It's interesting that Bishop Taylor makes the statement: "We wouldn't be able to offer Mass in Latin in Little Rock or in Cherokee Village except for the generous service of the priests of the Priestly Fraternity of St. Peter." By now we can all see how he views the generous services of the Fraternity of Saint Peter. And, of course, there are no facilities. Not for a Latin Mass, at least. As the bishop says, "Most of our NW Arkansas Churches have a pretty full weekend schedule already…." Got that? "pretty full." So he can't find a single church in a 100-mile radius that can spare an hour or two on Sunday?
Next Victim
Shortly after this arrogant public discarding of Summorum Pontificum by Bishop Taylor, a young priest was ordained for the Diocese of Little Rock. This exemplary young priest, we'll call him Father X, was a convert and had spent his last few years in Rome, so he came to the Diocese of Little Rock with a good understanding of the significance of Summorum Pontificum. He was assigned to a parish in the vicinity of Fayetteville where Bishop Taylor had recently left a huge spiritual void by sacking Fathers Arackal and Bradley. As Father X began slowly but surely fulfilling his role as a priest, Bishop Taylor slowly but surely began paying attention. He began making trips to visit the "wayward" young priest, who was reportedly spending way too much time in front of the Blessed Sacrament reading some silly little black book and wearing a cassock all the time! Then came the news that's most disturbing to any modernist dissident: the young priest was offering "Tridentine Masses" once a week at 6:30 on Monday mornings! Monday was his "day off," so he was getting up early on his "day off" and offering Mass in the Extraordinary Form. What could possibly be wrong with that? But Modernists can't stand the old Mass because they can't use it to advance their ideological agendas; they feel compelled to remove it from the face of the earth. Finally, in late February 2010, Bishop Taylor personally escorted Father X to the St. Luke Institute in Silver Springs for "treatment" related to some supposed "personal problems." Every priest in the diocese knew exactly what those personal problems were – a desire to offer Mass in the Extraordinary Form.
This young priest was there for nearly 6 months. In fact, the list of priests in the Diocese of Little Rock who have been subjected to some form of "evaluation" or "treatment" at this St. Luke Institute seems to be a bit long, to say the least. It deserves an investigation.
So, let's summarize: Father Arackal – gone. Father Bradley – removed. Father X, "rehabilitated." Father Demets – gone. The Saint Pio de Pietrolcina Latin Mass Communities of Mountain Home and Cherokee Village – gone.
More Questions
And so, here we are in the year 2011 Anno Domini, with Catholics in Arkansas still having to fight for their right to the Usus Antiquior as if they were back in the 1970's. Bishop Taylor has found a way to get around Summorum Pontificum: if a priest is caught praying in Latin, accuse him of some wrongdoing and broadcast it to the world. It doesn't have to be true or accurate. Don't bother to investigate, just get it into the news media, destroy the man's reputation, and move on to the next target. It works! Even for good priests like Fathers Bradley and Demets. Or, better yet, send him to St. Luke's for "treatment." I'm guessing that Bishop Taylor and his henchmen will continue to purge the diocese of one holy priest after another in this manner. What is there to stop them? It works! At this point they are just a few steps away from accomplishing their mission, which seems to have everything to do with purifying the Diocese of Little Rock of Catholic Tradition. Catholic Tradition stands in the way of ideological agendas, you see.
All of this raises even more questions than we started with:
- Will Bishop Taylor succeed in snuffing out the remaining Latin Masses in the Diocese of Little Rock?
- Is Bishop Taylor required to implement Summorum Pontificum, or is the Diocese of Little Rock exempt for some reason we're unaware of? It's widely understood that if some priest wants to offer a Mass in the Extraordinary Form he had better be careful or he may end up at St. Luke's. Is this acceptable?
- Why does the Diocese of Little Rock not restore the good name of these priests once they've been cleared of any wrongdoing? Don't they at least feel some moral obligation?
- Can you imagine the SSPX subjecting their priests to the authority of someone like Bishop Taylor? It would be sheer insanity! Could the delays in reconciliation with the SSPX have something to do with a genuine concern over their priests being treated like this?
- Would a personal prelature provide adequate protection for SSPX priests? In view of the fact that we have Bishop Taylor and probably others like him, wouldn't an apostolic administration be a more adequate structure?
- Isn't there a concern that Bishop Taylor's disobedience might encourage other dissidents? Or that it might be prolonging the process of reconciliation for the SSPX? Is that the bishop's intent?
One Final Question
Who will triumph in the end, the Little Rock or the Big Rock?
Matthew 16:18…Tu es Petrus et super hanc petram aedificabo ecclesiam meam et portae inferi non praevalebunt adversum eam.