Militantly liberal forces are at work trying to intimidate the Holy Father against continuing his liturgical reforms. Traditional Catholics cannot sit by and let them have their way
In November, supporters of Summorum Pontificum will converge in Rome for the Year of Faith. The pilgrimage will include the Papal Audience and a Traditional Latin Mass at St. Peterís Basilica.
In his recent article in Catholic World Report, Alberto Carosa noted that the proclamation of the Year of Faith (which begins on October 11, 2012 and ends on November 24, 2013) is a bid to mobilize the faithful on an unprecedented scale... Pope Benedict XVIís call is being heeded by tradition-minded faithfulóthose who regularly attend the celebration of the liturgy according to the 1962 Missal, which was liberalized in 2007 by the motu proprio Summorum Pontificum. (Continued Beneath Ad)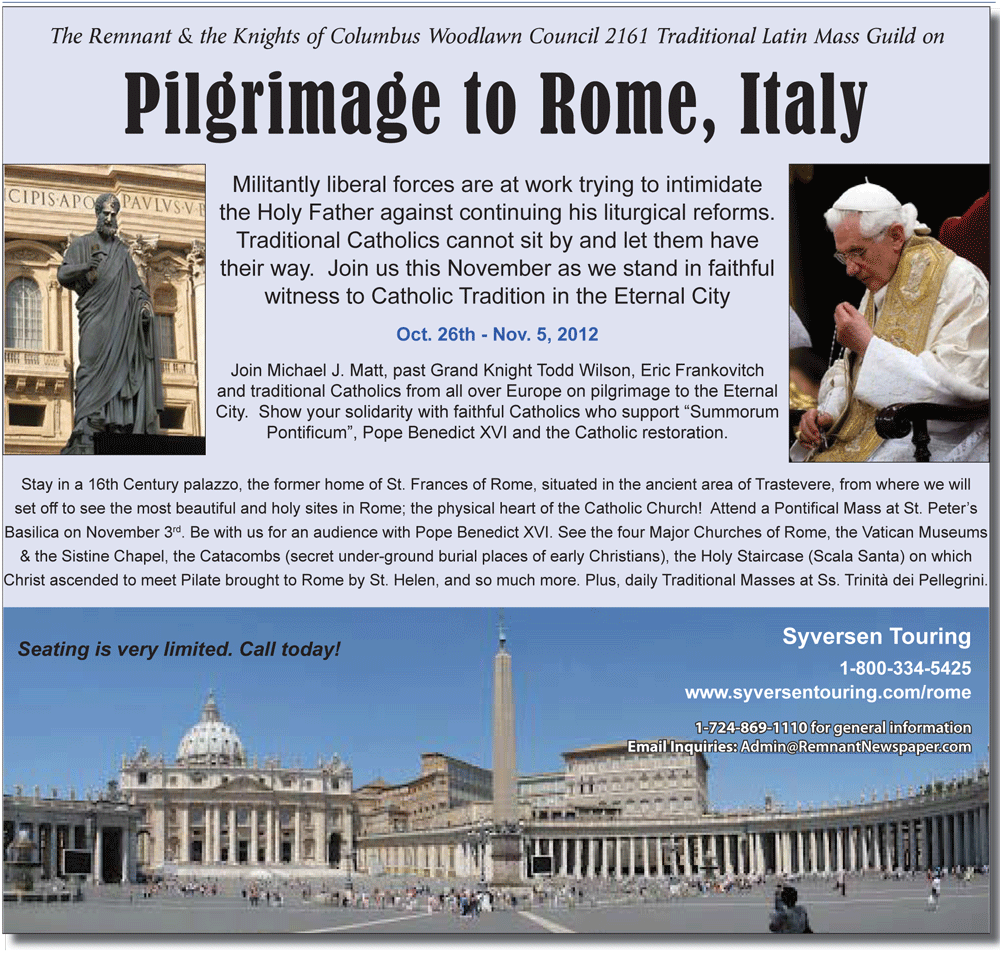 As was reported in early August on various blogs and websites, including La Stampaís Vatican Insider, traditionalists from around the world will converge in Rome November 1-3 for a pilgrimage in conjunction with the Year of Faith, to support the Holy Father and to celebrate the fifth anniversary of Summorum Pontificum. The pilgrimage will conclude with a Mass in the extraordinary form at St. Peterís Basilica on November 3.
The event is being coordinated by the newly-established Coetus Internationalis Pro Summorum Pontificum (CISP), the umbrella organization representing various groups of lay faithful committed to the implementation of the motu proprio, in particular the Foederatio Internationalis Una Voce (FIUV, the International Una Voce Federation) and the Coordinamento Nazionale del Summorum Pontificum Italiano (Italian Summorum Pontificumís National Coordination Board).
In a joint effort with Syversen Touring, The Remnant as well as the Woodlawn Council Traditional Latin Mass Guild are organizing the U.S. contingent on this important pilgrimage.
Please call (800) 334-5425 for more information about the
Summorum Pontificum Pilgrimage to Rome
Plus, there will also be an important conference held near Steubenville University at the end of September called Catholic Identity Conference 2012. Tradition-minded Catholics are mobilizing. Don't be left out. Call today!
Dial (304) 723-6343 for more information about
Catholic Identity Conference in West Virginia