The Remnant's 2012 Tour of France Sells Out
We are still accepting reservations, however, for the 3-day walking Pilgrimage to Chartres only. The US Chapter, organized by The Remnant Tours, is at 50, which means there are still 10 places available. For more information either click HERE or write us at:
The Remnant Tours
PO Box 1117
Forest Lake, Minnesota 55025
Father Michael Rodriguez,
Chaplain of The Remnant Tours, 2012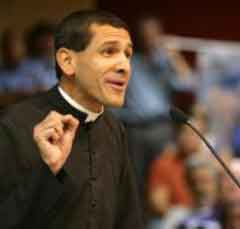 I'm thrilled to announce that the courageous priest, Father Michael Rodriguez, about whom we've written so much in The Remnant over the past year, has agreed to serve as the official chaplain for the 2012 Remnant Tour and Pilgrimage to France. (See PDF full ad HERE ). This is indeed a great honor for us, and we're eager to make Father welcome and to introduce him to our French allies in the Catholic cause.
Our friend Father Paul McDonald, Remnant chaplain for so many years, cannot make it this year because he is to assist in the ordination of two new priests from his parish in Canada. Father Jared McCambridge, FSSP, our much-appreciated co-chaplain over the past couple of years, also cannot be with us this year as he must attend a priest meeting in Nebraska, but has promised to make every effort to return next year. In his absence, we're delighted to welcome Fr. Angelo Van der Putten, FSSP, who graciously agreed to step in and help meet the many spiritual needs of the pilgrims this year.
The Lord has blessed The Remnant Tours over the years with many fine young priests to serve as chaplains, and this year promises to be no different. Anyone interested in helping to defray the high costs of sending two chaplains to help with Masses, confessions and spiritual direction for the large American chapter on the Chartres Pilgrimage this year, can send tax-deductible donations to The Remnant Tours Chaplain Fund PO Box 1117, Forest Lake, MN 55025 or click HERE to donate online.
All sponsors will be placed on the Mass intentions list, and their names will be added to the Pilgrimage Prayer List, as well, to be read aloud every day during the Pilgrimage.
Major Itinerary Change for 2012 Remnant Tour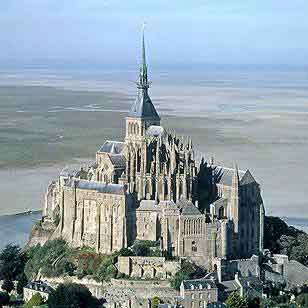 Speaking of The Remnant Tours 2012 pilgrimage to France, I hasten to alert our readers to some major changes to this year's itinerary. The first part of the pilgrimage will remain the same: Two nights in Paris (Montparnasse), two nights on the 70-mile walking pilgrimage to Chartres, and then two nights in the old town of Chartres itself (to include a magnificent tour of the cathedral conducted by the world-famous Malcolm Miller, premier English-language expert on Chartres).
After leaving Chartres we will not proceed directly to Versailles as had previously been announced here and in The Remnant. Instead, we've decided to make a pilgrimage to the shrine of Our Lady of Hope at Pontmain. Pontmain is in Brittany—one of the most beautiful parts of northern France. While in Brittany, we've managed to find accommodations at the medieval Abbaye de Saint Jacut de la Mer, on the coast of France (the English Channel). While up there, we will visit the famous medieval walled city of Saint Malo as well as the island fortress/monastery Mont Saint-Michel. The French Revolution tour to be conducted by Dr. John Rao and James Bogle will take place over the last two days in Versailles.
With daily traditional Masses, historical lectures and outstanding sightseeing, along with the grand walking Pilgrimage to Chartres, this promises to be one of the best Remnant pilgrimages ever. Dedicated to Our Lady of Hope and St. Joan of Arc, there are still 15 seats available. Please see PDF full ad HERE
Young Catholic Pilgrims Still Need Help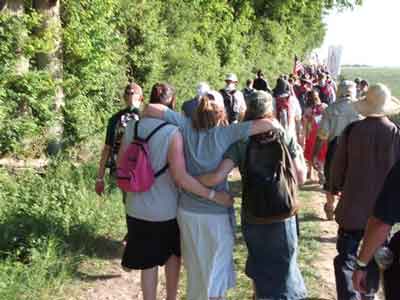 We are still very much in need of sponsors for young Catholics waiting on our list. Readers of The Remnant have already sponsored a handful of young people for this year's pilgrimage, and many of those still waiting are fairly close to the mark. Readers wishing to take advantage of the graces offered by pilgrimage but unable to physically attend, are encouraged to select a young person to help send, along with your prayer requests. Tax-deductible donations of any size can be sent to The Remnant Tours Youth Fund at PO Box 1117, Forest Lake, MN 55025. In return, the young pilgrims will carry the intentions of their sponsors to the altar of Our Lady of Chartres and Pontmain. The list of names of waiting pilgrims can be found below, along with a link to our donate page. Please specify which young person or chaplain you would like to help sponsor.
Readers wishing to take advantage of the graces offered through pilgrimage, may sponsor young Catholics by sending tax-deductible contributions of any size to the following address or by clicking HERE:
The Remnant Tours' Youth Fund
PO Box 1117, Forest Lake, MN 55025
Young pilgrims will walk the pilgrimage in the name of their sponsors. The names of sponsors and their special intentions will also be carried to Chartres and read aloud each day on the Pilgrimage:
Waiting for Sponsors:
Jeanette VanderPutten,16, Maple Hill, KS Fully Sponsored
Sophie Mioni, 17, Kansas FULLY SPONSORED
Chris Kunkel, 19, Ohio FULLY SPONSORED
Rebecca Koskinan, 17 Kansas ($2000)
Lawrence Burns, 17 Kansas ($100)
William Kabel, 17, PA FULLY SPONSORED
Maggie Twaddle, 18, St. Marys, KS Fully Sponsored
Mary Rogers, 17, Minnesota FULLY SPONSORED
Kevin Eubanks, 16, Yucca Valley ($100)
Elizabeth Link, 16, Yucca Valley ($100)
Jacinta Bourbeau 20, Minnesota ($400)
For more information, please contact us at: Admin@RemnantNewspaper.com