FOR IMMEDIATE RELEASE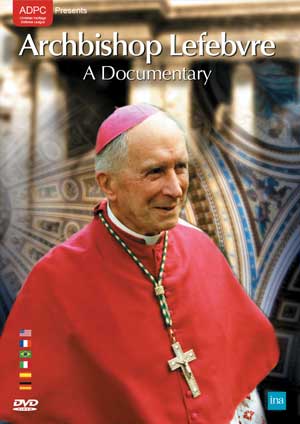 The debut New England screening of Archbishop Lefebvre: A Documentary will take place at the Palace Theatre, 165 Main Street, Danbury, CT (USA) on Sunday, November 17 at noon. Tickets are $7.
A groundbreaking work by an international team of scholars, filmmakers, journalists and consultants, the film examines the life of a bishop whose influence upon the Catholic Church is larger than ever, more than 20 years after his death.
Through raw archival footage and extensive interviews with bishops, priests, family members and friends who knew and worked with him in Europe, Africa and the United States, a clear picture of this pivotal figure in the Church's history is revealed.
He was ordained in France in 1929 and abandoned all to become an African missionary. He was appointed a bishop by Pope Pius XII, named Apostolic Delegate to French speaking Africa and was elected Superior General of the Holy Ghost Fathers, at the time the world's largest missionary congregation. He was then named to the Preparatory Commission for the Second Vatican Council.
Archbishop Lefebvre is known most publicly for his rejection of the modernist reforms of the Second Vatican Council. He formed the SSPX in order to preserve Catholic tradition.
One of the most influential members of the clergy in the 20th century, Archbishop Marcel Lefebvre was an intelligent, articulate, devout bishop with the heart of a missionary. Anyone interested in the story of the Church in the 20th century, or the life of the Church today, will not want to miss this most comprehensive treatment yet of his life's work.