Playing Politics While Babies Die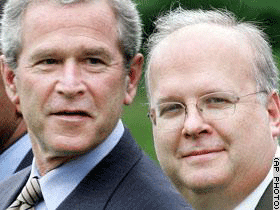 (www.RemnantNewspaper.com) He was squirreled away in the White House on January 22, 2001, not even bothering to telephone the March for Life that year, leaving Representative Christopher Smith (R-N.J.) to deliver a written set of remarks in his behalf.
He was in St. Louis, Missouri, two years later, addressing a "conference" on the economy that had been cooked up by Karl Rove to get him out of Washington, D.C., rushing back to the White House, however, to have dinner with United Nations Secretary General (and Crook-in-Chief) Kofi Annan.
He was in Albuquerque, New Mexico the next year, 2004, campaigning with a notorious Catholic pro-abort named Rudolph Giuliani, although he had found time just two days before to address a crowd at a church in Hyattsville, Maryland on the Federal holiday known as Martin Luther King Day. He was absent again just four days after his inauguration in 2005.
He was absent yesterday, January 23, 2006, spending taxpayer dollars to fly out for yet another staged event, this one in Manhattan, Kansas, to defend his illegal and unconstitutional warrantless electronic surveillance program to a friendly group of military personnel.
Who is he? Why, of course, our "pro-life" President, George W. Bush, the man who supports the slicing and dicing of innocent human beings in their mothers' wombs in certain "hard" cases, the man whose administration funds the chemical executions of millions of preborn babies in this country and around the world by means of domestic and international "family planning" programs. Oh, yes, George W. Bush is never quite available to personally address one of the key elements of his electoral constituency, pro-life Americans, most of whom think that he is their friend and that we are making "progress" in the battle to restore legal protection to the innocent preborn.
White House Deputy Chief of Staff and Presidential adviser Karl Rove plans the President's schedule very carefully to make sure that Mr. Bush is out-of-town each January 22 (or January 23 or 24, if the actual date of the decision in Roe v. Wade falls on a Saturday or a Sunday). There is a reason for this: Rove does not want "moderate" Republicans and "independent" voters to be alienated by an appearance of the President at the March for Life. Rove knows full well that the thousands upon thousands of Americans, most of them Catholics, who travel to Washington, D.C., each year to participate in the March for Life will accept very readily the platitudinous words that Bush reads from a prepared script while speaking via a telephone connection with March for Life Education and Defense Fund President Nellie Gray.
Pro-life Americans have been letting supposedly "pro-life" presidents get away with snubbing them each year during the March for Life for a long time now. "Pro-life" presidents (each of whom supported baby-killing in certain cases) have governed this nation during eighteen gatherings of the March for Life, starting with President Ronald Wilson Reagan in 1981. Reagan, advised by Vice President George Herbert Walker Bush, White House Chief of Staff James K. Baker, and Deputy White House Chief of Staff Michael Deaver, never once walked across the South Lawn of the White House to the Ellipse where the annual rally prior to the March for Life takes places. "Chopper One," which was carrying Reagan and his wife to Andrews Air Force Base on January 22, 1986, flew over the Ellipse during the rally, prompting a priest from Long Island to shout out, "Hey, come back down here. What's wrong with you? What have you got to lose?"
Well, George Herbert Walker Bush continued the "telephone connection" hook-up with Miss Nellie Gray during his four years in the White House (1989-1992). It was only after he took a bit of heat for refusing to even address the March for Life rally by telephone in 2001 that the elder Bush's son, George W. Bush, picked up the phone to make his scripted remarks in 2002, much to the delight of the assembled Americans,. Most of those who gather each year to march for life give Bush a free pass for supporting the killing of babies by means of surgical abortions in some cases, for his campaigning actively for pro-aborts in his own political party, for permitting "limited" Federal funding for embryonic stem-cell research, for refusing to issue an Executive Order to countermand the Food and Drug Administration's September, 2000, decision to permit the sale of the human pesticide, RU-486, for his funding of chemical abortions, for his appointment of pro-aborts (Chief of Staff Andrew Card, Secretaries of State Colin Powell and Condoleeza Rice, Homeland Security Secretaries Tom Ridge and Michael Chertoff, Defense Secretary Donald D. Rumsfeld—all pro-abortion), for his appointing pro-aborts to his "bioethics" panel, for his refusal to support the Brownback/Landrieu amendment in the Senate to ban the patenting of human embryos (despite Bush's rhetorical "opposition" to human cloning), for his efforts to have pro-life champion Joseph Scheidler branded a "bandit" in the case of N.O.W. v. Scheidler, for the loopholes in his "Mexico City" policy that permits "family planning" agency employees to advise women about killing their babies off of the agency's premises, for his support of expanded Medicaid coverage for abortions in the State of New York, for his refusal to use the executive power that he has used so freely to "protect" the nation to save the life of Mrs. Theresa Marie Schindler-Schiavo, for his support of a meaningless ban on partial-birth abortions that would have permitted that form of child killing to have continued in certain cases (and would not have stopped two other methods of late-term child-killing, the dilation and evacuation and the hysterectomy), for his refusal to say that he supports an amendment to the Constitution to end all abortions in all cases at all times, for his refusal to support the Right to Life Act that has been introduced in the United States Congress, among many other betrayals of fundamental justice founded in Truth Incarnate Himself.
Oh, no, George W. Bush is "pro-life" because he says he's pro-life. More accurately, George W. Bush, who is simply less pro-abortion than politicians who support abortion at all times and in all cases, is perceived as being "pro-life" because it is easier to believe in the political equivalent of the tooth fairy than it is to use one's reason to examine his actual anti-life record.
The dumbing down of what it means to "pro-life" has caused some "pro-life" organizations to lower their expectations. Thus, the litmus test of being "pro-life" was reduced for over a decade to supporting the immoral, conditional ban on partial-birth abortions.
Now, believe it or not, the battleground has shifted to parental notification laws, which until now have needed "judicial bypass" provisions to withstand constitutional muster by the Supreme Court of the United States, which recently ordered a Federal appeals court to reconsider its reversal of a New Hampshire law that did not contain such a bypass. This is not progress, ladies, and gentlemen. This is a loss of ground, both politically and legally, that has done nothing to save lives and has done everything to indemnify phony pro-life politicians as they "burnish their credentials" every two years prior to national elections.
There is much excitement about the pending confirmation of Judge Samuel Alito to serve as an Associate Justice of the Supreme Court of the United States. Judge Alito might, if the situation presented itself one day sooner or later, vote to reverse Roe v. Wade, which would send the issue back to where it began in the 1960s—the states, which are no more free to ignore the binding precepts of the Divine positive law and the natural law than Congress or the Supreme Court. To think, however, that the confirmation of Judge Alito, who shamefully said that the "pro-life" views he expressed in 1985 were just part of a job application, is a cause of jubilation is to forget this simple fact: no one is talking about reversing Griswold v. Connecticut, which permitted wanton child-killing by means of chemical abortifacients under cover of law. The problem we face, as I have noted endlessly, is not constitutional or legal. The problem we face is a matter of the overthrow of the Social Reign of Christ the King as a result of the Protestant Revolt and the rise of all of the complex, inter-related forces associated with Judeo-Masonry and its nefarious allies.
When you come right down to it, however, both fully pro-abortion politicians and partially pro-abortion politicians who claim that they are "pro-life" are able to hoodwink the American public, including Catholics, because the Catholic bishops of the United States of America, despite all of their rhetoric at the March for Life (and the concelebrated Novus Ordo Mass that is offered in the Basilica of the Shrine of the Immaculate Conception in Washington, D.C., the night before the march), have presided over the aborting of Catholic doctrine and worship in the past forty years. They have presided over the abortion of Catholic souls, either looking the other way or actually approving of the hiring of professors and teachers and directors of religious education and catechists and liturgists who are at war with the Deposit of Faith Our Lord entrusted to the Catholic Church for its safekeeping and infallible explication.
The American bishops, many of whose predecessors helped to spawn the conciliarist novelties of "religious liberty" and "ecumenism," reaffirm Protestants and Jews in their false religions while presiding over the de-Catholicization of Catholic educational programs at every level of instruction.
The American bishops looked the other way as one formerly "pro-life" Catholic politician in the Democratic Party after another (Edward Moore Kennedy, Mario Matthew Cuomo, Joseph Biden, et al.) changed their positions in the immediate aftermath of Roe v. Wade to become merchants of death, thus making it possible for a new generation of Catholics in the Republican Party (George Pataki, Rudolph Giuliani, Tom Ridge, Susan Molinari, Susan Collins, Rick Lazio, Arnold Schwarzenegger, et al.) to support abortion and to retain their "good standing" in the Church.
The American bishops have undermined the innocence and the purity of the young by mandating explicit classroom instruction in matters pertaining to the Sixth and Ninth Commandments, defying the absolute ban on such classroom instruction by Pope Pius XI in Divini Illius Magistri in 1929. And this is to say nothing about how many American bishops have scandalized the faithful and wounded the Church's standing with possible converts by their systematic recruitment and promotion and protection of men steeped in the depths of unnatural vice into the priesthood and into their very own episcopal ranks.
While George W. Bush is indeed snookering pro-life Americans, including, Catholics, it is the Catholic bishops of the United States of America who let him and all other pro-abortion politicians of whatever decree continue to speak empty words while babies are killed at the same rate now as they were being killed on January 20, 2001, when Bush was sworn in for his first term as president. After all, which Catholic bishop of the United States of America has said word one about Bush's support for the murder of babies by chemical means, no less his support as a matter of principle for the killing of babies in the cases of rape, incest, and instances where it is alleged that a mother's life is at stake? Name one such bishop. Just one.
Pope Leo XIII wrote the following in his Apostolical Letter Testem Benevolentiae to James Cardinal Gibbons, the longtime Americanist Archbishop of Baltimore:
"For it [Americanism] raises the suspicion that there are some among you who conceive of and desire a church in America different than that which is in the rest of the world."
Pope Leo XIII wrote those telling words, prophesying the logical consequences of accepting blithely a constitutional system that makes no room for the Incarnation and for the Social Reign of Christ the King as it must be exercised by the Catholic Church, on January 22, 1899, seventy-four years to the day prior to Roe v. Wade. Every single one of Pope Leo XIII's concerns in Testem Benevolentiae, sadly, have been ratified by the words and actions of most of the bishops of the United States of America in the past forty to fifty years.
Once again, it is necessary to plead with Pope Benedict XVI to obey Our Blessed Mother's Fatima Message. The diabolical disorientation spoken about so frequently by Sister Lucia will not be put to an end unless he–or one of his successors–simply does what the Blessed Mother has said needs to be done to usher in a "certain period of peace" as a result of the fruit of the Triumph of her Sorrowful and Immaculate Heart. The warfare against Catholic doctrine and worship within the Church in her human elements will cease. The warfare against souls and bodies by Modernity will cease, at least for a time before the devil's final battle.
In the meantime, we must remain on our knees in prayer before the Blessed Sacrament and beseeching Our Lady through her Most Holy Rosary that we will see the world clearly as Catholics and never permit ourselves to be snookered by phony pro-life politicians or by bishops who have done much to contribute to the culture of eternal death that is abroad in this country and the world.
Our Lady of Guadalupe, pray for us.