(What follows is an abridged version of this year's Chartres Pilgrimage report.
Please see this week's issue of The Remnant for our full report, including pilgrim "letters from the front")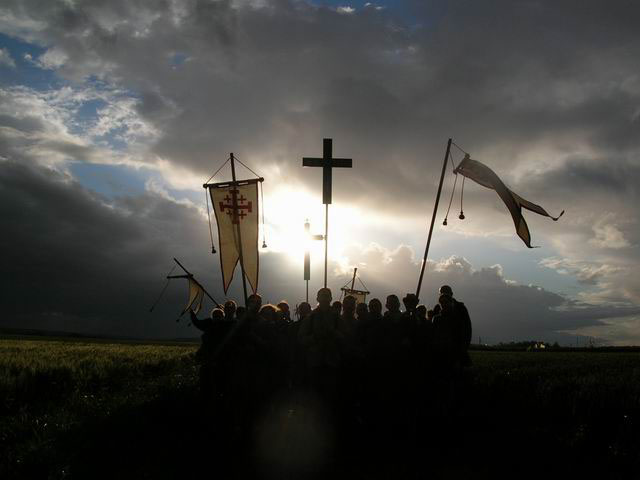 For the past seventeen years we've devoted the June issue of The Remnant to reports on the Pentecost Pilgrimage of Notre-Dame de Chrétienté — the 70-mile walking pilgrimage from Paris to Chartres, France. The first ever American report on the Pilgrimage was written, in fact, by our friend and former columnist, Gary Potter, who covered the event in person for The Remnant back in 1991. Since then, Michael Davies (RIP), John Rao, Chris Ferrara, myself and others have attempted to describe the indescribable in sixteen consecutive June issues. After so many attempts, however, I don't believe we've come close to achieving the desired objective. The Chartres Pilgrimage must be seen, really, in order to be believed.
It begins on the day before Pentecost when thousands of traditional Catholics from Russia, Australia, Ireland, Canada, England, Germany, Norway, Sweden, Spain and so many other countries join their French brothers and sisters at sunrise beneath the spires of Notre Dame Cathedral in Paris. Three days later it concludes in the city of Chartres, as over ten thousand blistered and dust-covered traditionalists complete the grueling march and kiss the stones of the ancient Cathedral of Notre Dame de Chartres. Much of what happens in between defies description.
Over the years, I've written of blistered feet, floorless tents, exhausted pilgrims, meatless broth, flavorless bread, outdoor Masses, armies of Catholic scouts, all night adoration beneath the stars, and miles and hours and days of walking… not out of defiance, but out of love for everything our fathers in the old Faith held sacred. Quite frankly, the two Pentecost pilgrimages in France—the one organized by Notre-Dame de Chrétienté and the other organized by the SSPX—constitute, in our opinion, the most important annual event happening anywhere in the world today.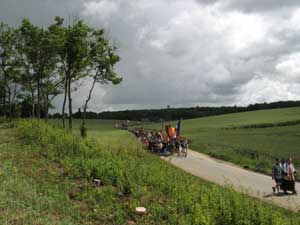 It is a living, breathing act of Faith, augmented by Catholic militancy and old-world charm. There are no "big shots" on the road to Chartres; no minutes recorded, no self-serving monologues, no elections, no meetings, no Q&A sessions, no blah, blah, blah. It is for God that the pilgrims march—not for men or fundraising…but God and Catholic restoration!
There are no Blackberries, no iPods, no cell phones, no rock music, movies, MP3s, talking heads or infernal presidential politics. The road to Chartres exists in the real world, where the pilgrim remembers what it is like to feel completely alive, both in body and soul. Think of it: three days without the din of the modern world and all the sex and sewage that expertly insulate modern men from any serious contemplation of the four last things.
Why do Catholics from all over the world make the arduous journey back to France every spring? Because their hearts are heavy, their families are divided, their countries are dying, their Faith is under relentless siege... and the Pilgrimage provides salve for their wounded souls.
Fire in the Night
Three Remnant pilgrims... a long way from Kansas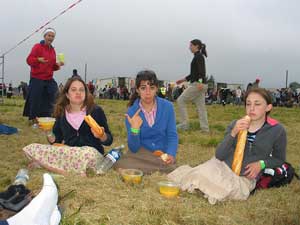 It rained this year on the road to Chartres; it rained, sleeted and some even saw a snowflake or two. Portions of the ground inside the tents were under water, and most sleeping bags were soaked through. Everyone was chilled to the bone. But, incredibly, spirits soared. Our chapter of 65 Americans was bustling with song and prayer and happy conversation all throughout the grueling three days.
Yes, Europe is in the process of banishing the old Faith from her shores. She's legalizing every manner of vice, killing her babies, euthanizing her elderly, sounding the death knell over the Christian family and the sacrament of matrimony. And, yet, even in the midst of all that, along comes a jubilant band of Catholic pilgrims, thousands strong, six abreast, stretching for miles across France, announcing to the whole world that the old Faith is still thriving in every corner of the world.
For three days, the past lives large in the present as even secular France can't ignore this strange and wonderful pilgrim parade, flanked as it is by countless priests in muddied cassocks and purple stoles—the all but forgotten keepers of Europe's broken altars. Throngs of scouts lovingly carry statues of Our Lady on their shoulders; banners of the saints are raised high for all to see; pilgrims sing forgotten hymns, renew broken vows, and worship at old-world Latin Masses. The Pilgrimage to Chartres is fire in the darkness that covers modern Europe. At times, this is literally the case.
After the first day's walk had finally ended, the French scouts organized a passion play of sorts in the bivouac, even despite the rain and frigid temperatures. I'd missed most of it but eventually limped out of my tent to see what was going on.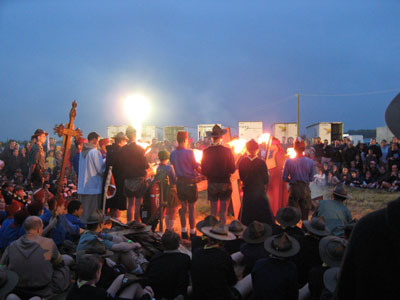 The sun had long since set, but a bonfire crackled in the center of the field where hundreds of tents had been pitched for the night. Its flames licked the darkness ten feet in the air, transforming the faces of countless pilgrims in a flickering, reddish glow. Some were in costume; all were in the old-world garb of the Christian pilgrim. Their boots were caked with dried mud; white bandages identified the walking wounded who'd been to the hospital tent. They wore traditional scout scarves around their necks; their flags and banners, emblazoned with images of the Sacred Heart and Our Lady, snapped in the breeze overhead.
Had a stranger approached just then he would have been forgiven for thinking that the cast and crew of Braveheart II were hard at work.
But this was real…very real!
"Je vous salue, Marie" ("Hail Mary…") the rugged company sang in stirring harmony, over and over again. A couple of monks in the traditional habit of the Benedictines led the pilgrim chorus. Suspended high on a wooden cross a young scout played the part of the Crucified in a sublimely Catholic pageant. The medieval character of it all sent chills up my spine. What I saw was a raw manifestation of faith and tradition that was Catholic to the core.
Standing silent witness to it, I thanked God for yet another poignant reminder of exactly what it is that we have lost and that we are fighting to restore. This is what the Revolution has labored 500 years to obliterate from the face of the earth. It's not just the Mass…it's the Faith, whole and entire, which includes the hallowed customs of the most transcendent cultural heritage the world has ever known.
I suppose the American bystander can be forgiven at such a moment for experiencing an ardent desire to make all this his own. Why has he been so deprived? Why did he never know any of this as a child? How could MTV, Hollywood and McDonalds replace this! He joins his voice to theirs, hoping against hope that in so doing his lost innocence might be restored and a keenly-felt cultural emptiness, which is all he's ever known, might be replenished with something real: Je vous salue, Marie.
Then the pilgrim voices grew silent, as that band of thousands turned silently towards the opposite side of the field and knelt down. The drama has ended, the time for sleep draws near, but one final act is yet to be played out. Nearby, there is a small chapel tent that is lit from within by a single candle. A sanctuary lamp. God Himself has been waiting in the wings.
Absolute silence reigns as a priest emerges from that makeshift Holy of Holies. Without a word, he raises the Blessed Sacrament and traces the Sign of the Cross over a sea of kneeling pilgrims. I steal a glance around me just then; all eyes are locked on the monstrance in humble worship; a mass Sign of the Cross is made in the windblown silence. I'm struck by one thought: I can see no face that appears to be over twenty years old. This is a children's crusade…only without the folly. The future belongs to them. The Revolution has failed.
It was no use trying to hide the tears that burned in my eyes at that happy realization. It was one of the most beautiful manifestations of Faith I'd ever seen, but its promise for the future was overwhelming. I don't remember being more proud to be Catholic than just then, kneeling in wet grass and shivering in the cold.
Why do we go back? Because our souls and every fiber of our beings long to go back—not just to go back… but to go back! On the road to Chartres the idea is not so far fetched. On the road to Chartres it is precisely through a commitment to go back that the pilgrim makes his progress. There is no other way.
One young lady had been to World Youth Day. When asked how that compared to this, her response was telling: "Notre-Dame de Chrétienté should organize that, too. Maybe then it would be as Catholic as this! It will take time to absorb what I've seen here. But I'll never forget it."
Jubilee Year
This year's pilgrimage was the 25th consecutive Pentecost pilgrimage organized by the French lay organization Notre-Dame de Chrétienté. The Pilgrimage to Chartres is an ancient tradition, of course, having been walked by popes, kings and queens (including Louis IX and Mary Queen of Scots), great French writers such as Charles Peguy, and Saints such as St. Bernard, St. Joan of Arc, St. Anslem, St. Vincent de Paul, Louis Martin, Francis de Sales and countless others.
Notre-Dame de Chretiente leads the way, all 70 miles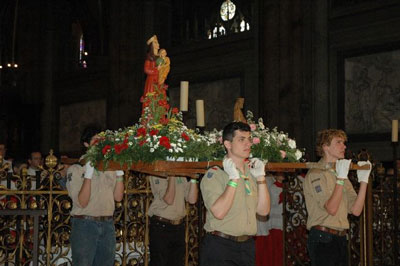 The Pilgrimage was put on hold during the world wars of the last century, of course, but it took the spirit of Vatican II to nearly kill it off completely in the 1960s.
Twenty-five years ago, however, a small handful of French traditionalists reestablished the Pilgrimage, though they were not even allowed to enter the Cathedral once they'd arrived in Chartres. Barred at the doors, they had to celebrate the traditional Mass in the town square. Thus began the restoration of what was at that time one of the last annual pilgrimages in Europe. Following the Chartres model, dozens of pilgrimages have since sprung up around the world, including the very successful Auriesville Pilgrimage here in the States.
This year's Pilgrimage was indeed a jubilee, and we congratulate Notre-Dame de Chrétienté for yet another extraordinary success. Imagine for a moment what goes into coordinating well over 10,000 pilgrims for a three-day trek out of Paris, across the French countryside, and safely into the Cathedral at Chartres…with places to sleep for two nights, time slots for breaks, meals and access to bathroom facilities. Imagine the logistics! And yet every year it is done to perfection and without a hitch.
Our hats are off to the Notre-Dame de Chrétienté team whose organization was flawless, security was impeccable, devotions sublime, choices of patron saints (including the Cristeros) seemingly inspired, and Masses more glorious than ever..
This year's pilgrimage theme, "Walking With God: Tradition – Christianity – Mission", was explained by Notre-Dame de Chrétienté as follows:
This pilgrimage means a lot to us. We have received a lot from it, we have also given a lot to it, and indeed these two things go together … let us give thanks to God. We are very attached to this pilgrimage. First of all because of its objective value, of its effect on our souls, of its witness against a society that from many points of view is decadent. Secondly, we are attached to our pilgrimage because quite simply God has allowed us to be part of it and part of its organization. This year, 2007, we take part in the 25th pilgrimage to Chartres.
It's a useful and wholesome custom for priests, religious and families to celebrate jubilees, in this case the 25th anniversary of a commitment. It gives us an occasion to renew our promises, to come back to the true and original meaning of our commitment. Often this original commitment may have lost its edge, got watered down or perhaps got lost in the routine or in the numerous difficulties to be resolved. It may have gone lukewarm, got lost in our over attachment to human means. It is an opportunity for us to take courage, to once again raise our sights and to take strength to face the coming years with renewed zeal. It is the same for our pilgrimage. It is a question of finding again the true and deeper sense of our walk of prayer and penance, its personal and social dimension, 'the religious journey of a whole people'.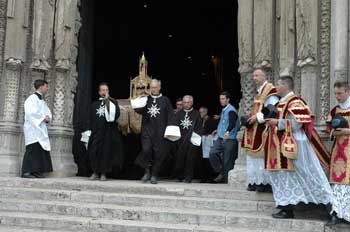 The approach that we propose is the following : we are going to look at different pilgrims, all marching towards God, in the Old Testament, the Gospel, the history of the Church, the history of our civilization and of each of our countries; they all prefigure in one way or another our own pilgrimage. We will march and unite ourselves to patriarchs who marched before us, the prodigal son, Our Lady, Our Lord, the apostles, and also of heroes, of warriors and of missionaries, of Charles Péguy, the French writer who revived the walking pilgrimage to Chartres in the 19th century. Minor pilgrims of Christendom that we are, we will learn from everything that we rediscover…
It is for us to bring this alive for the good of our pilgrims and the greater glory of God.
It was a great honor for the chapter leaders from foreign countries to be invited to sit at the front of the Cathedral for this special anniversary Mass. Sitting next to my old friend and revered mentor, the great Arnaud de Lassus, at the very head of that sprawling congregation of well over ten thousand traditionalists, and witnessing the great Abbé Francois Pozetto of the FSSP offer the solemn High Mass (in this his 25th anniversary year as a priest) with a degree of perfection unsurpassed and with the prayerful attitude of a saint…well, for me it was a humbling experience never to be forgotten. After the Mass we had an opportunity to shake the hand of the new president of Notre-Dame de Chrétienté, Monsieur Olivier de Durat, whose farewell remarks will, I pray, be long heeded by all present:
Dear pilgrims, do we want the reign of our Lord Jesus-Christ? We do mean His social kingship? If yes, after these three days, do not leave this cathedral thinking that you have already accomplished something, but rather that you will have to accomplish something now in the near future. Leave with the firm intention to do more, to become real heroes; we mean leave with the intention to become saints. Have a safe return to your countries.
As U.S. contact for Notre-Dame de Chrétienté it is an honor to be allied with such a man and his organization. May God bless the apostolate of Notre-Dame de Chrétienté with another 25 years of glorious successes. Ad multos annos.
Looking Ahead to Next Year
Salve Regina, Chartres in Sight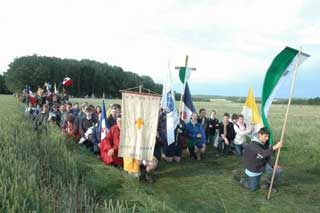 We plan to repeat our post-Chartres Catholic immersion program next year, perhaps at Lourdes, but perhaps Malta, Assisi, Rome or Sicily; we've not yet decided on the post-Chartres itinerary. The plan is to combine daily Tridentine Mass and Rosary (as well as visits to the holy places) with wholesome, Catholic recreation that will be interspersed with outstanding lectures on history and Catholic culture. It is our hope to find a castle or monastery that will facilitate this effort. It is also our intention to bring together another good mix of Catholics from different age groups—25 young people and 25 folks of more substantial age and wisdom.
The Remnant Tours Registration and Youth Fund are open already, and all donations are tax deductible. Those who decide to help sponsor young traditional Catholics will in effect be sending a personal representative on pilgrimage who will pray for them and carry their intentions to the holy places. In addition, sponsors will be prayed for by name every day of the Pilgrimage and be remembered in the official Masses throughout.
I invite Remnant readers to seriously consider joining us next year on the Pilgrimage to Chartres. The dates are yet to be announced but will run roughly from the Wednesday before Pentecost through the second Monday after Pentecost. The full price will also be announced soon but should be between $2000 and $2500, which includes airfare, hotels and two meals per day. To join us, please send a nonrefundable down payment of $400 to:
The Remnant Tours
PO Box 1117
Forest Lake, MN 55025
I hope to see you on the road to Chartres!