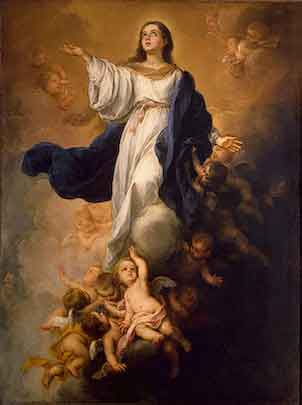 Editor's Note: In his Constitution Ineffabilis Deus (December 8, 1854) Blessed Pope Pius IX pronounced and defined that the Blessed Virgin Mary "in the first instance of her conception, by a singular privilege and grace granted by God, in view of the merits of Jesus Christ, the Saviour of the human race, was preserved exempt from all stain of original sin." Subsequent objections raised by Protestant critics contended that the Pope and thus the Catholic Church had more or less invented the doctrine of the Immaculate Conception, and that, Our Lady of Lourdes notwithstanding, Christians were free to reject it as a novelty. Such a contention is little more than a manifestation of ignorance of history, as the following document from the fourteenth century makes abundantly clear. Pius IX was using the full weight of his office to infallibly define merely that which Christians had always believed. Michael J. Matt
Why are some persons astonished that the Blessed Mary, Mother of God, should have been conceived without original sin, while we doubt not that St. John Baptist was sanctified in his mother's womb by that same God, who coming from the highest heaven, and from the throne of the most Holy Trinity, was made flesh in the blessed womb of a virgin? Loving His mother as He loves her, He must have surrounded her conception, her nativity, and the other phases of her life, with the most glorious privileges.
Why call in question the conception of a virgin so privileged, and of whom the Catholic faith obliges us to believe grandeurs and wonders which we cannot sufficiently admire? Is it not a much greater subject of admiration for all Christians to see that a creature has given birth to her Creator, and that she has become a mother without ceasing to be a virgin? How then shall the human mind suffice to praise this glorious Virgin, whom the Almighty predestined to possess, without the least corruption, the advantages of the divine maternity, conjointly with the glory of the purest virginity; and to be exalted above all the prophets, all the saints, and all the choirs of angels, as their queen?
Could there then have been wanting any purity and any grace to that excellent Virgin in the first moment of her conception, so that the stain of original sin might have been imputed to her – her to whom the angel of the Lord sent from heaven spoke these words, "Hail, Mary, full of grace! The Lord is with thee; blessed art thou among women!" Let then those who have nothing but vain and frivolous arguments to propose against the Immaculate Conception, so privileged and so pure, of the Blessed Virgin, be ashamed to publish them, because it was fitting that she should be endowed with so great purity, that next to that of God, none like it could be imagined. It is indeed fitting that she who had for her Son the Creator and Father of all things should have been, and should be ever, most pure and most perfect, having from the beginning and before all ages, by an eternal decree of God, been chosen among all creatures to contain in her womb Him whom the whole world and the whole immensity of the heavens cannot contain.
But we, who among all Catholic kings have received from this Mother of mercies so many graces and benefits without having deserved them, we firmly believe that the Conception of this Blessed Virgin, in whose womb the Son of God vouchsafed to be made man, was entirely holy and immaculate.
Thus we honour with a pure heart the mystery of this immaculate and blessed conception of the most holy Virgin, Mother of God: and we, and all those of the royal family, celebrate the festival of it every year with solemnity, in the same manner as our most illustrious predecessors of glorious memory have celebrated it, having had established for it a perpetual confraternity.
Wherefore we ordain that this Feast of the Immaculate Conception shall be celebrated annually for ever, with great solemnity and respect, in all the kingdoms of our obedience, by all the Catholic faithful, whether religious or secular, priests or others, of whatever state or condition they may be; and that henceforth it shall not be lawful, and we even forbid all preachers, and all those who publicly lecture on the gospel, to say anything, to publish and advance anything, which in any way whatever might prejudice or be injurious to the purity and sanctity of this blessed conception; but, on the contrary, we ordain that preachers and other persons who have had opposite opinions shall keep strict silence, since the Catholic faith does not place us in any necessity of maintaining and professing the contrary opinion; and that others who hold our holy and salutary opinion in their heart shall publish it in their discourses, and eagerly testify their devotion by celebrating, by the praises of the Most High, the glory and honour of His holy Mother, who is the Queen of Heaven, the gate of Paradise; she who has care of our souls, the secure haven of salvation, and the anchor of hope of all sinners who have confidence in her.
By the tenor of these presents we expressly establish, in perpetuity, that if it happens in future that any preacher, or any other person among our subjects, of what state or condition soever he may be, does not observe this ordinance, without any necessity for any other decree from us, let him be banished from his convent or house; and while he remains in this contrary opinion, let him depart as our enemy from the whole extent of our kingdoms.
Willing also and ordering, of our knowledge and mature deliberation, under pain of incurring our anger and indignation, all and each of our officers, who are on this side and beyond the sea, those who are there now, and who shall be there hereafter, to keep and cause to be kept with great diligence and respect our present edict, as soon as they shall have cognizance thereof; and that each, in his district, shall cause it to be published correctly, solemnly, and with sound of trumpet in all the usual places, so that no one may plead ignorance of it, and that the devotion of the immaculate conception of the most blessed Virgin, which Christians have long cherished in their hearts, may more and more increase; and that those people of an opposite opinion may no more in future be heard to open their mouths. In testimony of which we command these presents to be expedited, authorized by our seal, which we attached to them.
Given at Valentia, on the 2nd of February, the day on which we celebrate the Feast of the Purification of this most holy Virgin, in the year of Our Lord 1394, the eighth of our reign.