The Remnant's 2011 Pilgrimage to France will take place June 8 thru June 19. We will be returning to the 70-mile, 3-day walking pilgrimage from Paris to Chartres. The rest of the itinerary has not yet been determined but will either include Lourdes and the South of France or a pilgrimage to Rome. Please look for our ads in the near future.
The dates are already finalized so it is possible to block days off work, school etc.,
and the costs will not exceed $3000, airfare and hotels included.
The Remnant Tours' Youth Sponsorship program will open in September.
Applicants wishing to apply for sponsorship should send letters to [email protected]
on or after September 1, 2011.
Hope to see you on the road to Chartres.
Michael J. Matt,
US Coordinator, Notre-Dame de Chrétienté
Pilgrimage to Chartres, France
The Remnant to Return in 2011 for 20th Time!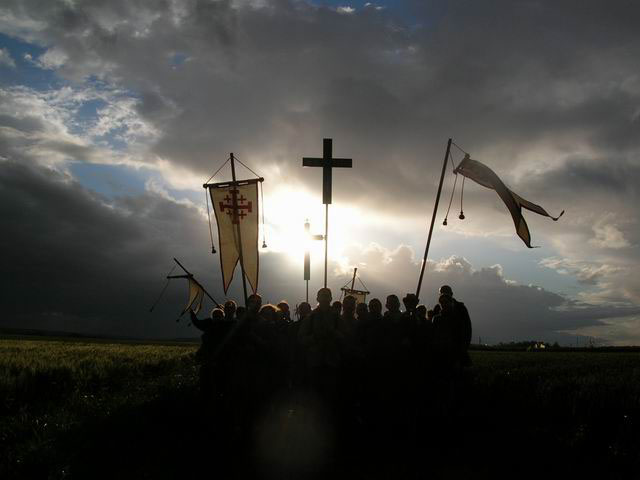 Join...
James Bogle John Rao Chris Ferrara Michael Matt
..and 15,000 Catholics on Pilgrimage Across France!
(70 Miles, 3 days, 2 nights--on the Road to Chartres)
(The Remnant Tours' 2010 Chaplain will be: Father Jared McCambridge, FSSP)

- Stay in the heart of Paris, a short walk from Notre Dame -
- Spend a night in the shadow of the Chartres Cathedral -

The rest of the itineary to be announced soon.

2 Nights in Paris, 3-day Pilgrimage to Chartres,

1 Night in Old Town Chartres,

6 Nights in either Lourdes, South of France, or Rome


Discover what being Catholic is really all about!

Call us today for more info: 651-433-3228

Send us an email request for more information:

(We've set a limit of only 35 seats this year, so call today!)

When?

Wednesday June 8 - Monday June 19, 2011.

How do I sign up?

A $400 down payment will reserve your place.

How much?

TBA but not to exceed $3000

(Package includes roundtrip airfare from New York, hotel accommodations, two meals per day, pilgrimage!)

Package Price Includes:

Pilgrimage to Chartres,

Historical lectures combined with guided tours,

Spiritual talks, informal conferences, wonderful meals,

World-class hotels

Daily Tridentine Masses, Confession

The most spectacular sightseeing in the world!

The Remnant Tours

PO Box 1117

Forest Lake, MN 55025

Call us today: 651-204-0145