Welcome to The Remnant Newspaper
For fifty years we have been fighting in defence of the traditions of the Catholic Church and the proclamation of the Kingship of Christ. In print or online, The Remnant calls a spade a spade no matter who is using it to bury God.

Subscribe to the Remnant Newspaper print edition today!
Headline News Around the World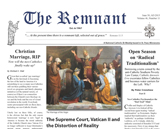 Preview the latest Remnant Newspaper Print Edition
Pope Francis published a new apostolic letter on July 11
th
entitled
, Greater Love Than This, On the Offering of Life
. Currently there is no English translation of the letter. However, many news outlets have reported its contents. These reports state that Pope Francis has just added an unprecedented fourth route to becoming a Saint in the Catholic Church.