Catholic Conference to Combat Anti-Christ Culture
Last Chance: Reservation Deadline Monday Sept 18

Dedicated to St. Mary Magdalene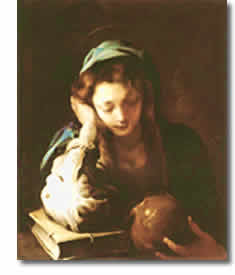 Press Release from The Remnant
(AUG. 20, 2006, St. Paul, Minnesota) – The Tridentine Mass is not enough! Home schooling is not enough!
If we want live the Catholic life, protect our children and save our souls, we must withdraw ourselves as much as possible from the popular culture that is hostile to Catholicism.
This is the theme of a two-day conference to be held in late September.
Plus, a solemn high Requiem Mass for the repose of the soul Michael Davies on the 2-year anniversary of his death—Sept 25, 2006. (Talks are free for young people under 18)
Rough Schedule
Saturday, September 23 8:00 AM: Registration
8:45 Introduction by Michael J. Matt and John Vennari
9:30: Michael J. Matt "Pop Culture: Brainwashing Machine of the New World Order"
11:00: Requiem Mass for the repose of the soul of Michael Davies
12:30: Lunch
1:30: John Vennari "Mystery of Iniquity and Fusion Catholicism: The Surrender of Catholic Colleges"
3:00: Scott Jones "Teaching in the Catacombs: Home Schooling Solutions." Home school Q&A
4:15: Fr. Paul McDonald "Pursuing Sanctity in a MTV World", followed by the Rosary
5:00: Social Hour, Confessions, book vending, fun activities, refreshments, and book signings
6:30: Banquet. Keynote address by Dr. David Allen White
Sunday, September 24
8:30: Tridentine Mass
9:30: Coffee and book vending
10:00: Fr. Michael McMahon "Chivalry Revisited: Raising Soldiers of Christ"
11:30: Brunch in hotel's beautiful atrium
1:00: Christopher Ferrara: "Hobbes, Locke & MTV: The Connection"
2:15: John Vennari "The Cult of the Teenager and World Youth Day"
3:15: Break, visit vending tables
3:45: Speakers Roundtable, Michael Matt on the Legion of Decency; all speakers on "Looking to the Future, Calling the Crusade"; Q&A
5:00: Closing Blessing
Entitled "Militant Catholicism vs. Pop Culture", the conference will be held on Saturday and Sunday, September 23 and 24, 2006 at the Embassy Suite Hotel, downtown Saint Paul. Admission is $85.00.
Conference speakers include Christopher Ferrara, author and lecturer; Michael Matt, Editor of The Remnant, and John Vennari, Editor of Catholic Family News; Dr. David Allen White, Professor of Literature at Annapolis Naval Academy, Fr. Michael McMahon, head of Our Lady of La Salette Boys Academy, and Scott Jones director of Our Lady of Victory Home School.
Remnant Editor Michael Matt explains what the conference hopes to achieve: "... In the wake of The Da Vinci Code, Like a Virgin, and a glut of new anti-Christ films, plays and TV series of late (to say nothing of the effrontery to Almighty God and His Blessed Mother being routinely perpetrated by rock/pop musicians, several traditional Catholic lecturers and I recently decided to try to put something together that might unite traditional Catholics in common cause against these anti-Christian marauders. Tradition-minded Catholics are divided on many issues, granted; but surely the culture war is one thing on which a consensus can be reached and a serious strategy forged. In St. Paul in September, we intend to declare war!"
The Conference brochure says it aims to help Catholics who are: "Tired of anti-Catholic Hollywood getting away with it"; "Weary of MTV and Broadway attacking our sacred beliefs"; "Sick of liberal priests and liberal Catholic educators going along with it"; "Weary of pornographic entertainment being used to squelch resistance to the encroaching New World order."
Conference topics include Hollywood's war against the family; World Youth Day and MTV pop-Catholicism; the surrender of "conservative" Catholic colleges; marketing paganism; home school solutions; taking anti-Catholic bigotry to the mat; the importance of the Tridentine Mass.
Pope Saint Pius X at the 1908 canonization of Joan of Arc lamented the timidity of today's Catholics, and pointed to this timidity as the reason for the widespread triumph of evil.
Pius X said, "In our time more than ever before the greatest asset of the evilly disposed is the cowardice and weakness of good men, and all the vigor of Satan's reign is due to the easygoing weakness of Catholics. Oh! If I might ask the divine Redeemer, as the prophecy Zachary did in spirit: 'What are those wounds in the midst of Your hands?' the answer would not be doubtful. 'With these I was wounded in the house of those who loved me. I was wounded by My friends who did nothing to defend Me and who, on every occasion, made themselves accomplices of My adversaries.' And this reproach can be leveled at the weak and timid Catholics of all countries."
As Catholics it is a duty we received at the Sacrament of Confirmation to resist evil in the social order and to stand for the rights of Christ the King. Through Confirmation, we have been given the grace to accomplish this, but do we have the will to fight? Are we soldiers of Christ, or are we chocolate soldiers who melt at the first blast of heat?
The Remnant urges concerned Catholics to understand who the enemy is and of our duty to preserve our faith and the innocents and holiness of our children and young adults. Those who attend the conference will receive the benefit of learning how to protect oneself and one's family against the present deluge of evil.
The Conference also affords the opportunity for like-minded Catholics to meet and pray together, and to gather strength from the Holy Sacrifice of the Mass and from one another.
Space is limited and time is short. To find out more information on the Conference, or to register, contact The Remnant at 651-204-0145. Email: [email protected]
Details of the conference on line at: www.remnantnewspaper.com/Archives/archive-2006-catholic_culture_conference.htmwrite
Conference Pledge:
Our speakers intend to instruct and encourage parents and young people…not scandalize them. Purity will be kept in mind throughout. Young people are most welcome, and those 18 and under will not be charged admission fees for talks.