Patroness Saint of The Remnant Web Site
To some it may seem that Saint Mary Magdalene might not be the most likely choice for the patron saint of our web site; perhaps a saint better known for intellectual greatness as well as virtue would seem more fitting to the purposes of this site. We had thought of such models as St. Thomas More, St. Edmund Campion or St. Francis de Sales, but Mary Magdalene somehow seems appropriate.

Perhaps this is because she is one of those most favored souls who actually walked with Our Lord, witnessed His passion and death, and yet kept the faith after witnessing the horrors of the Crucifixion. "God is dead," the Romans told her…but she paid no mind then even as we should pay no mind now, when so many claim the same.

In a time of discouragement and loss of faith, Magdalene emerges as the powerful patroness of hope and perseverance. She is not a doctor of the Church, but she shows what love of Christ can attain, even for poor, ignorant sinners, and how God crowns such love with His predilection. Her books were the Soul and the Sacred Humanity of Our Lord, Jesus Christ, and her wisdom was Eternal Wisdom Itself.

She is also the one who wept for Christ because she could not find Him. "The Angels said to her 'Woman, why are you weeping?' She said to them 'Because they have taken away my Lord and I do not know where they have laid Him'.' " And for the sake of her enduring, faithful love, she was chosen by Our Lord to be an Apostle to the Apostles. It fell to St. Mary Magdalene to announce the Good News of the Resurrection to the bewildered, discouraged apostles who had hidden themselves away in the upper room "for fear of the Jews...."

Today, as our churches close their doors, our families divide, our Mass disappears, our world becomes plagued by war, we, too, do not know where to find Him. And hope becomes the virtue that is the assailed the most. And so it seems most fitting to turn to those who retained Hope, even during the darkest hours in human history. Some say ours is the worst time in history, and yet what must it have been like for Magdalene at that cataclysmic moment when the Messiah breathed His last breath and gave up His spirit?

This great saint saw the physical Body of Our Lord expire on the Cross before her eyes. And, yet, far from despairing on that first Good Friday, she wept and prayed and never ceased to seek His Adorable Face. His death on the Cross did not crush her faith, her love or her hope. What cause have we, then, to despair, even as the Mystical Body of Christ seems to be expiring (in its human element) before our eyes? Easter Sunday will come…Mary knew it and so must we.

One of the most frequent barbs tradition-minded Catholics suffer these days is the accusation that we, in our arrogance, see ourselves as "more Catholic than the Church". If there be any truth to this charge it is to be sadly lamented. But one wonders if Mary wasn't accused of something similar, standing as she did beneath the cross after all but one of the apostles had fled. Who is she? Who does she think she is? Peter isn't even there!
If there is a defense we could raise in our own behalf, it is this: It was love, not arrogance, that inspired Mary to stand at the foot of the Cross even when Peter was absent; so, too, it is love—love for Our Lord and His Church—that inspires Catholics today to cling to the Church of the ages, even, alas, when most of the "apostles" seem to be hiding for fear of the Jews.
And lest this be confused with illusions of grandeur or holiness, we hasten to admit that fear, too, is a motivator. We're afraid to depart from tradition for fear that our faith will fail us. If salvation was so difficult in centuries past—back when there were still the glory of the Tridentine Masses offered daily throughout the world; devotions; countless nuns; monks; good Catholic schools; thriving, orthodox parishes, priests and seminaries—how endangered must our souls be now when only a shell of the great Catholic fortress remains standing?
Who among us is fool enough to presume that salvation is easily within our grasp when the bulwarks of the old Faith that stood strong for a thousand years have been crushed? We remain paralyzed with fear, our arms wrapped around Tradition like Mary's around the Cross. What else can we do?
We look at the crisis within our Church and we see therein the passion of the Mystical Body of Christ unfolding before our eyes. And in the darkness that is falling again, we plead as Mary might have: Dear Jesus, we are not strong enough to be without You; we are so afraid of the Romans. Permit us to remain here with You where it is safe.
We are sinners whose only hope for salvation lies in clinging to the old ways, the traditional Mass and the pre-Vatican II teachings that safely ushered a million saints and more souls than we can count through this vale of tears.
Thomas Aquinas may have reasoned his way to the Cross; St. Teresa prayed her way there; St. Joan of Arc obeyed even unto the Cross; the Cure of Ars and St. John of the Cross rode there on the backs of their great virtue.
But sinners like we can only hope to find our way as Mary did…through Divine mercy and forgiveness. Our prayer can only be that He will see our pitiful weakness, pick us up and ask His mother to take our hands and lead us to the Cross.
In the end, Mary was so alone in the wilderness that she had to receive Communion from an Angel. She lived in a cave and was cut off from her home by a vast sea. How many abandoned Catholics today cannot return to their parishes because of the vast sea of modernism that lies between them and their beloved home? How many know not whence their next Holy Communion will come and so pray that Angels will be at their side in the stifling darkness of the cave that is the modern world. Again, Mary knows what it's like.
Here, then, is a short account of Mary's life. May she be with us always, and may her story remind us forever of the boundless mercy of God, without which we sinners have no chance of seeing God in paradise.
St. Mary Magdalene
St. Mary Magdalene is called "the Penitent". She was given the name 'Magdalene' because, though a Jewish girl, she lived in a Gentile town called Magdalene, in northern Galilee, and her culture and manners were those of a Gentile.
St. Luke records that she was a notorious sinner, and had seven devils removed from her. She was present at Our Lord's Crucifixion, and with Joanna and Mary, the mother of James and Salome, she was the first at Jesus' empty tomb.
Fourteen years after Our Lord's death, St. Mary was put in a boat by the Jews without sails or oars – along with Sts. Lazarus and Martha, Maximin (who baptized her), Sidonius ("the man born blind"), her maid Sera, and the body of St. Anne, the mother of the Blessed Virgin. They were sent drifting out to sea and landed on the shores of Southern France, where St. Mary spent the rest of her life as a contemplative in a cave known as Sainte-Baume.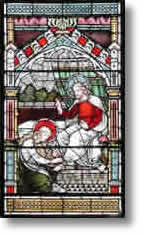 She was given the Holy Eucharist daily by angels as her only food, and died when she was 72. She was transported miraculously, just before she died, to the chapel of St. Maximin, where she received the last sacraments.
St. Mary Magdalene was well known as a sinner when she first saw Our Lord. She was very beautiful and very proud, but after she met Jesus, she felt great sorrow for her evil life. When Jesus went to supper at the home of a rich man named Simon, Mary came to weep at His feet. Then with her long beautiful hair, she wiped His feet dry and anointed them with expensive oils.
The Pharisees were shocked that Jesus let such a sinner touch Him, but Our Lord could see into Mary's heart, and He said: "Her sins, many as they are, shall be forgiven her, because she has loved much. But he to whom little if forgiven, loves little." Then to Mary He said kindly, "Thy faith has saved thee; go in peace."
From then on, with the other holy women, Mary humbly served Jesus and His Apostles. When Our Lord was crucified, she was there at the foot of His cross, unafraid for herself, and thinking only of His sufferings. No wonder Jesus said of her: "she has loved much." After Jesus' body had been placed in the tomb, Mary went to anoint it with spices early Easter Sunday morning. Not finding the Body, she began to weep, and seeing someone whom she thought was the gardener, she asked him if he knew where the Body of her beloved Master had been taken.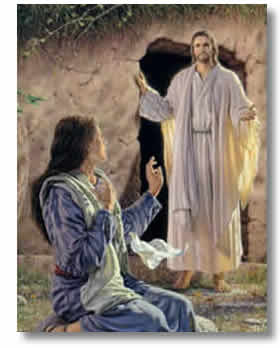 When she had said this she turned round and beheld Jesus standing there, and she did not know that it was Jesus. Jesus said to her, "Woman, why art thou weeping? Whom dost thou seek?" She, thinking that he was the gardener, said to him, "Sir, if thou has removed him, tell me where thou hast laid him and I will take him away." Jesus said to her, "Mary!" Turning, she said to him, "Rabboni!" Jesus said to her, "Do not touch me, for I have not yet ascended to my Father, but go to my brethren and say to them, 'I ascend to my Father and your Father, to my God and your God.'" Mary Magdalene came, and announced to the disciples, "I have seen the Lord and these things he said to me."
John, 20: 15-18

The Gospels show that Mary, the repentant one, was chosen by Our Lord himself to announce the Good News of the Resurrection to Peter and the apostles. Hers was an honor so great that in the early centuries of the Church, Mary Magdalene's feast was celebrated with the Mass of an Apostle.
We can ask St. Mary Magdalene to give us grateful and repentant hearts. If we love Jesus as she did, nothing good will be denied us and even the greatest sins will be overcome.
St. Mary Magdalene, Pray for us!