Tuesday, February 3, 2015
A-CNN BOOK REVIEW: Pope Francis Visits the Rabbit Family
Written by Stacia Marie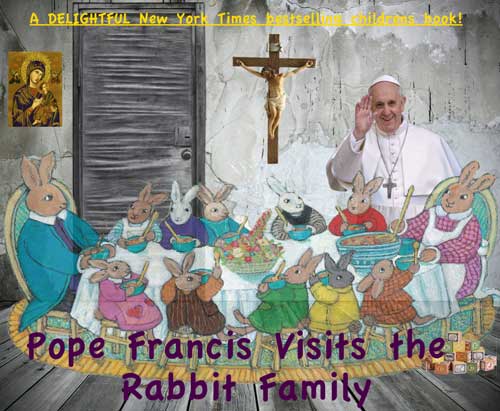 A new kids' book written by Peter Rockintail

This is a charming tale in which the Holy Father Bishop of Rome Francis visits the poverty stricken, yet faithful, Catholic Rabbit family and brings them a message of hope and mercy, as well as the information Mr and Mrs Rabbit need to help them licitly find their way out of the fecundity of their fertility situation.
In this delightful and socially up-to-the-minute tale, youngsters will also be introduced to the Rabbit family's new neighbors, Mrs. and Mrs. Fox (though soon to be Mr and Mrs Fox thanks to the wonders of modern medical science!) who have just given birth to their first and only Fox kit, thanks again to the wonders of modern science and IVF.

Pope Francis encourages the Rabbit family to accept and value the new neighbors' sexual orientation and to recognize the positive elements even in the imperfect forms that may be found outside the nuptial situation.

He also encourages the Rabbit family to look to the greater needs of the earth. Ecology and reducing rabbits' carbon footprints are presented to children in a way that every good Catholic should come to know and understand.
Mr. Rockintail has done it again. This is sure to be a children's classic for years to come.

[Comment Guidelines - Click to view]