Traditional Catholics were noting Hollywood's anti-Catholic agenda even during the "golden age of the silver screen" and long before they themselves were ever called "traditional Catholics".
The fact that my father also makes specific references to "

traditional

" priests (vs. the progressive kind that eventually took over after the Council) so early on also seems to us to be an historical tidbit worthy of note.
The letter was never meant to be published, of course, and is only the hastily written thoughts to his parents by a 26-year-old soldier. Still, upon discovering it and others only recently in a chest full of my father's wartime correspondence, it struck me that these letters contain a wealth of information about recent history, the way men thought and spoke just fifty years ago as well as the little signs and indicators of the advent of the revolution that many of them were already noting back then. And so we've decided to resurrect some of these letters from time to time in a new feature for The Remnant that we'll call World War II Letters from a Catholic Soldier—a feature we hope readers will find of some interest. MJM


Dear Folks, November 18, 1944
Milt Kahn and I tagged along with an army architecture class today, in quest of classic specimens of Puglian structures. We carried the heavy camera, tripod and other pictorial paraphernalia, and therefore the two of us rode in a jeep, keeping close behind the big army truck in which rode the officer who conducted the tour. The sun was bright but even so the air roared in at us in our open jeep and made it necessary for us to shout and stretch our necks above our tightly buttoned overcoat collars.



Founder of The Remnant, Walter Matt, Libya, World War II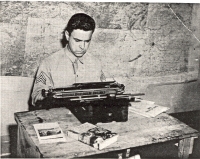 While we rode and bumped along the narrow ox-cart trail, past shaly stone fences and farms and even the occasional cone-shaped Trulli houses whose origin lies so far, far in the long ago – Milt, a Jew, and I talked now and then, even above the rattling of the jeep and the rushing of the wind.
"How'd you like the show last night, Walt?" His question made me uneasy. I hated to sound super critical.
"Well, Milt, I think Bing Crosby is perhaps a very fine Catholic in his own hometown community, but I don't believe he reflects his Catholicity even with the Roman collar he wears in 'Going My way'. His 'religion," according to the movie, consists of a naturalistically thought-up set of 'golden rules' derived not from God—the Supreme Lawgiver—but from the shallow depths of a book on modern psychology."
"Well," says Milt, "I can see you didn't enjoy the show very much. Personally I thought it was good. It's just what I think all present-day churches ought to begin accepting. They ought to get away from ritual and go out to meet the people instead of remaining behind the cloister walls."
Perhaps there's a grain of truth in what he said about cloister walls. Nevertheless, we were concerned here with a movie in which the very antithesis of the cloister type priest goes out to meet adolescent pagans, kids without a religious background of any kind, and sits down with them to sing secular ditties by way of inspiring them with knowledge of God and the necessity of keeping His commandments!
Watching Milt trying to avoid the holes in the road and swerving around the two-wheeled carts jogging sleepily along at fairly regular intervals, I could see that he wasn't too greatly interested in continuing the conversation. Nevertheless, I wanted to be sure that the exchange of opinion wouldn't come to an end until I could tell him the whole reason why I thought "Going My Way" was essentially non-Catholic—albeit a harmless story.
"Well, Milt," I said, "perhaps you like the 'progressive' type priest better than the more old-fashioned kind. But don't you see, even the old doddering padre, the one who's made to appear as a typical 'traditionalist' or 'conservative' in the ranks of the Catholic clergy, is a far cry from what I would call a real Catholic priest. Because to all appearances he values his parish mainly in terms of a church building which it has taken him a lifetime collection drive to build. True, he doesn't only take in money via raffle tickets and church pew collections, but in a kind of Robin Hood way he also pays back an occasional alms to the parish needy. Then, in moments of financial parish crisis, when the mortgagor's handwriting appears in bold letters on the wall—the old padre seeks to revive his inner faith by an admittedly human, but hardly a very priestly way: he reaches dodderingly for his favorite bottle of scotch!"
Milt caught on all right. He laughed outright. "Pretty humorous though, I thought."
"Sure", I said, "but hardly true, do you think?"
We were rounding a bend in the road at the moment, and to the right of us and far in the distance appeared a tiny city, like a miniature, hastily thrown together out of a child's white-faced building blocks. Milt was studying it too, so intently, in fact, that he failed to miss a sudden hole in the road. He pointed in the direction of the city.
"See that Norman steeple over there, Walt?"
I nodded and waited for him to go on.
"Well, if there's one thing clear over here in Europe it's the fact that every city and town seems to live in the shadow of a church steeple something like that one there. That particular one must date back to the 11th century or thereabout and it makes me think that maybe you're right about that show. Maybe this doesn't make sense, but what I mean to say is that the kind of Catholicism we saw in 'Going My Way' doesn't seem to embody anything big enough or selfless enough to account for all this painstaking architectural effort over here. Think of the voluntary sacrifices all this must have cost the peasantry in particular. And still they seem to have accomplished the most of it under what we're prone to refer to as the 'unprogressive' or the 'old-fashioned' regime."
Well, folks, that remark seemed good enough to convince me that Milt is the kind of man who isn't too easily sold a sparkling piece of glass for a crystal. He's got eyes in his head and he uses them to sensible advantage. But nevertheless, I wondered at the time whether most Catholics were as readily convinced of the deception that had been played on them in "Going My Way." And all the rest of the way going and coming I kept thinking that if that particular kind of Hollywoodian story is supposed to be Catholic, then we might also begin accepting the King James' nativity version of "Good Will Toward Men" instead of the diametrically opposed Catholic version of "Peace on Earth to Men of Good Will." And yet, many of the Catholic men here in camp seemed to think they had been given the very essence of their faith in this Bing Crosby morality swoon crooner. Maybe I'm wrong!
Can't tell you how much I miss you all. Give everyone my love.
Love,
Walt



It's not just the Mass. The Remnant tells all the Catholic stories, every two weeks.