MJM: First, generally speaking, when is it permissible for a faithful Catholic to miss Mass on Sunday?
Bishop Schneider: The obligation to assist at Mass on Sundays is a law of the Church, i.e. a positive law, and not a Divine law. The Divine Law of the Third Commandment obliges us to sanctify, i.e. to rest and to keep holy the Lord's day (see Ex. 20:10; 31:14). We take special care to set apart some fixed time, when, disengaged from bodily labor and worldly affairs, we may devote our whole being, soul and body, to the religious veneration of God. Servile works (heavy physical works) are lawful on Sundays when the honor of God, the good of our neighbor, or urgent necessity requires them. It is lawful on Sundays to seek relaxation of body and mind, for this is a means of renewing one's strength after one's work is done.
MJM: Take for example, if I am on vacation with my family, and the only Mass available to us is 150 miles away, am I obliged before God to attend?
Bishop Schneider: Assistance at Mass is obligatory, except for a "grave cause" (see canon 1247 and canon 1248 of the Code of Canon Law). In other cases, where exceptions are more easily admitted, canon law speaks of "a just cause". There is the canonical and moral principle which says: ad impossibilia nemo tenetur (nobody is obliged to do the impossible) and also the principle that a positive ecclesiastical law does not oblige with grave inconvenience. This can be applied in our case: If the attendance at Sunday Mass requires disproportionate objective great inconveniences, one is dispensed from the law, these inconveniences could be as in our case excessively long travels. The calculation of the distance, of the miles, depends on the quality of the roads, transportation means, your own financial situation, security. It is difficult to indicate the exact number of miles. One has to apply here also common sense. One could say that if the travel duration in one direction exceeds two hours, this would be a legitimate cause of excuse to attend Sunday Mass.
For sure a Catholic has no obligation to attend Sunday Mass in a parish which promotes homosexuality.
MJM: If I am sick but not dying – just coughing and miserable – am I obliged to attend Mass? Or in that case, am I obliged NOT to attend Mass out of charitable concern for the health of my fellow parishioners?
Bishop Schneider: In this case you are not obliged to attend Mass. If you are just coughing you are not obliged to avoid the attendance of Mass. Yet you are morally obliged to take some security health measures in order not to spread contagion.
MJM: Here at The Remnant, we are frequently approached by faithful Catholics who do not wish to miss Mass on Sunday and Holy Days of obligation but who also find the Mass at their local parish to be so riddled with abuses that they feel in good conscience they must not expose their children to it. Are they, in fact, justified in missing Mass on Sunday in order to protect their children?
This interview appears in the December 15th Remnant Newspaper
Don't Miss the Rest — Subscribe Today or Give as a Gift!
Bishop Schneider: In such a situation they are justified. However, they must seek another place of Sunday Mass.
MJM: Some years ago, I heard the late great Count Neri Capponi, a canon lawyer, give a speech on this question. He cited the canon which, and I'm paraphrasing, makes an allowance for those who believe their faith to be undermined by attending a given liturgy for some reason. In that case, argued Count Capponi, a person would be allowed to seek refuge even in the Orthodox liturgy to satisfy Sunday obligation. Is this, in fact, one of the provisions of the 1983 Code of Canon Law? And, if so, do you agree with Count Capponi's conclusion?
Bishop Schneider: : Canon 844 § 2 says that, in order to receive the sacraments from a non-Catholic minister in whose Church the sacraments are valid, it is necessary that any danger of doctrinal indifferentism is avoided. Yet, in my view such a permission has an exceptional character and in a concrete singular case, and not during a longer period of time. If you will do it habitually or for a long time, you will put your Catholic Faith in danger, accepting by time the errors of the Orthodox church (e.g. refusal of the dogma of Papal primacy, of the Immaculate Conception of Mary, divorce) and furthermore you will give evidently scandal to other Catholics.
MJM: As I recall, Count Capponi was arguing that if it can be permissible for a faithful Catholic to attend a formally schismatic liturgy, according to the Code of Canon Law and only in certain extraordinary circumstances, then obviously it would be permissible to attend Masses offered by the priests of the Society of St. Pius X for the same reason, provided one does not do so with schismatic intent. Do you agree?
Bishop Schneider: The situation of the Society of St. Pius X (SSPX) cannot be compared to an Orthodox church, since the SPPX is completely Catholic regarding the truths of the Catholic Faith, they recognize the current Pope, they mention the Pope and the respective local bishops in the Canon of the Mass and pray for them even publicly. Therefore, the SPPX is surely not schismatic. The situation of SSPX consists in a deficient canonical status within the Church, and this not because of their own will or evil intention, but uniquely because of the extraordinary grave crisis of the Faith and the Liturgy within the Church, a crisis promoted or tolerated by the Holy See. The conditions which the Holy See requests from the SPPX for a full canonical regularization are ultimately difficult to accept, since they demand the SPPX to recognize the goodness of the New Mass and the II Vatican Council as being as a whole a part of the Catholic Tradition, even though this Council had by its own declaration and that of the Popes John XXIII and Paul VI a primarily pastoral character and had no intention to propose to the faithful own teachings with definitive character.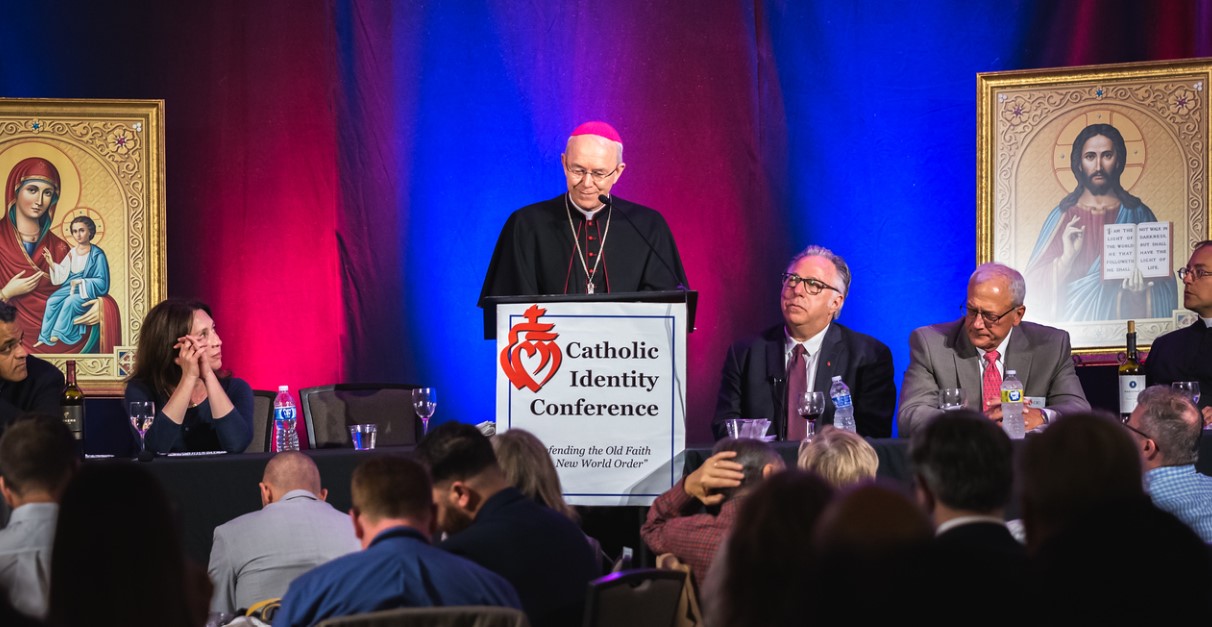 Bishop Schneider addresses the Catholic Identity Conference 2022
(Pictured, left to right: John-Henry Westen, Diane Montagna, +Schneider, Michael Matt, Eric Frankovitch, Father Pendergraft, FSSP)
MJM: I am aware of a notorious parish which caters to homosexuals. The pastor even hosts baptismal celebrations of the adopted babies of "married" homosexual men. If a faithful Catholic has recourse to only a church such as that, would it be necessary for him to attend Sunday Mass, given that the pastor's public disregard for the law of God and His Church?
Bishop Schneider: For sure a Catholic has no obligation to attend Sunday Mass in a parish which promotes homosexuality.
MJM: Given the nature of the liturgical crisis in the Church today, what advice can you give faithful Catholics who have no orthodox alternative for Sunday Mass? What does a Sunday morning look like for a family that feels obligated before God NOT to attend an abusive Mass?
Bishop Schneider: If the next orthodox alternative for Sunday Mass is excessively far distant, the family should spent the time in the morning with prayer, dedicate a period of time which would usually correspond to the time of a Sunday Mass. In this Sunday morning they could assist at a broadcasted worthy Holy Mass, if that is not possible, they could read together the texts of that concrete Sunday Mass, do a spiritual Communion (using concrete prayers), pray the Rosary, read a passage from a good traditional Catechism or from the life of a Saints. Once a month (or every second month, depending on the distance) they should travel to a place with a worthy Holy Mass. The personal assistance at the Holy Sunday Mass and the sacramental Communion with a previous good holy Confession should occupy the primary place in the life of a true Catholic.
Latest from RTV — THE DEVIL'S TRIUMPH: America's War on Marriage & Family