A "Better" Idea for St. Charles
Starting in the mid-sixties, this beautiful ten thousand square foot Cheboygan church suffered through many new "modifications", a la Novus Ordo. First, its twenty-thousand-pound marble high altar was literally smashed into pieces. This stunning piece of stone art was then replaced with an uninspiring rectangular table. The modernizations continued with the demolition of the church's side altars, eliminating the predella in the sanctuary, cutting out eight support columns from the nave, installing cheesy red carpet in the sanctuary, moving the tabernacle from its traditional place in the center of the church and scrapping the beautiful communion rails and pews.
These "improvements" likely added up to over a million dollars. For example, just eliminating eight of the building's support columns required a complete reengineering of the church's roof and a thirty-one-foot Gothic ceiling. A steel superstructure had to be installed in the attic before removing the building's original weight bearing support columns. It's obvious, this beautiful basilica style church was somehow deemed too traditional. St. Charles traditional architectural design accommodated ancient Catholic liturgical worship traditions, like kneeling at a communion rail to receive Holy Communion, genuflecting toward its beautiful high altar that featured our Lords real presence in the tabernacle. Just fifteen years after all these radical and costly changes were paid for by parishioners, old St. Charles Catholic church was ordered closed by the diocese in 1988.
Despite nearly six hundred families registered at St. Charles, the Gaylord diocese shuttered this once beautiful Cheboygan church. For three years the building was an empty diocesan liability. A temporary rent to own operation relieved the burden until it finally sold in 1993 to the Church of the Nazarene. It wasn't just the church, but the entire St. Charles complex on N. Bailey, which extended from Division St. to Elm St. This included a two-story Catholic school and large rectory. All three buildings sold for the paltry sum of 120k. The diocese added its own special touch to the event when it celebrated the transition (from Catholic to protestant) with an ecumenical ceremony accompanied by the choir from the only other Catholic church in Cheboygan, St. Mary's.
It didn't take long; time took its toll. The church's massive roof began leaking in 2003. The tiny Nazarene congregation couldn't afford the cost of a new one, so Cheboygan's old architectural gem, St. Charles, once again went up for sale. In the meantime, the Nazarene's sold the rectory to a developer and then sold the Catholic school on a land contract as a single-family dwelling to a family of seven. The new church owner repurposed the giant space on the main floor to store and sell his antiques. The irony was most of his collectables were being incrementally destroyed by water damage that continued for another fourteen years.
The Nazarenes made a deal with the new owner of St. Charles in 2005. They were allowed to retreat down to the church's basement and use the refectory for their soup kitchen ministry with enough space left over for a Nazarene religious service on Sundays. The deal: If they paid for all the utilities no rent would be due. When the County Health Department discovered that water was penetrating through the floor, they put St. Charles on notice. The building's roof had deteriorated into a lost cause. Ultimately, the church building was being condemned for safety and sanitary reasons. The current owner was desperately looking to escape the liability associated with either demolishing a 10,000 sq. foot brick giant or spend a tremendous sum to replace its massive roof.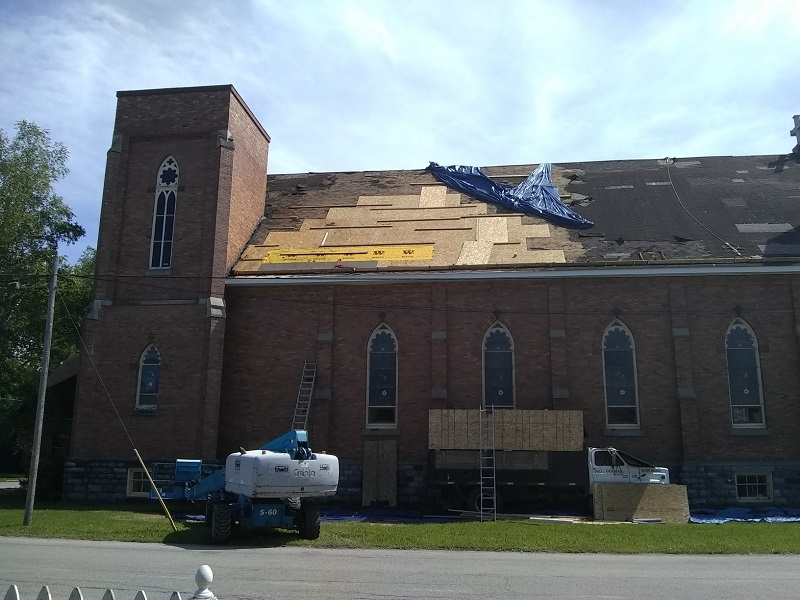 For Sale: Anyone Want to Buy an Architectural Relic?
After 41 years of living in the southern part of the state, my wife and I moved back to Cheboygan. My father-in-law was suffering from old age and dementia. My wife wanted to be near enough to help. I just happened to drive by St. Charles a few months after moving back and saw the For Sale sign in front of the church. After touring the wreckage three times, I was moved to pray about saving it. The interior was in shambles. Except for some of the windows the brick outside weathered the neglect much better; the roof was a total disaster. After securing a mortgage, I bought the church in April 2019. I knew this restoration had to start with an expensive new roof. As the roof was being replaced, I emptied over a hundred and twenty yards of the interior's mostly waterlogged contents. Once the church was empty and fumigated, I started replacing the building's structural columns in the nave. Next, I used temporary pole Jacks to force the warped sanctuary floor back to level and installed permanent 6x6 support posts after replacing the defective floor joists. After resurfacing the sanctuary deck, I built a new predella within the apse. An antique Gothic altar on top produced a beautiful sight indeed. I could go on as this represents less than half of the three years I spent working on this old church. The point here is this once beautiful piece of architecture was scrapped because of its traditional ambiance and the effect it has on would be worshipers. Even though for now the Real Presence isn't present, once again when entering this old church through the front doors. a powerful visual image conveys that a King resides within…
Hindsight is 20/20
Over fifty years of changes to church liturgy, architecture, and music, serve as exhibits to an indictment against the current woke Church hierarchy for allowing this modern state of euphoria. Delusions of New Church as expressed in the "spirit" of Vatican II are the problem today. The Gaylord Bishops encouraged liturgical and architectural changes on one of its most beautiful churches, St. Charles, starting back in 1965, four years before the Novus Ordo had been proclaimed by Paul VI. Gaylord's bishops were acting extemporaneously when forcing two Catholic churches and a Catholic school to close. The Catholic population in the Straits Area is a mere fraction of what it was when St. Charles was built in 1912. Today, our diocese has no seminarians to ordain within the near future, another product of diocesan incompetence for its mission to save souls and preserve the faith.
Our Hope and Ambition: A Latin Mass Parish for the Straits Area in Michigan
This Restoration is ongoing… donations are the Key.
Church in Search of a Priest
St. Charles Borromeo Church in Cheboygan needs a Catholic priest and pastor. Candidates must be trained in the traditional Latin liturgy, able to teach and preach Thomistic theology and willing to suffer for the Church's failure to preserve its Sacred Tradition (especially since the close of Vatican II in 1965).
Cheboygan is twelve miles south of the famous the Mackinac Bridge, where Michigan's lower and upper peninsulas join at St. Ignace; another beautiful city founded by Fr. Marquette. Cheboygan, part of the Greater Straits Area, was once over eighty percent Catholic due to Pere Marquette's heroic missionary efforts in the 17th century. Eventually Michigan paid tribute to this priest by naming its most prestigious Upper Peninsula city Marquette, in his honor.
St. Charles Catholic Church, built in 1912 belongs to the architectural age of classic buildings. Its basilica form is a living witness through centuries that copied its portrait for the purpose of worship. When I saw this noble old structure waning from decades of neglect, it became a symbol to me of what Christ received during his visit on earth.
We're looking for a priest with a strong missionary spirit, a priest to survey this land Fr. Marquette visited over three centuries ago… a priest to celebrate the ancient Latin liturgy as Fr. Marquette did in his mission to bring Christ here.
If you are a priest who understands that obedience is a suborder to justice and that there was and IS NO justice in limiting the Church's most valuable liturgical treasure, the ancient Latin Mass. Contact us, Cheboygan needs you!
William Price, Owner, Old St. Charles Church, Cheboygan
Contact info
1-231-268-8625
This email address is being protected from spambots. You need JavaScript enabled to view it.
William Price