Publication Notice: This issue of The Remnant was delayed due to the passing of Mrs. Walter Matt. It is dated January 31, 2016, and is currently in the mail. You can read the new issue online by subscribing to THE REMNANT E-EDITION.

By the way, there was no January 15 issue of The Remnant as January is the month we publish on one issue of The Remnant. Please Subscribe to The Remnant Right Now

---
A Remnant Cartoon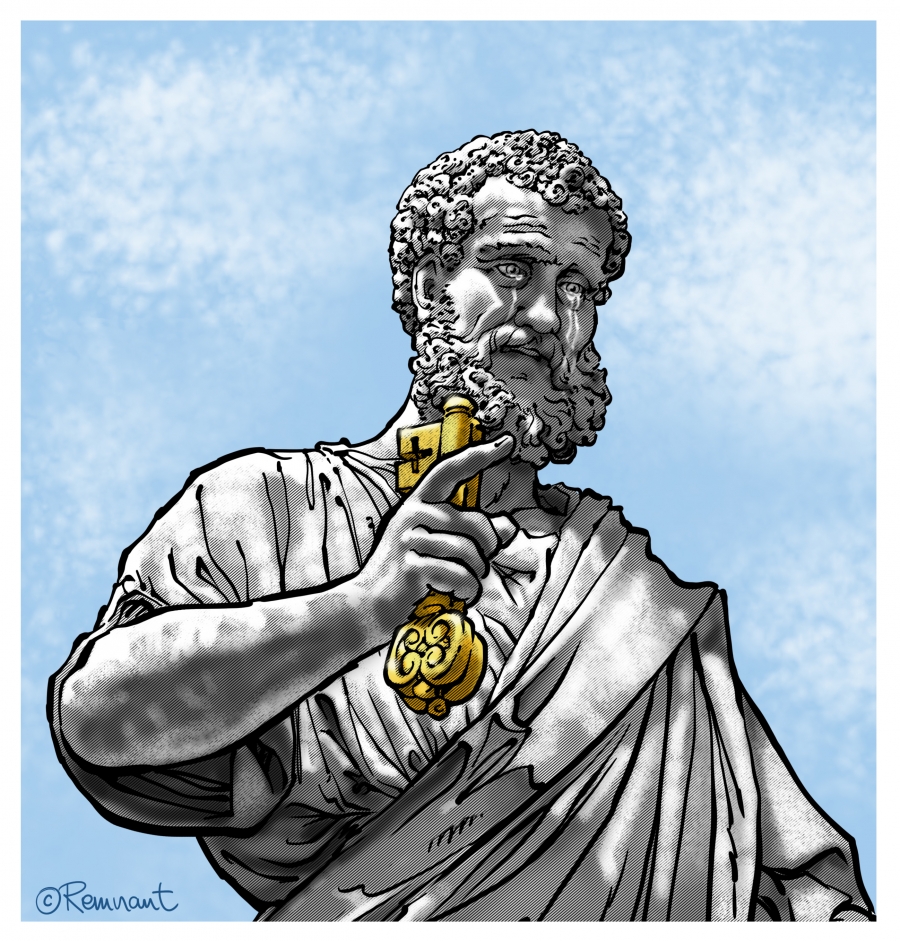 Michael J. Matt From the Editor's Desk… Saying Goodbye to Granny A personal refection of the life and death of Mrs. Walter Matt. More than a mere homage, this article attempts to shed light on what it was about this Catholic woman that enabled her to successfully raise 113 practicing traditional Catholic offspring.

---

Christopher A. Ferrara "
It's very entertaining to be Pope!"
On the Apotheosis of Jorge Mario Bergoglio
---
Susan Claire Potts
Apollyon Unleashed
Holy Matrimony vs. the Pill (and all its works on pomps)

---
Hilary White

"How to Depose a Pope" (with apologies to Robert Siscoe)
As the Church continues to careen madly towards the edge of open schism, more and more people are starting to wonder more seriously just what it's possible to do about this pope.




Father John Echert

Eternal Rest Grant unto Marilyn Matt: The Sermon for a Requiem.

---
Father Ladis J. Cizik
TLM 101:
The Prayers Before the Consecration:
WHO is Doing WHAT?
---
Lives of the Saints
Saint Genèvieve
(c. 422–512) lived a life of constant prayer and charity, as well as self-imposed austerity. She became known as the "Patron Saint of Paris" after she helped avert an attack on the city by Attila the Hun. Now here is a real woman!
---
Elizabeth Yore

Spotlight on a Voice from the Past
If you saw the movie, Spotlight, you may have overlooked a very poignant and compelling moment. Bishop John D'Arcy, RIP
---
Nicholas Rao
On the Culture Front…
St. Genesius' Burden:
Reflections on the Art of Acting
---
Timothy Cullen

The Qualities of Mercy
If the late R&B singer-songwriter Marvin Gaye (1939-1984) thought that things weren't "what they used to be" in 1971, nearly 45 years later… Words fail. So, what about Pope Francis's notion of mercy?
---
Dominic Rizzo
An update on the FSSP Mission in Nigeria

---
Father Celatus
The Last Word…
Pope Francis Nails It
!
For the first time in this pontificate, I absolutely agree with Francis.
---
The Remnant Speaks

Letters to the Editor...

Greetings from Croatia;

Thanks, Hilary White! The Remnant is Making a Difference

;

The trial of practicing the old faith in the modern world; On

the Pope's Holy Cunning;

Agony and Ecstasy; Seeking Pilgrimage Partners



Only about 10% of our articles ever appear online.

Subscribe Today!