PUBLICATION NOTICE:
December 15, 2018 Print/E-edition of The Remnant
The December 15th issue of the Print Edition of The Remnant is in the mail, but you can access the identical E-edition online right now by subscribing to the oldest Traditional Catholic newspaper in the world.
Already an E-Edition subscriber? ACCESS Your Subscription by clicking on the image below:
Here's a Preview:
A new Remnant Cartoon
Hilary White
Papal Cattocomunismo (Italian Reds)
Always getting our wee heads into incomprehensible tizzies over trivialities like a few kids getting abused by priests, as if everyone doesn't know that is something that has gone on for centuries. Regrettable, if they didn't like it, but not that big a deal. Bigger fish to fry, right? Bigger fruit to peel... Migrants, for instance. ...To Read the Full Article, SUBSCRIBE
Father Robert Brucciani, SSPX
Treasure in Mortal Hands
My dear brethren, we are all called to assist in the longed-for regeneration of the Church. We can do this most effectively by the regeneration of our own souls first. Faith, hope and charity are ready gifts to be granted, but they will only be granted if we value the triple treasure in our hands. May the approaching time of Advent, therefore, be a time of rediscovery of this precious treasure and a time of preparation for the coming of the greatest of all treasures, Our Lord Himself … To Read the transcript, SUBSCRIBE
Jason Morgan
Pope Sergius I, Guru of Globalism
The People's Republic of China is not a nation-state, it is a horror movie starring a billion enslaved extras. Trying to negotiate withsuch a lucid nightmare is like trying to sit down and hammer out a contract with Norman Bates.…To Read the Feature, SUBSCRIBE
Michael J. Matt
The 'New Rosary' and Pope John Paul the Great
We've got to stop behaving as if what's going on in Rome today is something new, because it's not! We have to be honest about what led up to the Francis crisis, especially now in anticipation of the Neo-Catholic Caravan that is making its way to Tradition, the Novus Ordo having become largely uninhabitable, riddled with predators, dominated by dictators, and certainly no place for children.
Plus:
Bishop Morlino, RIP
He was surely one of the most charitable and pastoral bishops my children had ever been graced to know in person. And for that fine priestly example I'll be forever grateful to him and to God.…Read it HERE
Fr. Richard Munkelt
Enough, Mr. Dreher! (An Open Letter from a Concerned Catholic Priest)
If you care to read on, brace yourself, for charity sometimes carries a stick, as St. Augustine noted. And I shall not spare it, especially since you boast of being irreformable. I promise you, therefore, something in the spirit of St. Jerome .…Read this article right now HERE
Plus, a New Remnant Series by Jason Morgan:

With Apologies to C.S. Lewis...How to Survive at Screwtape U
Author's Note: Please don't confuse these letters—collectively titled "How to Survive at Screwtape U"—with satire.
These are missives from the front lines of the culture wars, the wars we keep sending our kids off to fight every time we sign a check to a university bursar's office. "Higher education" in the United States today is a pastiche of left-wing brainwashing, bullying, bloviating, and bathos. These letters are keyholeviews into the minds of our children's tormenters.
But there's hope! Yes, our schools have been hijacked by cultural Marxists and taxpayer-funded Maoists and Leninists.
What you may not know is that, beneath the scarved-and-horn-rimmed exterior of every tenured radical, there is a wilting mess of insecurity and contradiction.
So don't get angry at the left—laugh at them. And teach your kids to laugh at them, too. If you must send your child to a secular college—for example, if you live on Neptune and Neptune State U. is all you've got—then send them off with these letters in their pocket. Reading them may preserve their sanity, just as writing them preserved mine. – Jason Morgan
…To Read the Feature, SUBSCRIBE
Dr. Boyd Cathey
Remembering Who We Are
(Hope in the Midst of the Ruins of Our Culture)
And our timorous and pusillanimous elites, those cowardly "guardians" of our culture, those globalists and "deep state" denizens, and those political prostitutes, give way in fearful obeisance and run, cowering, to hide in the tall grass. It is the lunacy—the sickness—of the madman, but unlike the outbreaks of such contagions in the past, its modern roots are far more demonic, and it is far closer to apparent success…To Read the Full Story, SUBSCRIBE
Robert Emmett Henry …Remnants of the Past…
The Problem with the 'New Rosary'
The supposed motive behind this fetish for change – wasn't it Al Gore back in '92 who proposed that thoughtprovoking chestnut, "Change is good"?– is to avoid leaving anyone out of the race toward God. Enough of arcane Latin culture, let's get hip and "now" and relevant, and so finally, inclusive.
...To Read the Full Story SUBSCRIBE
Vincent Chiarello …A Remnant Book Review…
What Happened at Vatican II By Fr. John O'Malley, S.J.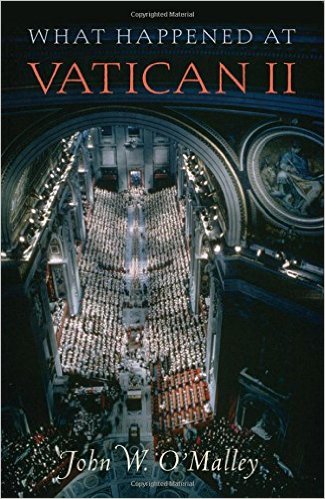 Despite his noticeable "tilt" to a more "modern" interpretation of the fruits of Vatican II, this book is the result of a prodigious amount of research, with details about the council meetings that will hold the reader's attention throughout. As I wrote in my review of the Padre's book on Trent, his writing style makes for easy reading. In the end, you may not agree with some, or most, of Fr. O'Malley's conclusions about Vatican II, especially in light of the current crisis within the Church, but you will walk away better informed....To Read the Full Story, SUBSCRIBE
Father Celatus ...The Last Word…
Feed the Priests, Starve the Bishops
There is an old proverb that fits this: Do not cut off your nose to spite your face! To Read the Full Feature, SUBSCRIBE
The Remnant Speaks…
Theistic Evolution
Thank God for Father Celatus
Sacred Heart Imbedded in Hospital
Death Comes for the Archdiocese
Voris, Leave the SSPX Alone
REGISTRATION OPEN: Remnant Tours Chartres Pilgrimage 2019