"It is not permitted that the faithful should themselves pick up the consecrated bread and the sacred chalice, still less that they should hand them from one to another." - Pope John Paul II, Inaestimabile Donum (April, 1980) -

The Church teaches that Christ's Body and Blood, Soul and Divinity are present in the Blessed Sacrament. There are many Martyrs who gave their lives rather than deny this teaching. Any self-respecting Catholic knows this. There really ought to be no question about how Holy Communion should be received, and that is: on the tongue whilst kneeling.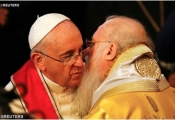 On November 30, Pope Francis gave an address upon conclusion of the Divine Liturgy celebrated by Ecumenical Patriarch Bartholomew I at the Orthodox Church of St. George in Istanbul. In this address, Pope Francis stated his belief that the restoration of the Orthodox to "full communion"
"does not signify the submission of one to the other, or assimilation."
This is patently false. As any Catholic should know, refusal to submit to the authority of the Catholic Church puts one outside of Her. And if one is outside of the Church, one certainly cannot be in "full communion" with Her.
Before the age of pontiffs who put human respect for heretics and schismatics above respect for God's Truth, there lived a different breed of Catholic. One who was capable of grasping the simple logic that two contradictory belief systems could never be reconciled. He understood that no amount of praising a heretic, no amount of dialoguing with a heretic, and no amount of doing good works with a heretic could ever make the heretic's error one bit closer to being true.