I have often written articles in The Remnant explaining why this Symposium is so important---an explanation that I am certain almost every person who has taken part in the event can verify as being accurate. Let me just summarize a few of them here once again.
The Symposium is one of the few truly international and scholarly traditionalist programs available anywhere on the globe. It takes place in a totally Catholic atmosphere, with full exposure not just to the traditional liturgy and devotional life of the Church, both West and East, but also to the musical, theatrical, and genuinely "rooted" popular culture that Catholic Christianity has always promoted. It does so in one of the most beautiful places in the world, a small village in northern Italy that itself is reminded of its Catholic past and culture only when we arrive there. It creates a camaraderie that has served to plan and carry out Catholic Action programs for the years to come. And since the publication of Luther and His Progeny (Angelico Press, 2017), to be followed by another text in 2018 presenting the 2017 program, and still further books in the years to come, its conferences now provide solid printed "meat" for the nourishment of all Catholic thinkers and activists who cannot physically attend.
Please read the description of Gardone, 2018 to get a sense of why a study of the period from 1918-1939 is central to the preparation of Catholics who wish to fight our enemies in this, the most distressing era in the whole history of the Church. For as I have said many times before, the Roman Forum---founded by Dietrich von Hildebrand a half-century ago this year to defend Humanae vitae---does not do its scholarly work because it wants to hide away in some ivory tower. It does this work because it is the only means of fighting the enemy effectively, and not just wildly throwing uninformed punches that often end by knocking out no one other than ourselves. Quite frankly, we are historically renowned for doing such unprepared and consequently self-destructive work over and over again in the past. It is for this reason that we stand firmly by our motto: "Even if the wounds of this shattered world enmesh you, and the sea in turmoil bears you along in but one surviving ship, it would still befit you to maintain your enthusiasm for studies unimpaired. Why should lasting values tremble if transient things fall?" (Prosper of Aquitaine)
This present distressing era will only pass away if such lasting values are understood ever more deeply by Catholics themselves!!!
Please send in your application for the last remaining spaces and your tax-deductible donations to the address indicated here.
The Roman Forum
11 Carmine Street, #2C
NY, NY 10014
Telephone: (212) 645-2971 Please leave a message, with e-mail address if possible.
E-mail: This email address is being protected from spambots. You need JavaScript enabled to view it.
DONATE ONLINE: To support this conference right now, please click the DONATE button HERE
Thank you so very much,
John C. Rao (D.Phil., Oxford)
Associate Professor of History, St. John's University
Chairman, Roman Forum
__________________________________
The Roman Forum Twenty-Sixth Annual Summer Symposium Gardone Riviera, Italy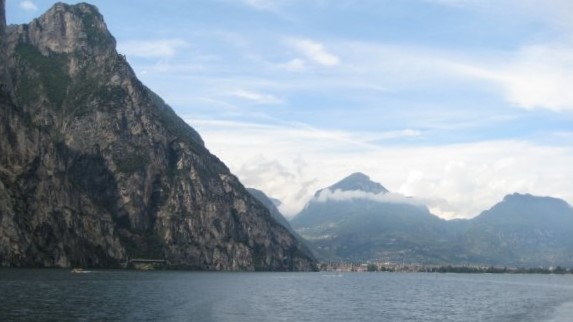 (July 2nd - July 13th, 2018; 11 nights)
The Fittest and the Weakest: The Interwar Era, the Foundations of Late Modernity, and the Resilience of Catholic Christianity
The twenty-sixth annual Summer Symposium at Gardone Riviera derives its theme from the centennial concluding the "War to End All Wars", fought "To Make the World Safe for Democracy" with the aid of a League of Nations that was to guarantee peace the globe over. Unfortunately, 1918 provided an entry into a twenty-one year period of disruptions rather than into an epoch where the lion would lie down with the lamb.
Gardone's international faculty will demonstrate that our current age---the terminal stage of modernity---is actually a child of the interwar period. Yes, it is true that contemporary modernists, like those of each previous stage in modernity's development, lay false claims to presenting something excitingly new, their Catholic brethren characteristically viewing the pontificate of Pope Francis as the latest fresh breath of the celestial zephyr. Nevertheless, all of late modernity's last gasp efforts to destroy man, nature, and culture---in order, ultimately, to make the world safe for shopping--- were given their definitively elitist, willful, power-mad, and seemingly irresistible shape in the interwar years in question. This includes Catholic contributions to terminal modernism through new theology, personalism, ecumenism, liturgical renewal, and the embrace of varied political ideologies.
But a second and more joyful goal of the Summer Symposium will be that of celebrating the many powerful and endurable achievements of this same interwar era; achievements of unchanging value to us still today. These were accomplishments in every realm of human endeavor, from theology to literature and music; accomplishments many of which were the product of flawed but good-willed natural men striving with great talent to deal with problems of life they did not completely understand. Many Catholics participated brilliantly in such endeavors, by probing still more deeply the fullness of Sacred Tradition, and by seeking to guide those wandering in the interwar desert to the supernatural revelation and grace that could correct and perfect their already highly praiseworthy labors. All these achievements, deemed doomed to certain defeat by modernists convinced that they alone were fitted for survival, are testimonies to the innate vigor of everything Catholic and truly rational, as crucial for us to study today as for believers of the 1920's and 1930's.
Faculty, Clergy, Musicians

Dr. Miguel Ayuso Torres (University of Madrid)
James Bogle, Esq., TD MA Dip Law (Barrister and author of A Heart for Europe)
Dr. Thomas Cattoi (Santa Clara University; Graduate Theological Union, Berkeley)
Clemens Cavallin (University of Gothenburg)
Dr. Danilo Castellano (University of Udine, Emeritus)
Fr. Gabriel Díaz-Patri (Studia Liturgica, United Kingdom)
Bernard Dumont (Editor, Catholica, France)
Christopher A. Ferrara, J.D. (President, ACLA)
David J. Hughes (Director of Musical Program)
Rev. John Hunwicke (Personal Ordinariate of Our Lady of Walsingham)
Michael J. Matt (Editor, The Remnant)
Rev. Dr. Richard Munkelt (Chaplain of the Roman Forum)
Dr. Thomas Pink (King's College, London)
Dr. John C. Rao (St. John's University)
Dr. Joseph Shaw (Senior Research Fellow at St Benet's Hall, Oxford University)
Dr. Thomas Stark (Philosophisch-Theologische Hochschule, Austria)
Fr. Edmund Waldstein (Philosophisch-Theologische Hochschule, Austria)