Headline News Around the World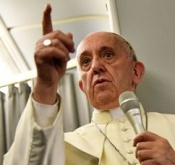 "We elected you to make reforms, not to smash everything!" Thus is Cardinal Leonardi Sandri, a fellow Argentinian and a supporter of Pope Francis at the conclave of 2013, reliably reported literally to have screamed at Pope Francis behind closed doors in the Vatican. Sandri would be one of a number of Bergoglian partisans at the conclave who are now said to be experiencing "buyer's remorse," as documented most recently in the explosive best-seller The Dictator Pope.
Of that book, no less than Robert Royal—signaling growing alarm over the Bergoglian Debacle in the Catholic mainstream—has written: "About 90 percent of it is simply incontrovertible, and cannot help but clarify who Francis is and what he's about." And the picture that emerges in stark relief in The Dictator Pope, as Life Site News reports, is that of "a power-hungry, manipulative dictator, [who] celebrated the abdication of Benedict XVI" because he knew what it meant: that the plan to give him the Keys of Peter in 2005 would finally come to fruition in 2013.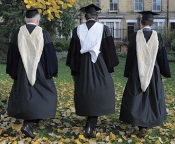 At the tiny, Catholic, 'Great Books' college where I was fortunate enough to earn my bachelor's degree, students referred to their professors by title. It was completely unimaginable to address any of them by first name, because at no time did the college encourage a sense of equality between teacher and student. Instead, the atmosphere inclined toward a formality modeled on Oxfordian traditions, with everyone referring to each other by honorifics and last names, all clad in academic gowns when the Texas weather made such garb practicable. Perhaps this seems somewhat antiquated; certainly we poked fun at our gowns, likening them to superhero capes or wizarding robes. On the other hand, no one was confused about where they stood in the college hierarchy. Freshmen wore no academic gowns, not having earned them yet; sophomores, juniors, and seniors all donned theirs dutifully at the start of every class. Professors took their place at the front and center of lecture rooms and expected their students' respect. Modeled on European universities whose traditions reach back to the days of Christendom, whose regulations and structures were derived from monastic or canonical rules, this tiny college thrived and found its identity through the authority preserved in its practices.