Within the sanctuary, people used their smartphones to photograph everything, making the place feel a bit like a tourist trap. During the time I was there, most of the pilgrims had gray hair. There were few children or youths. The fresh, breezy air and spring sunshine was lovely. The sanctuary has very good restroom facilities.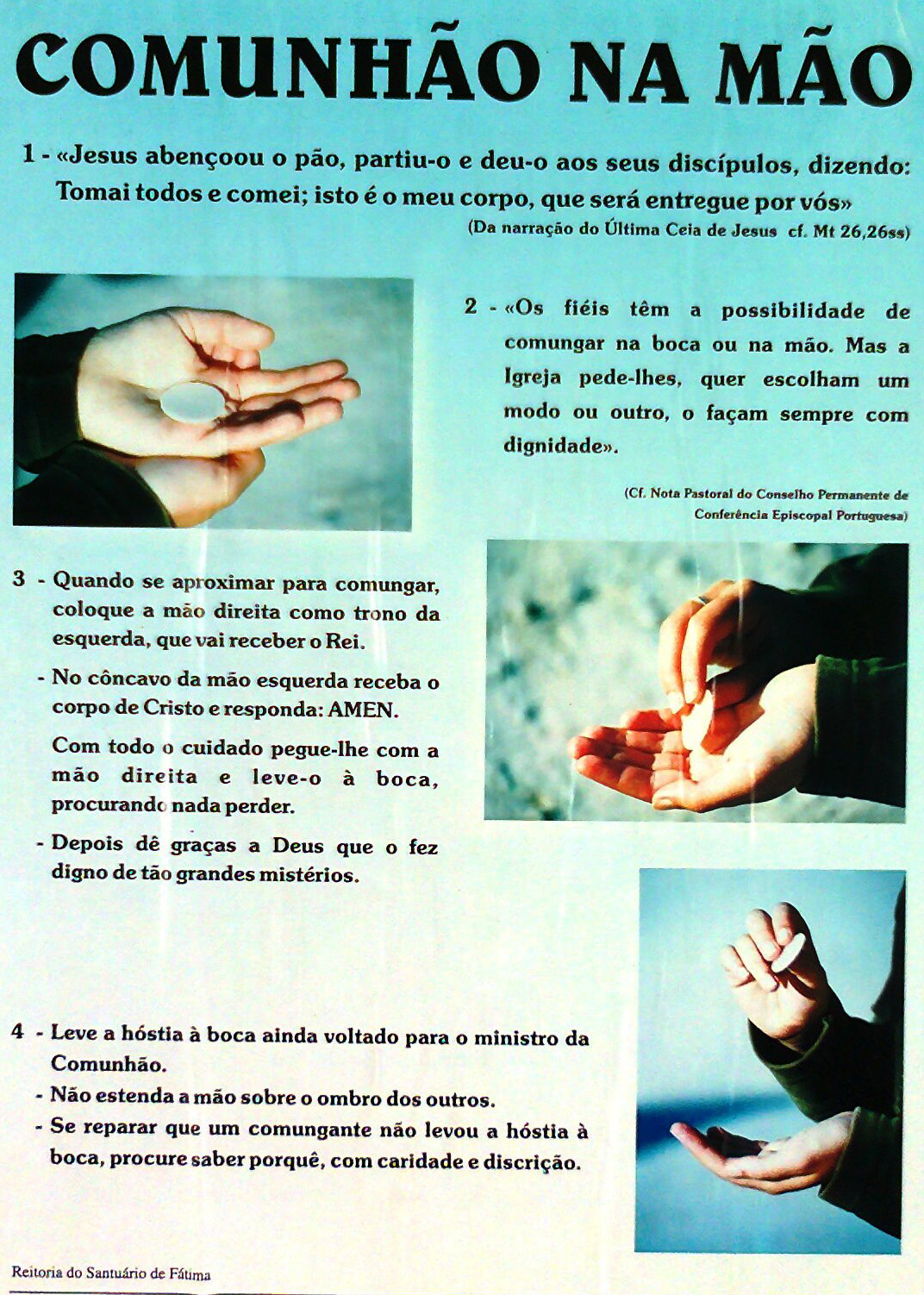 As I wandered about getting my bearings, I noticed a sign on a wall outside the rectory with instructions on how to receive Communion in the hand.

I went to an afternoon weekday Mass in English at a chapel in the new basilica. It was an underground room painted completely white, sealed off with no windows or natural light. Others in the pews appeared to be from all over the world, including Africa, south Asia, and Oceania. There were some jarring moments. People made different gestures throughout the Mass. Some knelt and some stood during the Agnus Dei, during the consecration, and after Communion.

Some raised their hands or held hands during the Our Father, others did not. There was no bringing of the gifts, no music or bells, and there were no altar servers. How to show the Sign of Peace among people from different cultures? I followed others' lead by putting my hands together and bowing to my neighbors. At the invitation to Communion, the priest raised the Blessed Sacrament and proclaimed, "Behold, the Son of Mary…"

I would describe the experience as a kind of liturgical cacophony. It was completely uncoordinated, and I had no idea what to expect next. I thought there were good theological reasons for kneeling during the consecration and Agnus Dei, but apparently Catholics from other countries think and act differently. There was no unity in the worship. It was, instead, disorienting and confusing to be in a group of people where everyone was doing something different even though we are supposed to be "one body."

In his homily, the priest exhorted us to "stand firm in your faith" – a message desperately needed in our times. Ironically, however, he did not seem to grasp that the liturgical disharmony of the Mass over which he himself presided had the potential to undermine individuals' faith by creating disunity and confusion.

Unfortunately, I had similar experiences during the other Masses at which I assisted in Fatima, including Sunday Mass at the new basilica, in Portuguese. Three priests concelebrated. I could see no tabernacle in the basilica. Eucharistic lay ministers with special sashes distributed Holy Communion. During the Mass, the phone of the man in front of me rang, and he took the call. One of the priests sat behind the altar yawning and chewing his fingernails. While standing at the altar, he folded his arms across his chest. As at the earlier English Mass, people stood, kneeled, and gestured in different ways throughout the liturgy. (Incidentally, I experienced something similar in my parish Church at Mass last Sunday: a large group of pilgrims from Poland was visiting, and during the consecration they stood rather than knelt.

It was particularly disturbing for me to experience such liturgical dissonance in Fatima. Our Lady, in one of the apparitions, told the children: "They must no longer offend Our Lord, Who is already so much offended." Lucia later wrote, "The part of the last apparition which has remained most deeply imprinted on my heart is the prayer of our heavenly Mother begging us not to offend any more Almighty God, Who is already so much offended."

For a better understanding of the message of Fatima, listen to Father Linus Clovis:



To me, this means that not only must each of us in our daily life consider how to better love and serve Our Lord, but moreover as a Church we must worship God with proper reverence, showing Him the respect and honor He deserves. And yet, the conduct of the Masses in Fatima sadly seemed to heap more injustice upon the Lord. I presume that each person at the Masses, including the priests, no matter his posture, was there to adore God; I don't mean to judge others' intentions or dispositions. But, in our liturgy – our formal, public, outward communal devotion – maybe we could do better? One practical negative consequence of our disjointed worship was to emphasize our differences rather than bring us together as a universal Church.

My experiences with the traditional Latin Mass are limited. It is highly constrained in my diocese. But my observations in Fatima made me think that this kind of international shrine is exactly the kind of place where the TLM would be helpful, so that everyone could understand and participate equally and actively in the liturgy. It would be a unifying act of solemn worship, transcending language and culture. However, although I looked I could find no Latin Masses celebrated anywhere at the Fatima sanctuary during my visit.

I am probably not the first to make this observation, but as a simple pilgrim it seemed to me that there was not only an architectural but also a theological tension between the old and new basilicas in the Cova da Iria. The original basilica, started in the 1920s, is constructed as a typical Catholic church facing East with a high altar and numerous side altars. It was under renovation so I could not go inside to see if the altar rail is still there. The new basilica, completed in 2007, is round, featuring plain walls and modern (or is it post-modern?) art.

Perhaps in some way these physical dissimilarities highlight the contrasts between the new and old Masses. I don't mean that the new Mass makes proper worship impossible and that the TLM automatically makes everyone reverent. All I am saying is that in my experience at Fatima, the new Mass was a setting for cacophony rather than harmony of worship, and this is a cause of concern when we consider the prime message of Fatima is to reject distractions and turn with repentant hearts toward Our Lord.


---
Benjamin Vail is a Franciscan tertiary. A native of Maine, USA, he lives with his wife and four children in Brno, Czech Republic.