Over the past decade, mistrust has begun to grow among citizens who had formerly looked up to the police. The reputation of the police became tarnished with the rise of Antifa during the Obama era, when police were made to feel ashamed of their legitimate role as protectors and law enforcers.
LATEST FROM REMNANT TV:BIDEN & BERGOGLIO: Even Black Lives Matter Has Had Enough
A broader picture of selective law enforcement began to emerge worldwide, as tolerance of woke left-wing causes by police was coupled with severe reprisals for more conservative movements. This was seen even more clearly after the death of George Floyd in 2020, when police "took the knee" to the Black Lives Matter protesters, subordinating themselves to rioters and thus to an anti-law enforcement movement. A coordinated campaign then began to spread, calling on the police to be defunded by governments.
It is becoming obvious that many police officers are feeling increasingly uncomfortable with the role they are being asked to play. Many fear that they are walking a line demarcating law enforcement from brutality.
A new iteration of this disturbing pattern has been taking place on the ground in Australia, particularly in Melbourne. For the past eighteen months, police have been obliged to enforce draconian Covid restrictions in what has become one of the world's most locked-down cities. Discrimination by police against causes aligned with freedom has been demonstrated here, too, with anti-lockdown protests subject to harsh action by police while Black Lives Matter protests during a lockdown were given free reign.
It has become routine to arrest pro-democracy leaders like Monica Smit on charges of "incitement," subjecting them to court orders designed to limit their influence. Anti-lockdown protesters have been assaulted and mistreated by police again and again: multiple instances of brutality have been caught on video by protesters and journalists.
The Victorian state government has risen to new levels of censorship in trying to ban media coverage of the protests. Mainstream media choppers were temporarily stopped from flying over protests and a suspicious internet outage in the entire CBD happened just as one of the protests was taking place.
The evidence of a pattern of disproportionate response by police has been widely documented and cannot be refuted. A few examples have been shared around the world on social media: the elderly woman who was violently pushed to the ground by a police officer who then pepper-sprayed her. A second spray by another officer followed: several walked by the distressed woman without stopping until she was finally given aid by another two policemen.
At a subsequent protest, five officers from a counter-terrorism unit tackled a man who was simply standing on the footpath in the vicinity of the crowd. One officer is shown brutally striking the victim's back with the butt of his semi-automatic rifle. It isn't clear whether this man was even a protester.
Another iconic piece of footage was taken at the end of an hours-long stand-off at Melbourne's Shrine of Remembrance. Dozens of police chasing unarmed protesters through an adjoining park, shooting them with the large rubber bullets that have become so readily recognisable to all Victorians.
These and other images have become archetypes of Vicpol's heavy-handed response to Freedom protesters. What began as public health measures have escalated to the scenes we now witness with frightening regularity in Australia: police taking up arms against their countrymen.
It has long been obvious that for a New World Order to be successfully established, a ruthless police force would be necessary. Without enforcers, Klaus Schwab and his cronies would be powerless, left to dream of world domination over a glass of schnapps. But with a militarized police force, globalists can ensure their totalitarian measures are enforced, especially once citizens begin to fight back.
Cracks are beginning to show, however, throughout the ranks of Australia's law enforcement agencies. It is becoming obvious that many police officers are feeling increasingly uncomfortable with the role they are being asked to play. Many fear that they are walking a line demarcating law enforcement from brutality.
One young officer from New South Wales is trying to bring attention to the conflict being experienced within the ranks. He resigned when he felt he couldn't be true to his vocation while being asked to enforce restrictions he knew to be unjust. A fellow officer's desire to "crack heads" at a protest disturbed him so much that he couldn't sleep.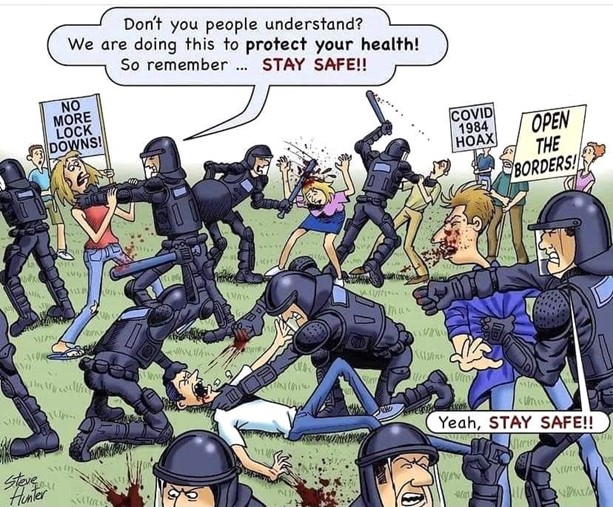 Anonymous letters written by policemen and women are starting to do the rounds of social media: the authors call for common sense to prevail instead of the authoritarian demands being recommended by bureaucrats obsessed with reaching Covid-zero in their jurisdictions.
One tactical response officer was filmed saying that he agreed with the protesters and was "over the lockdowns". He claimed he had no other skills than policing and felt forced to do the government's dirty work for the sake of a paycheck. We must wonder how many others there are like this man: acting against their own consciences in order to keep their jobs?
Other credible murmurs of dissent are circulating around Victoria: uniformed police are said to be under internal pressure to increase physical aggression towards the protesters who are, by and large, peacefully exercising their democratic right to resist a dictatorial health regime.
From the protesters' side, there have been isolated incidences of physical violence toward police but the more common form of retaliation is the use of foul expletives and accusations of serious crimes which are unfounded and unsettling. There is open hatred of the police on social media: not a good sign for a society that has prided itself on its live-and-let-live philosophy.
All of this chaos with the added layer of a militarised police force is causing a palpable tension to exist in our largest cities. Along with the isolation and inhuman demands of extended lockdowns, residents are feeling overwhelmed.
Yet, for a Christian, God has posed a solution for when we find ourselves in overwhelming situations like this one. St Paul suggests that we "be not overcome by evil, but overcome evil with good."[1]
The most obvious good that a Christian can practise is prayer. Many have been praying faithfully for our governments, for protection from vaccines and their mandated use, for the end of lockdowns, for the liberation of the Church, for the desperate and suicidal. These are praiseworthy and necessary intentions, without doubt. But it appears that so far, little attention has been paid to the souls of the police.
One injured protester told me, " … those police don't know God and they are suffering. We have to pray for them."
It is a simple idea but a radically Christian one: to pray for those who are harming us. If there is one thing the promoters of The Great Reset - the depopulators and the globalists - don't understand, it is charity. They don't understand forgiveness, redemption or prayer for one's enemies. Such Luciferian characters have no conception of true love.
It is unrealistic to think that we can reverse this trajectory on which the world is currently hurtling. But it is not unrealistic to believe that our prayers can do some good. We know that prayer and fasting have the power to cast out demons and into what abyss is the world now staring other than a ruthless technocracy empowered by demons?
Evil can be overcome by good and that most start now with a worldwide commitment to daily and continuous prayer for police. There is evil and conflict raging in the souls of many of our law enforcement officers. Perhaps it is only our prayers that will make them realise that they have a moral obligation to disobey their superiors' illegitimate commands and join the side of freedom.
___________________
[1] Romans 12:21