Publication Notice
:
This issue of The Remnant is dated March 23, 2016, and is currently in the mail. You can read the new issue online right away, however, by subscribing to

THE REMNANT E-EDITION
.
Please Subscribe to The Remnant Right Now
---
Miguel Ángel Yáñez
Communion in the Hand
:
The Ground is Stained with His Blood
(The best arguments against Communion in the hand)


A PHOTO HINT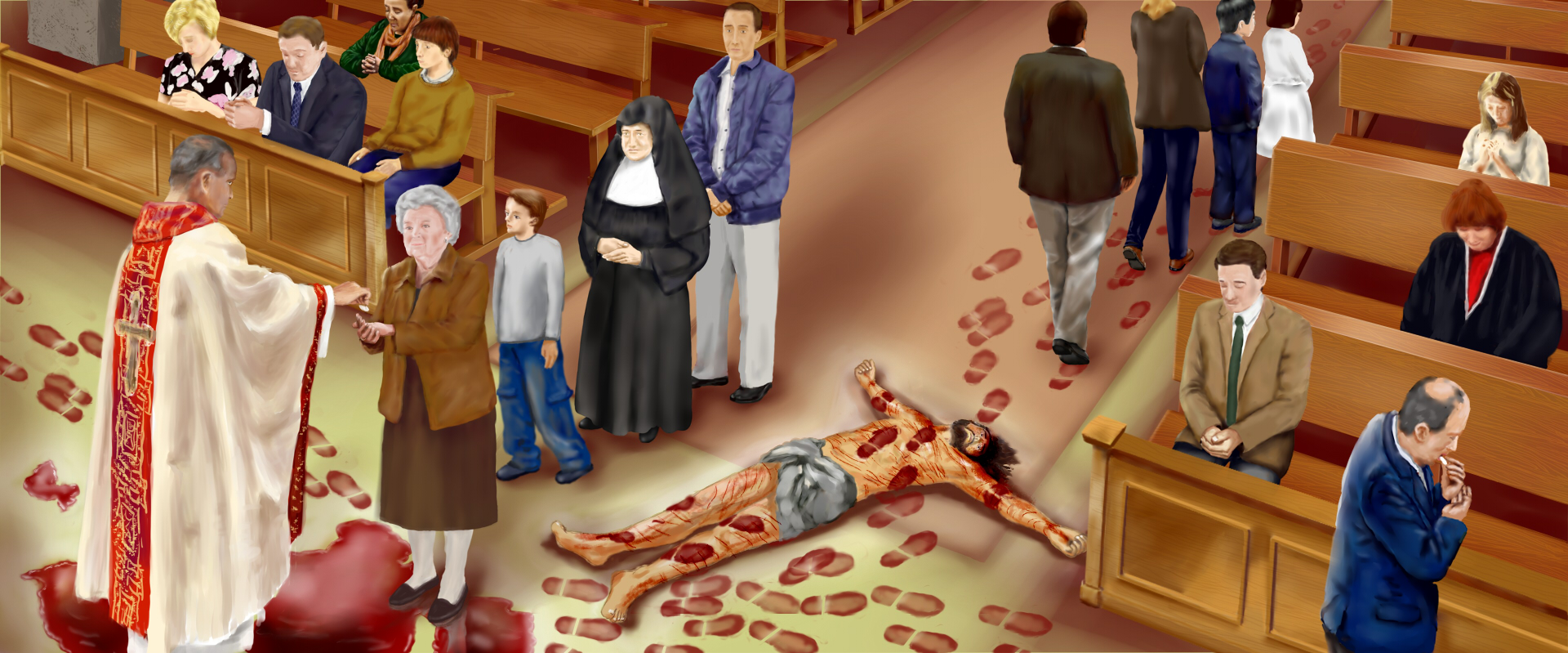 [Illustration by Rodrigo García for Adelante la Fe-The Remnant]
---
Michael J. Matt from the Editor's Desk…
See How These Christians Love One Another. Why do so many neo-Catholics hate traditionalists?
---

Jason M. Morgan Martyrdom of the Body of Christ The

new orgy of Christians tortured—in Syria, in Nigeria, in North Korea, in China, in Iran, in Egypt, in Iraq—returns our attention to the fact that the Body of Christ, flesh in tatters, still hangs from a near-to-hand tree, the executioners making no distinction among denominations and sects. To profess Christ crucified, dead, and risen is enough.



---

Father Ladis J. Cizik

Traditional Latin Mass 101

The CONSECRATION: Last Supper and Calvary. Absolute MUST READ!

---
Christopher A. Ferrara

The Case of the Illusive Hermeneutic of Continuity:
Pope Benedict's Search Continues
---
Patrick Archbold
Gangs of New York
If ever we were a nation of laws, that time is certainly passed. We now prefer a kakistocracy, a government by the worst element of a society.
---
Lives of the Saints
St. Longinus,
The Saint Who Crucified Christ
---
Hilary White
The Chronicles of Norcia:
Home (A new series)
---
Timothy J. Cullen
Toward Twilight
Twilight is temporary; the Faith and the Church, while not eternal, are not subject to the laws of time. God decides when it is time to close the curtain on the human drama; until then, we play our parts regardless of circumstances.
---



David Sonnier/James Cunningham

A Request for Comments from the Remaining

Presidential Candidates, 2016

Why was the National Security Agency monitoring the conclave that elected Pope Francis?

---
Vincent Chiarello
A Remnant Book Review:
Rethinking Catholicism in Reformation England
, by Lucy Wooding

---
Father Celatus
The Last Word…
Bracing for Pope's New Holy Thursday Law
This edition of The Last Word will be a short word due to demands upon my time seeking out women, infidels, apostates and adulterers from within my congregation to have their feet washed for the Mandatum of Holy Thursday,
---
The Remnant Speaks

Letters to the Editor...

A Clarification from Father Harrison

;

Trump and the Satire Wars

;

What About Evolution? On Ann Barnhardt; Seeking Pilgrimage Partners



Only about 10% of our articles ever appear online.

Subscribe Today!